Better U Foundation
Page 2 of 5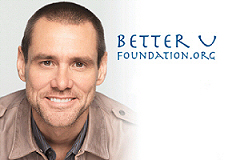 What's it about
Founded in 2005 by actor Jim Carrey, the Better U Foundation (BUF) addresses food security by supporting the System of Rice Intensification (SRI). SRI is a sustainable agricultural methodology which significantly increases rice productivity, allowing farmers to go to market with their rice and earn a better living for their families.

Better U is currently focusing on expanding the use of SRI in Haiti to help rebuild the local rice economy and empower local rice farmers.

The foundation has also worked extensively on expending SRI in the African nations of Madagascar and Mali.




Letter from Jim Carrey
When I was a small child I brought relief to my family by taking their painful concerns and turning them into comedy. They enjoyed watching me play. Later, my career in show business blossomed after I made the conscious decision to serve the audience what I thought they really needed to see, someone who is carefree in the world and treats it all with a healthy dose of irreverence.

Since very early in my memory the real thrill in life for me wasn't personal recognition as much as knowing that I could affect people in a positive way and have fun doing it. Before I had money I took particular pleasure in writing "have a nice day" on twenty-dollar bills and leaving them where I knew people in need would find them. I didn't wait around to see their smiles. For a moment, I just knew they would feel lucky.

As time passed my interest in people's welfare has grown, but for me, living in this world will always be a game, the object of which is to create as much good will as possible. I have decided to use some of the recognition I have attained in the hope of bringing more attention to that purpose.

I realize now more than ever that the most valuable commodity in life is the feeling you get when you give. Compassion is the currency that leads to true wealth. Better U was created so that I might continue to expand my awareness of what people need, to relieve or prevent suffering where possible and to offer the kind of assistance that allows someone to grow toward independence and self actualization.

A Better U means a better universe.



Background (System of Rice Intensification)
It is possible that a narrow sphere of activity, which costs nothing, can change thousands of years of agricultural practice, provide solutions to address world hunger and promote a healthier environment? Better U knows it is possible.
We are living on the verge of a paradigm shift.
The System of Rice Intensification - SRI - began in Madagascar in the early 1980's when a French Jesuit Priest, Fr. Henri de Laulanie', while helping the Malagasy people grow rice during a drought, stumbled upon a natural way to break through cycles of hunger and poverty. Through learning to manage resources they already possessed, subsistent farmers were provided a sustainable agricultural method that boosted their productivity up to four times compared to traditional practices. SRI uses 50% less water, 90% less seed and requires no pesticides.
The System of Rice Intensification is an efficient, economical and ecologically friendly way to increase rice productivity.
SRI is arriving on the agricultural scene at an opportune time. Regarded as a methodology rather than technology, SRI greatly increases rice productivity without relying on external inputs (agrochemicals). It may raise yields up to four times traditional methods, sometimes more with reduced requirements for water, seed, fertilizer and crop protection. The empirical results of SRI have been demonstrated in 28 countries, including most of the rice-producing countries in Asia, Africa and Latin America.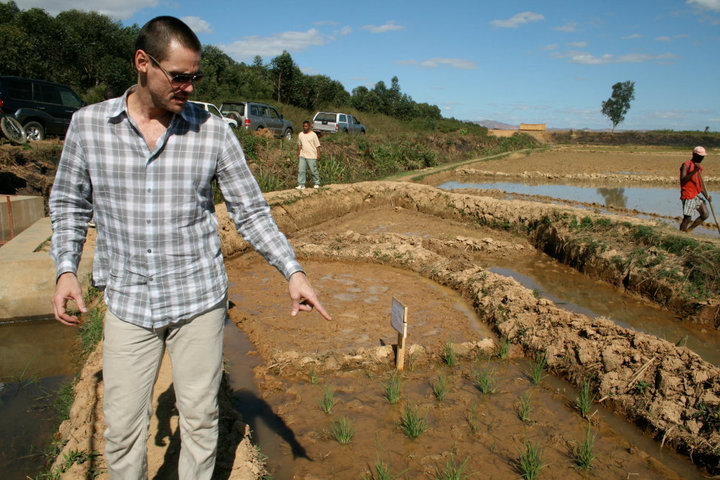 Instead of changing the genetic potential of crops and increasing external inputs, SRI methods change the way the plants, soil, water and nutrients are managed - utilizing only the resources that farmers already possess. Although SRI methods can work well with chemical fertilizers, the best yield has been archieved with organic fertilization - compost, mature and mulch. This confirms the advice offered by organic farming proponents for many years: instead of feeding the plant, feed the soil and the soil will feed the plant. This recognizes the multiple contributions that soil organisms make to plant growth and health.
SRI practices enhance soil fertility because the larger root systems contribute more organic matter to the soil.
The typical rice farmer cultivates about 1 (ha) hectare (2.5 acres) of farmland. His yield is 50-60 bags, which translates to 2-3 tons per hectare (t/ha). He sells some (grain) rice, keeps some for himself as seed, uses the money he gets from the sale of his rice, and finally reverts back to the labrorer force to start rice farming again. Subsistent farmers have no control over their lives and he and his family have no food security.
By contrast, the results of the SRI method are remarkable, providing farming families food security - thus greater control over their lives. SRI methods have often doubled the yields of any variety of rice that is planted. No external inputs (agrochemicals) are necessary for a farmer to benefit from SRI. The methods work with any rice that is now being used, because the SRI strategy makes the growing environment more favorable. With SRI, rice plants are treated as the living organisms they are. As we know in working with people, if you provide a healthy environment people reach the potential locked inside them. It's no different with plants. SRI creates a healthy environment releasing the potential within each grain of planted rice.
« Previous
|
1
|
2
|
3
|
4
|
5
|
Next »