Better U Foundation
Page 3 of 5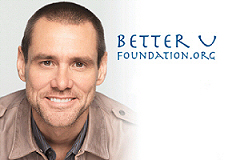 Haiti
Haiti is the poorest country in the Western Hemisphere with 76% of Haitians living on less than $2 a day. In 2010, Haiti's biggest earthquake in 200 years hit 15 miles from the capital, Port-Au-Price. The quarkquake killed 316,000 and left another 1.6 million homeless. Already suffering from shortages of fuel and potable water before the earthquake, many have died after the earthquake due to lack og basic services such as safe water, healthcare and food.
The earthquake damaged agricultural infrastructure - pipes, roads, fields - and exacerbated Haiti's challenges with regards to food security. While 66% of Haitians are small subsistence farmers, Haiti produces only enough food to meet less than half of the national need, resulting in a dependence on imports and food aid. The earhquake increased the price of food in Haiti and rising global food prices have further driven up the cost of staples like rice and corn.
As a result, 1 in 4 Haitian children are chronically undernourished and 1 in 3 newborn babies are born underweight. Nationally, 39% of all Haitians - between 2.5 and 3.3 million people - regularly do not have enough food to eat.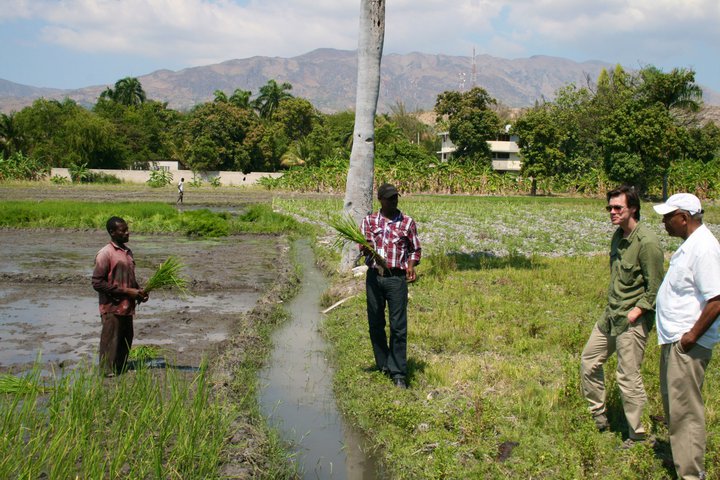 SRI IN HAITI
The Better U Foundation, the Cornell International Institute for Food, Agriculture and Development, and partner NGOs introduced SRI to Haiti after the January 2010 earthquake to help improve food security and increase the profitabilti of growing rice.
Better U funded a first phase to establish an understanding of how well SRI works in Haiti, collaborate with established development organizations, and lay the groundwork for a larger-scale expansion of SRI.
The initiative to introduce SRI to Haiti had three stages:
Train farmers and technicians in SRI in three regions of Haiti: Les Cayes (South), Ferrier (Northeast) and Verrette (Northeast Artibonite Departmen, Haiti's primary rice-growing region).
Test SRI practices with farmers in the three regions.
Evaluate the SRI trials and formlate a program for expansion of SRI at a national SRI workshop in March 2011.
Madagascar
"Thanks to SRI, I will not only have the possibility of increasing my production but also of having a marketable surplus which will allow me to increase my sources of income. I can thus ensure the education of my children."
- Farmer in Manakara
The use of this new method has improved our living condtions. We can now ensure the education of our children.
- Farmer in Antsiranana (Diego Suarez)
The production doubled, even tripled. SRI makes it possible to produce rice in sufficient quantities to meet all the need of my family and to have a marketable surplus as well as a supply of seeds for the next season.
- Farmer in Mananjary
Madagascar, or the Republic of Madagascar, is an island nation in the Indian Ocean, off the southeastern coast of Africa. Madagascar is the forth largest island in the world with a popularion of just over 19 million and home to 5% of the world's plant and animal species of which more than 80% are unique to Madagascar.
Rice carries a significant economic, political and cultural importance in Madagascar. It is a staple food for the country, with 85% of farmers devoted to rice prodcution, representing 60% of the population, according to the Ministry of Agriculture. Rice forms the basis of every meal in most parts of the country, with an average consumption of 95 kg per person per year (48% of caloric intake).
More soon...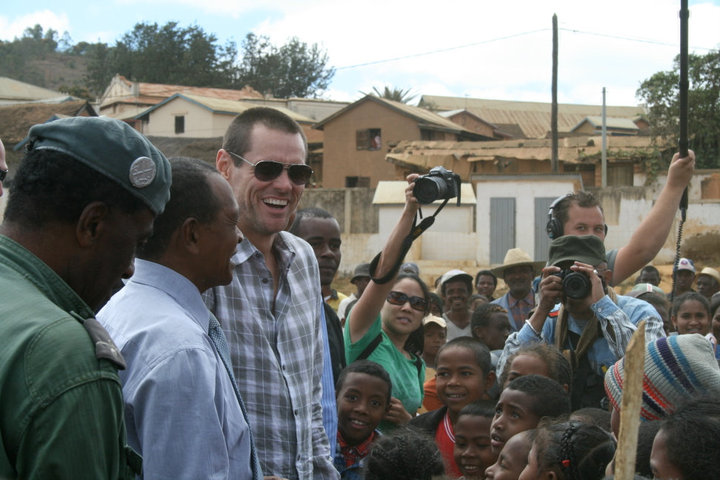 PROGRESS REPORT, BETTER U FOUNDATION APRIL 2010
"Thanks to SRI, I will not only have the possibility of increasing my production but also of having a marketable surplus which will allow me to increase my sources of income. I can thus ensure the education of my children."
- Farmer in Manakara
The purpose of this report is to provide an update on SRI activities supported by the Jim Carrey Better U Foundation (BUF) in Madagascar over the 2009-10 season, covering the 6-month period from September/October 2009 through March 2010. The report follows four main sections: an overview of the BUF's current program portfolio, highlights of the year (including progress on partners? SRI activities in the field, work of the SRI Secretariat, and program management & administration), plus next steps, recommendations for future actions and concluding remarks.
Read to read the full report,
click here
.
CLINTON GLOBAL INITIATIVE
Jim Carrey tells the Clinton Global Initiative about his involvement in SRI, an exciting new method for increasing the production of rice in developing nations. He describes a trip he took to Madagascar where this whole process was created, in order to promote this method and make Madagascar an example of how profound this method could have in terms of improving poverty stricken countries.
Mali
Mali is of the largest countries in Africa and completely landlocked. Its population of 13.1 million (2008) is rapidly growing at a rate of 3.0 percent per year. Mali is also among the poorest countries in Sub-Saharan Africa, with a proverty rate of 76% in rural areas. Agriculture is an essential sector in Mali, according for 37 percent of total economy, employing over 80 percent of the labor force, and serving as a key source of overall economic growth and welfare. Nevertheless, Mali is characterized by chronic food and nutritional insecurity.
Especially the northern regions of Mali with large areas being in the Sahara desert are hit hardest, among them the Timbuktu region. Three-quarters of Timbuktu's communes are considered to be "structurally food-insecure," i.e., they face a food crisis at least once every two or three years. Over the past 30 years, farmers in the region have begun to develop small-scale, village-based irrigation schemes (PIVs), usually 30-35 hectares in size, shared between 80 to 100 farmers, and irrigated by one diesel motor pump. Although production costs are very high for motorized water pumping, and surface area per household is very small, these PIVs are contributing to improving the food security situation in the region.
It is here, in the Goundam and Dire circles of Timbuktu, that Better U invested in a pilot program of evaluating the effectiveness of the agroecological methods of SRI, the System of Rice Intensification, carried out by Africare's Goundam Food Security Initiative. Africare, the oldest and largest African-American organization in the field, employing a largely African staff, has assisted farmers in the Goundam and Dire Circles in PIV development and in improving their agricultural techniques for over 10 years. With Better U support, Africare worked with 60 volunteer farmers in 12 villages in the Goundam and Dire Circles to introduce a new methodology for growing rice: the System of Rice Intensification, or SR.
The results from the 60 farmers largely surpassed any expectations: Average yield for all farmers using SRI was 9.1t/ha, ranging from 5.4 t/ha for lowest yield to 12.4t/ha for the highest. On average SRI yields were 66% higher than the yields of 5.49t/ha in the control plots of the participating farmers, and 87% higher than yields of 4.86t/ha in the surrounding rice fields. Production cost per unit of rice harvested was 30% less under SRI due to both increased yields and reduced inputs. These incluse using 1) 85-90% less seed (six kg of seeds per hectare compared to 40-60 kg under farmers' usual practice), 2) 30% less chemical fertilizer (due to application of organic matter), and 3) 10% less water for irrigation. Note that as reductions of 25-50% in water use have been archieved elsewhere in the world, this is not yet an optimal result. The 12 SRI villages are loacated within an important rice and wheat producing area. We estimate that about 2400 farmers were able to see the SRI evaluation first hand. Locals inform us that nearly all farmers living in the larger SRI evaluation zone, working on irrigation schemes totaling an estimated 1,900 hectares, had heard about SRI by the end of the season.
Africare also produced with Better U support a SRI Technical Manual for the Timbuktu region and the Mali environment. This is a first manual for the Sahelian and dryland area context, and apart from the manuals from Madagascar, the only French Manual.
In this ongoing 2009/2010 growing season, Better U further supports Africare in taking this important first year success to the next level: to scaling up SRI within the region, and to further develop innovations around SRI: i) optimizing organic matter management through composting, and ii) initiating the application of SRI principles to the important crop of wheat.
This pilot program has become the most successful and first large-scale SRI activity in West Africa. It has inspired projects funded by other donors (USAID and Syngenta Foundation) to expand SRI in Mali, this year now introduced in five regions: Timbuktu, Gao, Mopti, Segou and Sikasso.
With continued BUF support, Africare's work remains at the forefront and will continue to show other interested donor and projects on how to best practice and spread the SRI methodology, and provide further guidance in innovation development that is based on empowering farmers' knowledge and initiatives around agricultural practices.
This model, developed and implemented with funding from Better U, will inspire projects and donors not only in Mali, but also in West Africa, Africa and around the world.
« Previous
|
1
|
2
|
3
|
4
|
5
|
Next »