Better U Foundation
Page 4 of 5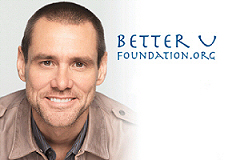 Other older causes
Mobility for the Disabled (Free Wheelchair Mission)
Barely awake, Don Schoendorfer stepped onto the cold cement floor of his garage at 4 a.m. Determined to create the world's most affordable wheelchair, he squeezed in three hours every day before work, tinkering at a work table he had set up in his overstuffed garage. John Lennon once remarked, "Life is what happens to you when you are making other plans." During an otherwise uneventful vacation, Don and his wife encountered a disabled woman dragging herself across a road in the suffocating afternoon heat of Morocco using her fingernails to pull herself along, all the while enduring the disdain of the street beggars.
One woman's anguish and loss of dignity became the catalysis for this M.I.T. Ph.D. in Mechanical Engineering to create a simple, rugged and inexpensive wheelchair. In addition to being affordable, Don needed to design a wheelchair that would have to traverse mountains, swamps and deserts, and endure heat and frost with minor upkeep. No small task.
By 1999 step one was complete. Step two required him to deliver these wheelchairs at no cost to the physically disabled poor in developing countries on a non-discriminatory basis. The wheelchair Don designed uses simple and common parts, and is easily assembled with little instruction. The average cost to manufacture and ship a wheelchair anywhere in the world is $51.29. It's an extraordinarily modest investment to provide mobility, restore dignity, and give someone – along with his or her family – a chance for a better life.
Since that first 4 a.m. commitment, Free Wheelchair Mission has distributed 320,000 chairs in over 57 countries.
In 2008, Don became the first Congressional Medal of Honors recipient among 4000 candidates for the Above & Beyond Citizen Award presented by the 105 living Medal of Honor recipients.
Better U is proud to assist Don Schoendorfer and the Free Wheelchair Mission in this noble cause.
Video from The Plastic Chair Series: Jim Carrey narrates this fresh, powerful look at the transforming gift of mobility, and the empowerment that comes from a "plastic white chair with wheels."
Autism (Generation Rescue)
Through an international movement of scientists, physicians and parent volunteers' – Generation Rescue is providing hope and innovative strategies to recover autistic children. Actively researching the causes and treatments for autism, Generation Rescue is helping more than 20,000 children begin dietary and biomedical treatment.
Generation Rescue has become a vital resource to families struggling with this neurological disorder. There are many reasons to be encouraged. A host of Rescue Angels and mentors are available. Learn about the work of people like Jenny McCarthy and Generation Rescue and the therapies that are recovering thousands of children from autism.
Before you resign to believing there is no connection between vaccines and neurological disorders, consider what the growing body of scientific research is discovering:
The prevalence of neurological disorders among children is growing faster than genetic conditions are changing, which suggests that environment must be playing a role.
When environmental toxicity in children with neurological disorders is measured it is meaningfully higher than neurotypical (normal) children.
The brains of children with neurological disorders are experiencing severe oxidative stress and inflammation, suggesting an environmental cause.
Children with neurological disorders are often suffering from severe gastrointestinal distress and inflammation. A trigger of this inflammation and the resulting behaviors is the MMR (measles, mumps, rubella) vaccine.
Thimerosal (mercury), one preservative used in vaccines enters the bloodstream of the child and ends up in the brain after being administered.
Higher levels of environmental mercury have been shown to produce higher rates of autism.
The preservatives in vaccines, most notably Thimerosal (mercury) and aluminum, are highly toxic and damaging to the nervous and immune systems of developing children. Reactions to these toxins may vary greatly by child.
The symptoms of autism and the symptoms of mercury poisoning appear to be very similar.
The Government Reform Committee of the U.S. Congress has published reports on the relationship between mercury and autism and on the conflicts in policy-making for the national immunization schedule.
Better Understanding.
Safe Water (LifeStraw – Personal)
Safe water interventions have vast potential to transform the lives of millions of people. Water filtration tools not only provide safe drinking water but also have a positive health impact on the most vulnerable populations, including young children, pregnant women and those with debilitated immune systems.
LifeStraw – Personal is a portable water purification tool for persons who travel away from home for extended periods of time. 10 inches long and 1 inch in diameter, this innovative technology can purify over 185 gallons while successful removing 99.9999% of waterborne bacteria, viruses and particles down to 15 microns.
LifeStraw by Vestergaard Frandsen has received various Awards and Accolades:
2008 Saatchi & Saatchi Award for World Changing Ideas
Well-Tech 2006 Innovation Technology Award
INDEX: 2005 International Design Award
Best Invention of 2005 Time Magazine
Europe'Äôs Best Invention Reader's Digest
Innovation of the Year Esquire Magazine
Invention of the Century Gizmag
A Water Purifier for the Masses Popular Science Magazine
One of the "Ten Things That Will Change The Way We Live" – Forbes Magazine
LifeStraw – Family is a home water purification unit providing over 4760 gallons of safe filtered drinking water, enough to sustain a family for 2 years. Better U is proud to partner with LifeStraw and the innovative and effective family of products from Vestergaard Frandsen.
« Previous
|
1
|
2
|
3
|
4
|
5
|
Next »