Frequently Asked Questions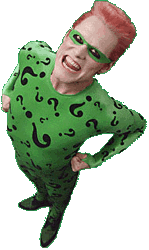 Question: What films has Jim appeared in?Answer:
In alphabetical order:
'Ace Ventura: Pet Detective'; 'Ace Ventura: When Nature Calls'; 'A Christmas Carol'; 'All in Good Taste'; 'Batman Forever'; 'Bruce Almighty'; 'Cable Guy, The'; 'Copper Mountain: A Club Med Experience'; 'Dead Pool, The'; 'Doing Time on Maple Drive'; 'Dr. Seuss' How the Grinch Stole Christmas'; 'Dumb and Dumber'; 'Earth Girls are Easy'; 'Eternal Sunshine of the Spotless Mind'; 'Finders Keepers'; 'Fun with Dick and Jane'; 'High Strung'; 'Horton Hears a Who'; 'I Love You Phillip Morris'; 'Introducing... Janet' (aka 'Rubberface'); 'Lemony Snicket's A Series of Unfortunate Events'; 'Liar Liar'; 'Majestic, The'; 'Man on the Moon'; 'Mask, The'; 'Me, Myself and Irene'; 'Mike Hammer: Murder Takes All'; 'Mr. Popper's Penguins'; 'Number 23, The'; 'Once Bitten'; 'Pecan Pie'; 'Peggy Sue Got Married'; 'Pink Cadillac'; 'Sex and Violence Family Hour, The'; 'Simon Birch'; 'Truman Show, The'; 'Under the Sea 3D'; 'Yes Man'.
« Previous Answer
Back to overview
Next Answer »