Frequently Asked Questions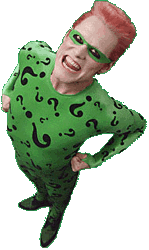 Question: Is Jim Carrey a Songwriter? What's the story on that?A:
Carrey and his friend Phil Roy wrote a love ballad that has become a hit for the San Francisco based, New Age duet Tuck & Patti. The song is called 'Heaven Down Here' and it is a nice little number. (Pretty melody, nice words.Very tender.) It appears on the 1995 album 'Learning How To Fly' and is available on Sony Music Entertainment CD's and tapes, Catalog # EK64439. If you can't find it and want a copy contact:
Tuck & Patti
T&P Productions
P.O. Box 1363,
Menlo Park, CA 94026
From an AOL Chat Session with Tuck & Patti:
Question: How on earth did Jim Carrey come to write a song for you two?
TuckPatti: (Tuck)
He really didn't write it for us but he is credited with the idea for the song as well as some of the lyrics. However, when it was presented to us by Ken Komisar we had no idea Jim wrote it. (Patti) We just fell in love with it instantly.
HEAVEN DOWN HERE

(P. Roy, J. Shanks, R. Neigher, J. Carrey)
Verse 1: What are you waiting for, Believe in me
Isn't it love in this life that you need
You can offer your soul to an altar of sacrifice
But give your heart to me
Chorus: Let's bring heaven down here
Let's bring Heaven on down
I don't want to wait for the angels
Let's bring Heaven down here
Verse 2: What's in the sky that you and I can't find
Simply in love what could be more divine
How can I make you believe forever and ever more
I'll give my love to you
Repeat Chorus:
Can I lay you down
Don't you know salvation is the warmth of my embrace
Let me touch your lips
Kiss the moonlight on your face
I need you now
I need you now
Repeat Verse 1
Repeat Chorus

("Be careful who you play that for, because you might never be able to get rid of them." - J. Carrey)
Copyright 1994 April Music Inc/Ear Picture Music/EMI Virgin Music, Inc. /Line One Publishing (ASCAP)/Warner - Tamerline Publishing Corp.. /Xanjamino Music (BMI)/. J. Carrey publishing designee. All rights on behalf of Ear Picture Music controlled and administered by EMI April Music, Inc.
In other words, this here song is protected by copyright law, so you can't use it without permission and you can't post it on a for-profit web site without permission. Someone will find out and report you and the copyright police will come and seize your pets and deathray your photocopiers and make your children really hyper. Be warned. Copyright attorneys are, quite possibly, the scariest critters in the universe so don't do anything to arouse their ire. Be afraid, be very afraid.

« Previous Answer Back to overview Next Answer »