Charity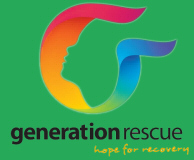 What's It About: Generation Rescue



Generation Rescue is a nonprofit organization that advocates the view that autism and related disorders are primarily caused by environmental factors, particularly vaccines. These claims are biologically implausible and lack convincing scientific evidence.

The organization was established in 2005 by Lisa and J.B. Handley and 150 volunteer "Rescue Angels" that included many members of the biomedical treatment movement at the time. Beginning in the spring of 2005 and running through January 2007, Generation Rescue began a national media campaign in the US, placing advertisements in such publications as USA Today.

In 2005 Jenny McCarthy's son, Evan, was diagnosed with autism. Jenny embarked on an extensive search for answers. When she found Generation Rescue's website, it quickly became her touchstone. She became president of Generation Rescue in 2008.




How Jim Carrey has supported



During Jim Carrey's relationship with Jenny McCarthy he was much involved in Generation Rescue. Below are some of the noteable dates when he went public:

June 4, 2008
» 'Green Our Vaccine' march with Jim Carrey

June 5, 2008
» Jim and Jenny on "Good Morning America"

July 19, 2008
» Jenny McCarthy And Jim Carrey Host Autism Fundraiser

September 23, 2008
» Jim Carrey Wrote chapter in Jenny's new book Mother Warriors

September 24, 2008
» Jim Carrey and Jenny on The Oprah Winfrey Show

December 17, 2008
» Jim Carrey Asks Fans To Help Jenny McCarthy's Charity

April 3, 2009
» Jenny McCarthy and Jim Carrey about Autism on Larry King Live

April 22, 2009
» Blog post: The Judgment on Vaccines Is In???

February 6, 2010
» Jim Carrey And Jenny McCarthy Host Saturday Night Charity Spectacular





Pictures



Coming soon.




Video Clip



No clips available.