Damn Yankees
Page 2 of 5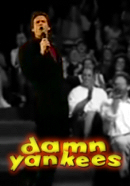 What's it about
A contemporized feature adaptation of the classic musical "Damn Yankees." The musical is being produced by Craig Zadan and Neil Meron, the duo behind New Line's musical Hairspray.

"Damn Yankees," which premiered on Broadway in 1955 and won seven Tony Awards, focuses on Joe Boyd, a happily married middle-aged man whose devotion to a hapless pro baseball team prompts him to make a Faustian bargain with the devil to help the team. He's transformed into slugger Joe Hardy, in exchange for Boyd's soul. Boyd can break the deal, but the deadline occurs during the World Series. For good measure, the devil engages Lola, a gorgeous lost soul, to seduce the slugger and seal his fate.

The plan is for Carrey to play the devil, and Gyllenhaal to play Boyd. It's the first musical for each. The trick is finding a balance that retains the show's classic tunes like "(You Gotta Have) Heart" and "Whatever Lola Wants," while injecting a contemporary feel on a musical that is firmly rooted in the 1950s.

The original was directed by George Abbott and choreographed by Bob Fosse, with music and lyrics by Richard Adler and Jerry Ross, and book by Abbott and Douglass Wallop. "Damn Yankees" was turned into a 1958 Warner Bros. film that was directed by Abbott and Stanley Donen, with Ray Walston and Gwen Verdon re-creating their stage performances, and Tab Hunter playing the slugger.
Credits
Production Company
New Line Cinema
Distributor
New Line Cinema
Director
Todd Graff
Writers
Lowell Ganz
Babaloo Mandel
Producers
Craig Zadan
Neil Meron
Cast List
Jim Carrey
Jake Gyllenhaal
..... Mr. Applegate (The Devil)
..... Joe Boyd
Movie Quotes
Coming soon...
« Previous
|
1
|
2
|
3
|
4
|
5
|
Next »