Dark Crimes
Page 2 of 5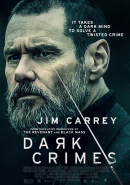 What's it about
When police officer Tadek (Carrey) finds similarities between an unsolved murder and a crime outlined in a book by famed writer Krystov Kozlov, Tadek begins to track Kozlov and his girlfriend, a mysterious sex-club worker (Charlotte Gainsbourg). As his obsession with Kozlov grows, Tadek descends into a deadly underworld of sex, lies, and corruption to find the shocking, deadly truth.
Credits
Production Companies
InterTitle Films
Los Angeles Media Fund
Opus Films
RatPac Entertainment
Distributor
Saban Films
Director
Alexandros Avranas
Writers
Jeremy Brock (screenplay)
Producers
John Cheng
David Gerson
Simon Horsman
Brett Ratner
Jeffrey Soros
Executive Producer
Kasia Nabialczyk
Cast List
Jim Carrey
Agata Kulesza
Charlotte Gainsbourg
Kati Outinen
Zbigniew Zamachowski
Marton Czokas
..... Tadek
..... Marta
..... Kasia
..... Malinowska
..... Lukasz
..... Kozlow
Movie Quotes
Coming soon...
Taglines
It takes a dark mind to solve a twisted crime
« Previous
|
1
|
2
|
3
|
4
|
5
|
Next »