Finders Keepers
Page 2 of 5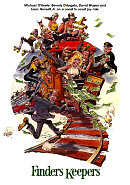 What's it about
Josef (Ed Lauter) and Georgiana (Pamela Stephenson) get past the security system of a large estate and loot the safe of $5 million belonging to Georgiana's father. Cut to Michael (Michael O'Keefe), the manager of a women's roller-derby team that has hit the skids. Michael hides from his angry skaters in a used-clothing store and then buys himself a soldier's uniform, planning to board a train from Oakland, California, to New York. When an Army officer at the station begins to grill him about his status, Michael grabs an American flag and drapes it over a nearby coffin, saying that he is escorting his slain buddy back home. Actually, inside the coffin is the purloined loot. Josef and Georgiana decide to go along with the gag to ensure the safekeeping of the money, but a few surprises are in store for them all.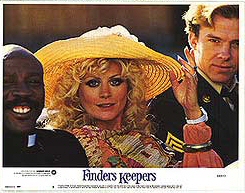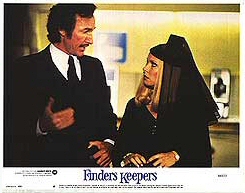 Credits
Production Companies
CBS Entertainment Production
Warner Bros. Pictures
Distributor
Warner Bros. Pictures
Director
Richard Lester
Writers
Charles Dennis
Ronny Graham
Terence Marsh
Producers
Sandra Marsh
Terence Marsh
Associate Producer
Dusty Symonds
Composer
Ken Thorne
Cinematographer
Brian West
Editor
John Victor-Smith
Cast List
Michael O'Keefe
Beverly D'Angelo
Louis Gossett Jr.
Pamela Stephenson
Ed Lauter
David Wayne
Brian Dennehy
Jack Riley
John Schuck
Timothy Blake
Jim Carrey
Robert Clothier
Jayne Eastwood
Alf Humphreys
Barbara Kermode
Paul Coeur
Bill Mankuma
Richard Newman
Frances Flanagan
Campbell Lane
Wayne Robson
Margaret Martin
Judy Leigh-Johnson
Kevin Cork
John Stocker
Harvey Atkin
J.C. Roberts
Kymm Dungy
Margaret Hertlein
..... Michael Rangeloff
..... Standish Logan
..... Century
..... Georgiana Latimer
..... Josef Sirola
..... Stapleton
..... Frizzoli
..... Ormond
..... Police Chief Norris
..... Estelle Norris
..... Lane Bidlekoff
..... Art Bumbalee
..... Anna-Marie Biddlecoff
..... Mulholland
..... Isadore Frizzoli
..... Deputy Police Chief Dunaway
..... Wade Eichorn
..... Pawnbroker
..... Nadine Gardner
..... Stanton Gilmore
..... Zev Tyndale
..... Flo Humberside
..... Harriet Frizzoli
..... Hotel Night Clerk
..... UBS Editor
..... Salesman in Train
..... Pilkington Man
..... Diesel
..... Hojo of Unholy Rollers
Movie Quotes
| | |
| --- | --- |
| Lane Biddlecoff: | I wouldn't have deserted if you had kept me out of the draft. |
| Frizzoli: | What draft? You enlisted! |
| Lane Biddlecoff: | I don't wanna go to Venezuela! |
Taglines
The maddest, funniest money chase ever!
A coast to coast joy ride.
« Previous
|
1
|
2
|
3
|
4
|
5
|
Next »