Lemony Snicket's A Series of Unfortunate Events
Page 2 of 5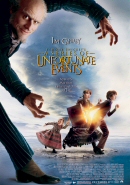 What's it about
Just in time for the 2004 holiday season, Jim Carrey, Meryl Streep, Jude Law, and three unlucky children star in a movie based on the best-selling books by Lemony Snicket.
After Violet (Emily Browning), Klaus (Liam Aiken), and Sunny (Kara Hoffman & Shelby Hoffman) Baudelaire's parents perish in a terrible fire, they are placed in the care of Count Olaf (Jim Carrey), an actor, evil genius, and master of disguise. At every tur, Count Olaf hatches another outrageous plot to steal the orphans' vast fortune, and he's not going to let anybody stand in his way - not Uncle Monty (Billy Connolly), not Aunt Josephine (Meryl Streep), and certainly not the children themselves! The resulting series of unfortunate events is likely to leave viewers of all ages in utter hysterios.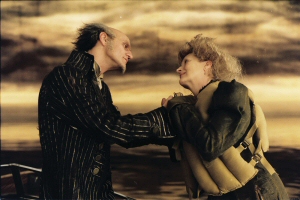 © United International Pictures
Credits
Production Companies
Paramount Pictures
DreamWorks Pictures
Nickelodeon Movies
Scott Rudin Productions
Distributors
Paramount Pictures
United Internatioanl Pictures (international)
DreamWorks Distribution LLC (international)
Producers
Jim van Wyck
Laurie MacDonald
Walter F. Parkes
Executive Producers
Julia Pistor
Scott Rudin
Barry Sonnenfeld
Associate Producers
Linda Fields
Michele Panelli-Venetis
Writers
Robert Gordon
Daniel Handler
Director
Brad Silberling
Music
Thomas Newman
MPAA:
Rated PG for thematic elements, scary situations and brief language
Cast List
Jim Carrey
Meryl Streep
Jude Law
Emily Browning
Liam Aiken
Kara Hoffman
Shelby Hoffman
Timothy Spall
Billy Connolly
Cedric the Entertainer
Catherine O'Hara
Luis Guzmán
Jennifer Coolidge
Jane Adams
Craig Ferguson
Jamie Harris
Hannah Lochner
Michael Earl Lane
Alan Heitz
Rosemary Garris
Deborah Theaker
Lidia Sabljic
.....
.....
.....
.....
.....
.....
.....
.....
.....
.....
.....
.....
.....
.....
.....
.....
.....
.....
.....
.....
.....
.....

Count Olaf
Aunt Josephine
Lemony Snicket (voice)
Violet Baudelaire
Klaus Baudelaire
Sunny
Sunny
Mr. Poe
Uncle Monty
Detective
Justice Strauss
Bald Man
White Faced Woman #1
White Faced Woman #2
Person of Indeterminate Gender
Hook-Handed Man
Darcy
Ferry Boat Captain
Police Photographer
Wedding guest
Mrs. Poe
Woman in audience

Movie Quotes
| | |
| --- | --- |
| Count Olaf: | All that I ask is that you do every little thing that pops into my head, while I enjoy the enormous fortune your parents left behind. |
| Count Olaf: | I'm very disappointed in you children. |
| Count Olaf: | Now that we're a family, I can be the ulll-timate DAD. |
| Count Olaf: | I'm sorry, I don't speak "monkey". |
| Uncle Monty: | Now, the children will be helping us extensively with the research in Peru. Do you have any experience with children? |
| Count Olaf: | (in disguise as Stephano) Children are strange and foreign to me. I never really was one. I do know that they are an important part of the ecosystem. |
| Count Olaf: | Why aren't you orphans in the kitchen preparing dinner? |
| Violet Baudelaire: | Dinner? |
| Count Olaf: | It's the French word for the evening meal. |
| Klaus Baudelaire: | You won't get a cent until Violet turns 18. |
| Count Olaf: | Oh really... says who? |
| Klaus Baudelaire: | The law. Look it up. |
Taglines
On December 17, Christmas cheer takes a holiday.
Don't say we didn't warn you.
We're very concerned
Darkening theaters December 17.
This Holiday, Christmas Cheer takes a break.
At last a holiday movie without all that pesky hope and joy.
Mishaps. Mayhem. Misadventures. Oh joy.
Ruinning Christmas December 17.
« Previous
|
1
|
2
|
3
|
4
|
5
|
Next »