Ricky Stanicky
Page 2 of 5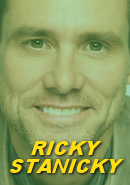 What's it about
The comedy centers on three male friends who have used an invented friend, Ricky Stanicky, for the past two decades as an excuse to explain their way out of sticky situations. When their spouses demand to meet Stanicky, they hire an actor to portray him.
Credits
Production Companies
Smart Entertainment
Summit Entertainment
Distributor
Summit Entertainment
Director
Steve Oedekerk
Writers
Jeffrey Bushell
David Occhino (original story)
Steve Oedekerk (screenplay)
Producers
Michael De Luca
John Jacobs
Executive Producers
Jeffrey Bushell
Zac Unterman
Cast List
Jim Carrey
.....
Movie Quotes
Coming soon...
« Previous
|
1
|
2
|
3
|
4
|
5
|
Next »