NEWS
When all is said and done - "MotM" Junket
23 Dec 1999
BCDavis
()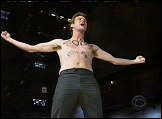 Jim Carrey has been one very busy soul with the "Man on the Moon" press junket. Though the movie opens December 22, the populace has been bombarded with information regarding the late Andy Kaufman and the cast (especially Carrey) of the movie weeks in advance.
Carrey appeared in numerous televised interviews. The most entertaining were those that aired later in the evening, where Jim had a live audience and was freer to loosen up. The best of these interviews had to be the "Late Show with David Letterman" and "Late Night with Conan O'Brien".
During Letterman, Jim showed how he would celebrate the New Year. Running through the studio, throwing confetti, screaming at the top of his lungs, he pretended to kiss and hump both female and male members of the audience. Taking it outside, he broke out a bottle of champagne, sprayed it everywhere, and then attacked a hot dog seller with the condiments. He then played getting hit by a taxi, got on the roof of said vehicle, and stripped to the waist. On his chest was written "2000 rules!" and on his back, "I'm cold." Screaming still, he ran back inside of the studio and finished his little romp. All-in-all, after seeing this, Carreyholics wish they could be with Jim on New Year's Eve.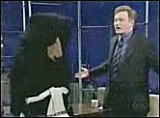 The second appearance of note has actually been long awaited by Carreyholics who enjoy watching Conan O'Brien's program: Jim Carrey visits "Late Night…" The opening skit featured a costumed individual dressed up as a bear wearing a diaper. This is the infamous and burlesque character "Masturbating Bear." After the bear misbehaves, Conan chews him out and removes the mask to discover Jim Carrey underneath, much to the audience's delight.
Later, Carrey and O'Brien get to talk about the Oscars. Jim likens it to the movie "Jaws," and trying to bait and catch the elusive award, re-enacts the boat fishing scene from the movie. The best line during the discussion comes as they speak of the outcry of fans concerning Carrey not receiving a nomination for "The Truman Show." "They can't make the same mistake twice!" exclaims Jim, referring to the supporting critics' and especially Carreyholics' angry reactions if he doesn't get nominated.
Over all, the press junket for "MotM" has been an entertaining affair for Carreyholics and the general public. The movie itself should follow right along.
Editor's Note:
If you're over 18, click on the thumbnail above to watch the incredibly funny and through-the-roof outrageous "Masturbating Bear" gag. If you're not… ah, what the heck, watch it anyway. (Real Media file, 3.05 MB.)
-- Clip courtesy
Late Night with Conan O'Brien - NBC
.
» Send to friend
---
« Newer article
|
Overview
|
Older article »