NEWS
A Magical Friendship
11 Mar 2013
By Tommy Pihl
(JCO Editor-In-Chief)

Burt:
I'd be better off without you. No one comes to
see you anyway. That's why we're called
The incredible Burt and Anton, not the
incredible Burt and the incredible Anton.

Anton:
I can't believe I put up with you for so many
years.... you incredible jackass.
Burt Wonderstone...world-class entertainer, magician extraordinaire, idol to millions, and a real sharp dresser. Even if he does say so himself.
"Burt Wonderstone can be a real jerk," declares Steve Carell, who stars as the fictional mega-magician, half of the longstanding Vegas power duo known as The Incredible Burt and Anton, and was one of the film's producers. "Burt and Anton met at an early age and bonded over magic. Since they've been performing together for years on the long rise to stardom, their act has always been billed as a magical friendship—which is a lovely idea, except that they can't stand each other anymore."
"Somewhere along the line," Carell continues, "Burt forgot about the things that really mattered and let success and all its trappings go to his head. He took it all for granted and turned into a self-centered blowhard, and now he and his inflated ego are due for a comeuppance."
"The Incredible Burt Wonderstone" is the story of that comeuppance.
Moreover, "It's about this kind of dysfunctional marriage, essentially, between two friends who have been working together since they were kids, and what happens to them after it all crashes and burns," says Chris Bender, who also produced, along with Jake Weiner and Tyler Mitchell.
Burt wasn't always so spoiled, notes director Don Scardino. "Magic saved his lonely life when he was a child and brought him his first and only friend," he says. "The two of them just wanted to amaze and entertain people the way that they were amazed and enchanted by the illusions they worked so hard to master. In those early, exciting years, Burt and Anton always encouraged each other to create bigger and better tricks and worked out the fine points of each new routine together. They loved what they were doing, and audiences loved them."
But, after climbing that ladder of success, it seems that Burt Wonderstone and Anton Marvelton, played by Steve Buscemi, sat down on the top rung to rest on their laurels for awhile and enjoy the view. And for ten glorious years, what a spectacular view it was: the 24/7 royal treatment, from the finest restaurants and the most lavish suites, to their own namesake theater and the splashiest marquee on the Strip.
Night after night, year after year, they rolled out the same show without missing a beat, because Burt refused to tamper with perfection.
He also refused to acknowledge their steady turnover of unhappy assistants, calling every one of them Nicole, no matter their actual names, including their latest and best, the woefully under-appreciated Jane, played by Olivia Wilde. Worst of all, he stopped listening to his humble old buddy Anton, until their act settled into a rut. A velvet-draped, crystalstudded, hocus pocus rut.
At the same time, a new phenomenon was emerging in the magic biz: extreme street performer Steve Gray. Portrayed by Jim Carrey, Gray's physical feats and gritty, in-yourface style shunned the curtains, costumes, lighting and music by which traditional shows had always been defined. Instead, he preferred to appear impromptu in a busy thoroughfare, wow a crowd and then upload the footage to a growing online fan base before his van even left the curb.
As the story opens, Gray's irreverent hit-and-run act is drawing a larger and younger following while, not coincidentally, attendance is dropping off at The Burt and Anton Theater. Though Burt initially chooses to ignore this burgeoning threat, it does not escape the attention of his employer, aptly named casino mogul Doug Munny, played by James Gandolfini. In fact, Munny soon lays it out for his veteran headliners in no uncertain terms: they'd better come up with something new, fast, or they're finished.
Unfortunately, what they come up with will finish them anyway.
"They have a falling out...literally," quips Scardino, citing a hastily conceived and disastrously executed stunt called The Hot Box, that Burt and Anton hope will rocket them back to relevancy, in which they are locked into a Plexiglas cage and suspended by crane high above the Vegas Strip.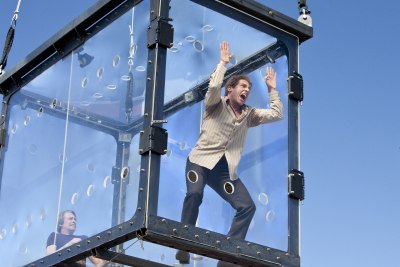 "It's the last straw for poor Anton," the director continues. "As soon as he can actually walk again after that fiasco, he walks away, leaving Burt to put the pieces back together and try to do the act by himself for the first time in his life."
Says producer Tyler Mitchell, "Rather than 'Be careful what you wish for,' Burt's situation is more 'Be grateful for what you have.' The more successful he became, the more he lost his true sense of self, which is something I believe can happen to people in all walks of life. It's not until he loses everything that he has a chance to figure this out, and that becomes his journey and the essence of the story."
Mitchell, who also shares story credit with Chad Kultgen and screenwriters Jonathan Goldstein & John Francis Daley, describes how he found inspiration for the original concept while on a trip to Las Vegas. "My room stared right at this massive billboard for a magic show, complete with jumpsuits, big hair, waxed chests and deadly serious posing, and I said to my wife, 'That's a comedy I want to see.'"
"It's a big, funny, touching journey with lots of surprises, and set in the world of professional magicians, which we felt was a background ripe for comedy and something that hasn't been explored on this scale before," says Bender.
(This text is from the production notes. Part 1 of 4)
» Send to friend
---
« Newer article
|
Overview
|
Older article »