NEWS
Anchorman 2 Blu-ray features with Jim
19 Mar 2014
By Tommy Pihl
(JCO Editor-In-Chief)
Paramount Home Media Distribution has announched news about the upcoming release of "
Anchorman 2: The Legend Continues
". It will be released on Blu-ray Combo Pack (Blu-ray/DVD/UltraViolet) and single disc DVD. The three disc Blu-ray will feature a total of three versions of the film: theatrical, unrated, and the Super-Sized R-Rated Version with '763 New Jokes.' The set also features over 4 hours of bonus content including commentary, gag reels, more than 90 minutes of deleted, extended and alternate scenes, five behind-the-scenes featurettes, table reads, cast auditions and much, much more.
Jim Carrey is part of the News Fight scene. On the Blu-ray you can find a behind the scenes featurette of the scene. Buy the movie on Blu-ray or DVD on April 1st 2014. Full special features below: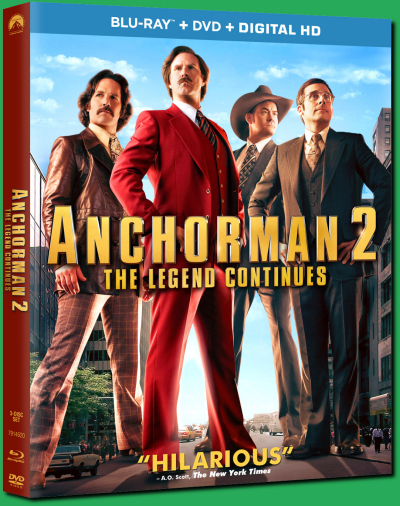 The Blu-ray Combo Pack will include:
Disc 1:
» Theatrical and Unrated Versions of the Film in 1080p
» English 5.1 DTS-HD Master Audio; French and Spanish 5.1 Dolby Digital; English Audio Description.
» English, English SDH, French and Spanish Subtitles
» Commentary by Adam McKay, Judd Apatow, Will Ferrell, Steve Carell, Paul Rudd & David Koechner (Unrated version only)
» Behind-the-Scenes: Newsroom — Inside the making of the film
» Gag Reel, Parts 1 & 2
» Line-O-Rama, Parts 1 & 2 — Non-stop alternate lines from the film
» Welcome to the Dolphin Show — Ron Burgundy takes on the crowd
» Catfight — Christina Applegate vs. Meagan Good with hilarious one-liners
» News-O-Rama — Ron and the News Team bring you the headlines
» Kench-O-Rama — Mashup of Kench Allenby's most Australian moments
» Cast Table Read
Disc 2:
» Super-Sized R-Rated Version of the Film
» English 5.1 DTS-HD Master Audio
» English, English SDH, French and Spanish Subtitles
» Behind-the-Scenes:
» Anchorman 2: The Musical — A look at the musical sequel that almost was
» RV — Dissecting the RV tumble
» Baxter & Doby — The lovable animals of Anchorman 2
» News Fight — Inside the biggest, baddest all-star celebrity brawl
» Deleted Scenes
» Extended & Alternate Scenes
» Previsualizations — RV, Shark Attack and News Fight sequences
» Auditions — Featuring Meagan Good, Dylan Baker and Amy Poehler
» Benefit for 826LA: "Spoiler Alert"—A special tribute to Anchorman 2
» Trailers
The Single Disc DVD will include:
» Theatrical Version in Anamorphic Widescreen
» English, French, and Spanish 5.1 Dolby Digital; English Audio Description
» English, French and Spanish Subtitles
-- Click to
comment this article
» Send to friend
---
« Newer article
|
Overview
|
Older article »