NEWS
"Dumb and Dumber To" Sneak Peek Footage
30 Mar 2014
By Eva Araújo
(Web correspondent)
If you're a fan of any artist… you gotta have patience and hope.
For all the fans of Jim Carrey, Jeff Daniels, the Farrelly Brothers and of the amazing movie from 1994 "Dumb and Dumber", our wait is coming close to an end after 20 years of both undying hope and endless patience.
After some many years, the sequel, to what is considered the best comedy movie, "Dumb and Dumber" is finally coming to our theaters at the end of this year.
Some people have been able to see a first cut of the movie with the reviews being extremely positive but recently a first peek into the movie was shown, exclusively, at the CinemaCon.
And the reviews… are even better!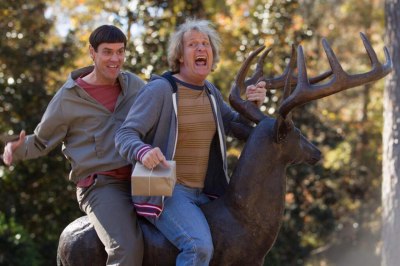 One the writers for The Cinema Blend website saw the peek and has describe what he thinks are the first scenes of the movie, so be advised that the next lines of text could be spoilers for the movie. This is how the scenes were described:
"Beginning with what may very well be the first scenes of the movie, the Dumb and Dumber To reel began in a mental hospital where Harry (Jeff Daniels) has apparently been visiting Lloyd (Jim Carrey) for about 20 years. A pair of nurses talked about how sweet their relationship is, and we see Lloyd for the first time, now sporting a grizzly beard and basically catatonic in a wheelchair. Harry pleads for his friend to just say something… and it's at that point that Lloyd looks up and says, "Got ya!" revealing that he has been faking his coma-esque state the whole time. After a funny sequence featuring Harry trying to remove Lloyd's catheter all by himself (and then with the help of a few nearby gardeners and their flatbed truck), the best buds get out of the hospital and get ready to start their next adventure.

After a few non-sequitur scenes and funny moments, the plot was then established: Harry gets a letter in the mail from his former lover Fraida Felcher (Kathleen Turner) who tells him that she is pregnant with his child. The problem is that the letter is actually from 1991, meaning that Harry has an adult daughter he knows nothing about. They then go to visit Fraida to inquire about the kid (including whether the mom had a C-Section or went "Au Snatchural"), and discover that the child was actually put up for adoption, leading Harry and Lloyd on a new road trip to find the missing daughter.

In the final (and grossest) scene of the Dumb and Dumber To footage, the duo are in a nursing home visiting an old woman who Lloyd believes to be his grandmother. Told that she is lying on top of some "huge diamonds," Lloyd reaches under the blankets, but instead of finding precious jewels he instead accidentally starts "pleasuring" her (I'm trying to be as delicate as possible). It's at this time that the woman decides to tell him that she is not actually his grandmother, and that he can, "Cross that one off your bucket list."
If you can't stop laughing imagining these three scenes...
I guess you can tell how funny this movie will be.
And we can't wait to find out.
We at JCO we'll keep you updated as more dumb is coming…
-- Source:
CinemaCon
. Click to
comment this article
.
» Send to friend
---
« Newer article
|
Overview
|
Older article »