NEWS
Memorable Moment: The Afternoon Show
17 Nov 2016
By Eva Araújo
(Web correspondent)
In December 5th 1985 at the Canadian TV channel KPIX-TV Jim Carrey was invited for The Afternoon Show to promote the movie "
Once Bitten
".
After a small talk the hosts Ann Fraser and Ross McGowan introduced Jim at the audience mentioning he has a comedy tour with Rodney Dangerfield, "In Living Color" and the appearances on The Tonight Show.
Jim walks on set with jeans and denim jacket with a vest incorporated in the tones of red and white, he dances with the music and uses his leg to pretend to be playing the guitar. He jumps over the couch and sits, only to get up again and say hello to the hosts.
Ann points out Jim is a man of many talents and that know he's also an actor and asks him if growing up he had any idol. Jim immediately replies: "I loved Jim Stewart. I think Jim Stewart is the creamiest. Creamiest is my word for grey. Jim Stewart sees the beauty in everything..." After saying that Jim starts doing an impression of his idol making the audience laugh and emotional.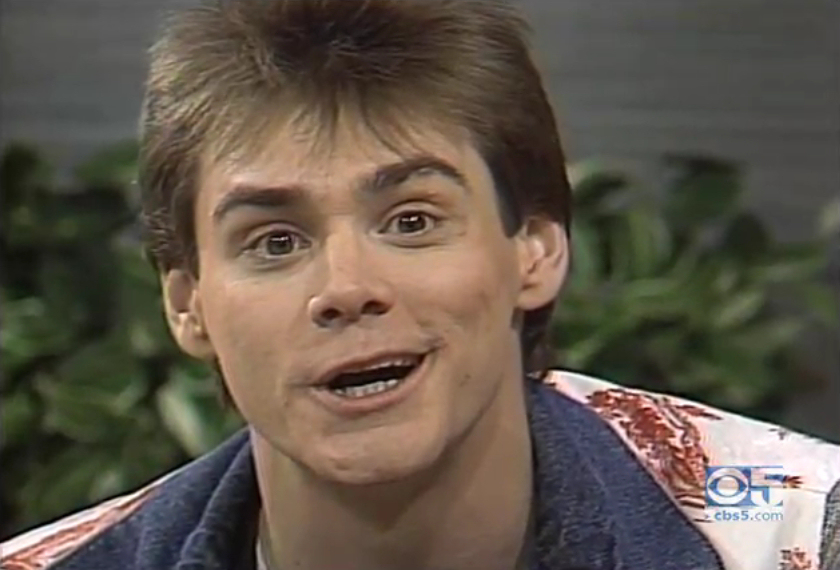 This prompts Ross to mention Jack Nicholson and Jim says he loves him too and before he continues he jokes about his name being well spelled in the TV screen.
"I've been thinking about nuclear war lately. I think it's an honour if Revelations is correct though. I think Jack Nicholson would handle anything cool, you know? Even the nuclear flash we would be sit there..." Jim combs in hair back with his hand, lay back and doing an impression that made audience and host laugh even more says: "Looks like the perfect weather for a nice cold beer..."
"I love guys like that. Guys that have such a character like that. Like Bruce Dern is one of my favorite villains. You guys know Bruce Dern? Bruce Dern is too scary, he should run for president. We have a good guy we need a bad guy out there." Jim then does a Bruce Dern impression to prove him right.
Ann talks about Jim's face and mention James Dean, a perfect cue for Jim to do an impression of him right after warning the audience: "This may get a little cool so if it gets too cool just keep control on yourselves. I don't want anybody running up here dammit." She is very excited and in awe of Jim's face ability and Ross asks how did it all start: "It was in second or third grade, I was sitting at the back of the classroom and of course they were playing this classical music and I was right into it in grade 3, right? (…) I was at the back of the class going [pretends to be laying a violin in a funny way] and the teacher said: Ok the class clown if you wanna do that get up and do it in front of the whole class. I got up there and I did this wild three stooges type dance and the teacher when wild [Jim starts clapping]. The kids when crazy and she ask me to do it in the Christmas assembly, it was my first taste of being a headliner, you know? Because I got to come out on stage during the Christmas assembly with a Santa Claus outfit on and the rest had to play the elf's! [Laugh meanly]
Before the break Ann asks Jim to do an impression of Jack Palance.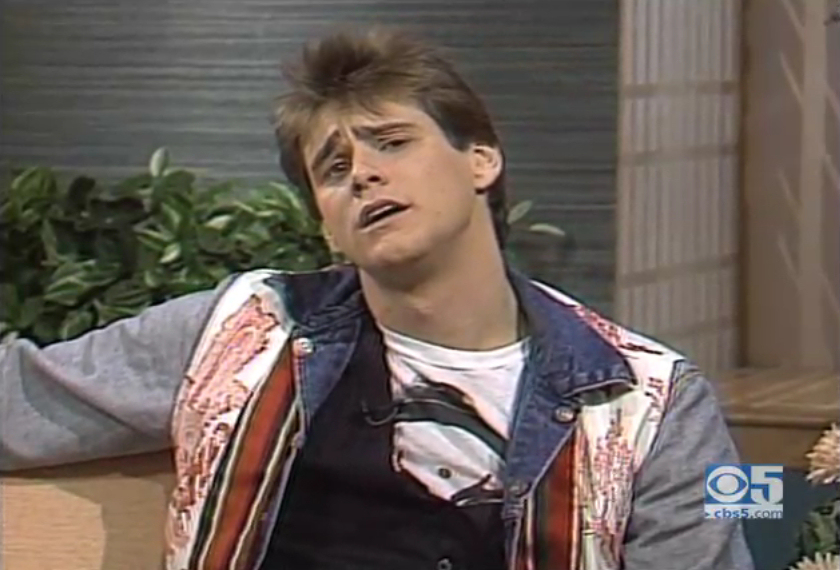 When the interview resumes Ann asks Jim is he likes doing impressions and Jim surprises the audience, showing his acting skills by answering in more dramatic way pretending to get more emotional as he talks: "Oh yeah it's great, you know? The greatest part about doing impressions, although I'm an actor and everything, I can go on stage every night and I love it because I can go up there and never be recognized for who I am. I love that. I mean to be able to, go on stage and not be myself I love that. I love to be able to… lay in my bed every night and ask what is my special thing? To be able to go to a party and say something that it's really truly original funny and someone say who's that suppose to be? I love that."
Ross McGowan asks Jim about where will he be when he grows up and Jim answer turns out to be a sketch even the host of the show participated in.
Jim pretending to already be an old man telling a tale from the past goes: "I'll tell ya kids, one time I was on the afternoon show and I was doing a bunch of bits, done some impressions, had a little bit of a nervous breakdown and then I all of a sudden I felt a hanker to take my right shoe off. So I took it off and I place it on the table, right before Ann and Ross." At this point the hosts start participating in the sketch by doing exactly what Jim says. "At first, they looked at it questionably and then with great fear. Even greater fear! And then they picked up the shoe, the bravest of them. Pick the shoe and then I started to bark at them because I wanted to fetch it."
Jim starts barking and by his request Ross throws the shoe. Jim jumps and slides through the floor to get to the shoe, grabs it with his mouth and shakes it just like a dog. He then walk to Ann and puts the shoe in her lap and she pet his head.
After talking about the originality of his clothes since Jim was wearing his jeans' pockets inside out they start talking about the movie "Once Bitten".
Ann asks if it was true that he had sexual fantasies about being involved with a vampire since he was a little boy and Jim replies: "It's very true. I started earlier, I don't know why. It's the French blood in me I guess but I had all the monster models and the Vampariella thing came out and it drove me crazy with that tunic she wore. That was the only one of my monster, I had all the models, it was the only one left with no paint on it."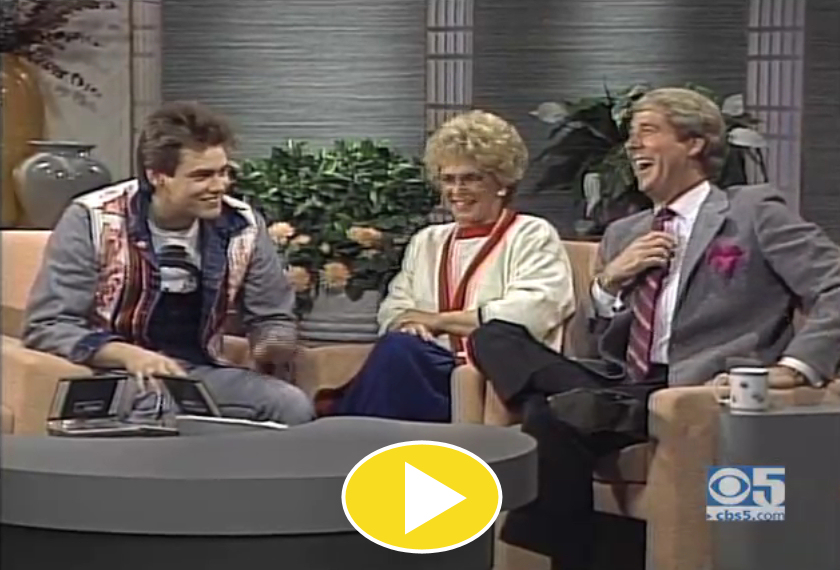 They show a clip of the movie "Once Bitten" and after that they talk about Jim's scene that he had to do nude and how uncomfortable it was. He also jokes about the fact the scene had to be done using cold water since hot water with steam the cameras: "It was very embarrassing but I did it. That cold water assured me that nothing would show."
The interview ends with laughter as a good interview should.
We at JCO will keep you updated as more news come and will continue to share jewels like this.
-- Click to
comment this article
.
» Send to friend
---
« Newer article
|
Overview
|
Older article »