NEWS
Jim Carrey BAFTA Awards Speech
27 Oct 2018
By Eva Araújo
(Web correspondent)
Yesterday was a glorious day! Jim Carrey was among the honourees at the Beverly Hilton Hotel in Beverly Hills, California for the annual BAFTA Awards.
Jim was wearing a black jacket with golden flowers, black pants and black shoes, to receive the Charlie Chaplin Britannia Award for Excellence in Comedy. Peter Farrelly was the presenter of the award.
He looked very handsome: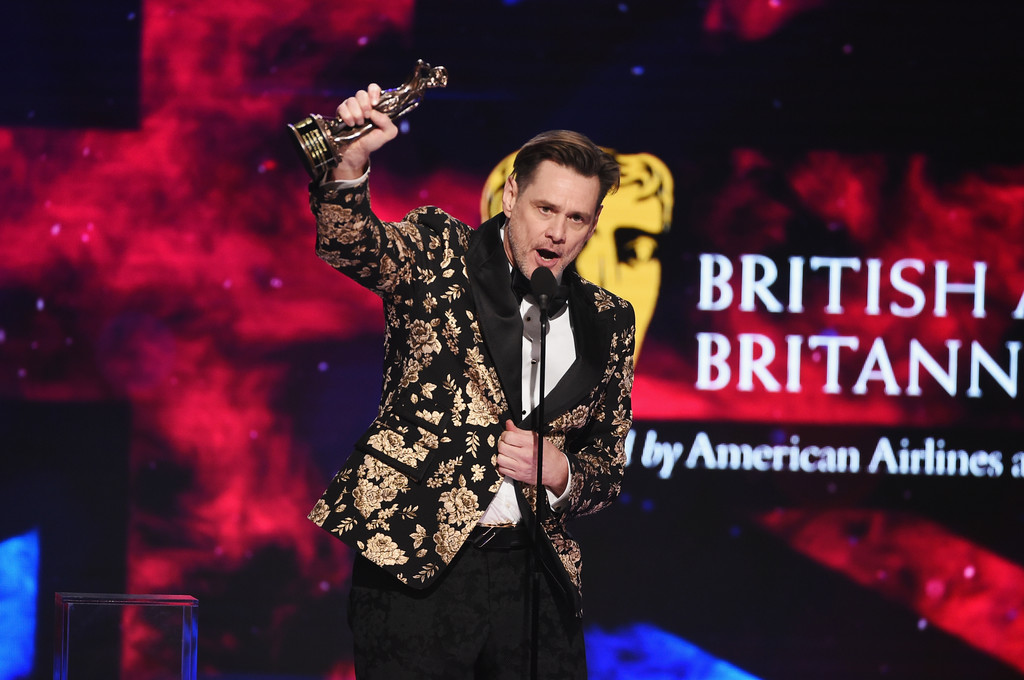 As expected, because of the recent events, his speech was political but with a strong message:
"Wow, thank you so much that was very convincing I approve of this entire illusory manifestation. I'm glad it didn't come in the mail. Kind of worked it, kind of worked maybe a little soon. It is my job to try ok. Sorry. Yes, I no longer have packages delivered to my home in the Great America that's been fashioned in the last couple of years. I don't remember it ever being this great actually.
I want to express my sincere gratitude to BAFTA for this immense honor. Charlie Chaplin was truly an artistic and humanitarian hero of mine, he grew up in extreme poverty, his father was absent his mother went into an asylum when he was 14 years old my (…) it's pretty stirring stuff but that kind of pain turns some people as we've seen lately into monsters and others into fountains of creativity. Chaplin alkalized his pain turned it into art, exquisite timeless healing art. Very few people know that the Tramp characters funny walk was because he had worn through the soles of his shoes he was in pain and trying to avoid the blisters trying to stay off his feet you know with without empathy like that this character would never have existed, without empathy we won't either with modern times. He criticized capitalism without a conscience and that's what we have now we have capitalism without a conscience so he showed the common man being fed through gears of the brutal dehumanizing industrial age he took on the American right wing of his day its worst evils hatred of immigrants contempt for the truth greed and the abuse of power we are fighting those same evils today in America in the United Kingdom across the globe and we need to be clear: shamelessness is not and will never be a superpower. It is the mark of a villain kidnapping children is not what great nations do. Almost half of America at this moment believes there is a sinister deep state diabolically plotting to what give them healthcare what is the sinister plan here sure I can afford the miracle drug for restless leg syndrome I should take the pills I guess.
We in America are misinformed. Reality shows, have warped our idea of what a hero is or what the truth is so tonight I'd like to dedicate this award to those who remind us of our virtues who remind us of the truth to Sir Charles Chaplin who battled McCarthyism into exile - Christopher Steel who tried to pull a thorn out of the paw of an ungrateful Beast - Christine Blasi Ford - Colin Kapernick he'll stand for the anthem when the anthem stands for him and to one of my friends my good friends and one of the greatest artists of our time Robert De Niro whose life was threatened also this week along with many other incredibly decent people who bring joy to the world who've been dedicated to it for years for decades how dare they besmirch those people, how dare they? We can do better than this.
I know this wasn't funny but it's not very funny right now and I want it to be and I will be again but god damn it let's get the balance back okay in November, let's get the balance back.
Thank you so much this is a tremendous honor! Thank you Peter Farrelly who is responsible for some of the great moments of my life, thank you to my daughter Jane who is my tether to this world and everything valuable in it, thank you Jeff for being here, John Rigney one of my oldest friends, Dan Aloni my agent, thank you all! I love you so dearly and I'm so honored to be included amongst these recipients I can't believe it!"
Check out the video here:
We are bursting with joy and feeling very proud of Jim Carrey.
Please, check out our Gallery for all the photos from the event.
We at JCO will keep you updated as more news come.
-- Click to
comment this article
.
» Send to friend
---
« Newer article
|
Overview
|
Older article »