NEWS
Happy New Year - 2019 Will Be A Blast
31 Dec 2018
By Eva Araújo
(Web correspondent)
Its almost impossible to believe that the year is over. Time does travel fast and especially when we are having fun. 2018 was a very good year, right from the beginning. After Jim Carrey's birthday we got to see him in the documentary "
The Zen Diaries of Garry Shandling
". The doc in two parts features a lot of Garry's friends and serves as a tribute to him after his passing the previous year.
On April 20th, the world premiere of Showtime's "
I'm Dying Up Here
" took place followed by Season 2 on TV a few weeks after. Even though the series got cancelled later in the year, it's still worth mention since it's an amazing series where they show us the world of comedy on the 1970's. The following month May 13th, a memorial was held for Mitzi Shore the owner of the Comedy Store club that launch the careers of many comedians, including Jim who attended the ceremony. Five days later on May 18th "
Dark Crimes
" movie premiered in USA. It didn't stay long in theaters so it came out on DVD and Blu-ray on July 31st. On July 12th the production of "
Sonic the Hedgehog
", started in Canada. Jim plays the villain "Dr. Robotnik".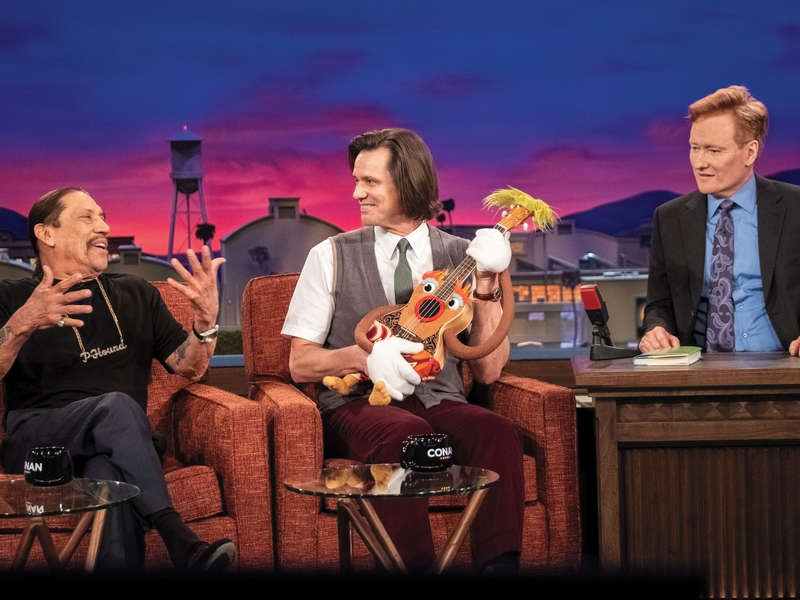 But the best part is still yet to come since the last trimester of the year was even better. On September 5th, Showtime TV series "
Kidding
" had its premiere! "Kidding" mark Jim Carrey's first time on television since the end of "In Living Color". Jim play Jeff Pickles, a nice man in a cruel world who tries to balance his public persona with his inner demons.
This year we also got to see Jim attending a few events, especially festivals. On October 6th, we got to see him at
The New Yorker Festival
to talk with Colin Stokes and on November 18th he attended
The Vulture Festival
. In both, Jim talked about his work and his cartoons. But if we are allowed to highlight something from 2018, we would say that October is probably the month were most amazing thing happen. All through the year Jim voiced his opinion and showed a new talent by sharing his drawings on his Twitter account. Those drawings were cartoons and since the main theme of them is the current President of USA, they soon became political cartoons. Nobody could stay indifferent to them, even the owner of the Maccarone Gallery in LA and on October 23rd, the "
IndigNATION
" art exhibition opened its doors. Jim Carrey attended for his third solo art exhibition.
And finally on October 26th Jim Carrey was honored by the
Britannia Awards
with the Charlie Chaplin Britannia Award for excellency in comedy award. Jim received it and delivered an amazing speech:
2018 was amazing! But don't worry! 2019 will be a blast. Jim Carrey's birthday is coming up… but before that, on January 6th we will get to see if he wins the Golden Globe for best actor in television. Jim got nominated for his work in "Kidding".
Also in January Kidding will be released on DVD/Blu-ray and later on the year we get the second season! We also get to see him on the big screen on November 8th, in "Sonic the Hedgedog". 2019 will bring us more of his political cartons, but above anything else, his creative talent. We are looking forward to everything and anything Jim is willing to share with us and we are grateful when he does. If we are lucky he has a book coming out soon.
The JCO team would like to wish all of you a wonderful 2019, filled with love and peace! We would also like to wish Jim Carrey a year just like him: amazing!
We at JCO promise to continue to keep you updated as more news come this next year. Thank you!
-- Click to
comment this article
.
» Send to friend
---
« Newer article
|
Overview
|
Older article »