NEWS
Jim Carrey at the CBC Radio Show q
09 Jul 2020
By Eva Ara˙jo
(Web correspondent)
Tom Power is the host of the "q" radio show, who talk with many artists and yesterday he had a Zoom conversation with Jim Carrey and Dana Vachon about "
Memoirs and Misinformation
".
They discussed a lot of things starting with the cover of the book. The picture you see is a real pictuer of Jim, in an unbelievable moment when his assistant Linda called him in panic after learning missiles where hitting Hawaii: "She said, 'There are missiles coming, and they're going to land in 10 minutes. This is real.' And as she was strenuously clutching her iPhone, she accidentally took a screenshot of my face. So the book's cover is an actual shot of my face after being told that I have 10 minutes to live."
Bus instead of feeling panic Jim felt calm: "It was more a wave of calm coming over me and a sense of 'Oh, that's strange. Huh, what a funny way for this all the end.' And that's the feeling I got. I tried to get off the island on the phone to my daughter and I couldn't get through. And finally I just said, 'You know what? I've had a wonderful life.' And I decided to sit there and watch the ocean and go through all the ways in my head that I could be grateful for what I had. And I started this list of gratitudes that could have gone on forever."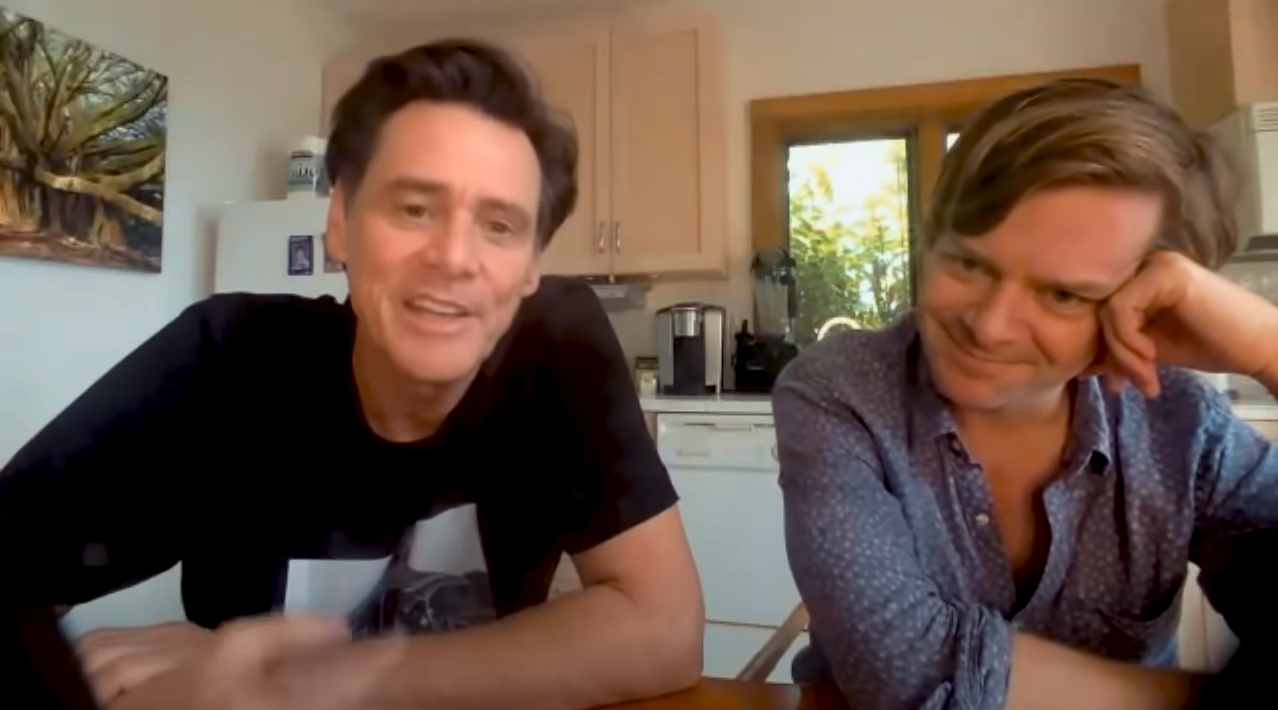 Listenning to Jim speak we are a bit at awe. The book mixes together biographycal and fiction facts. And even if it may be hard to tell them apart or which part is real, for Jim that's the point: "Real' is an illusion. I really think it's as simple as that." And between Jim Carrey the fans know and the "real" Jim Carrey: "There is no difference. They're both ideas, and abstract constructions. I truly believe that and this is not an arrogant thing. I'm not being supercilious when I say we all have this."
One of the many people Jim mention is the book is Rodney Dangerfield, the fellow comedian. There's a special space in his heart from him: "He was an incredible human being and a tremendous support. If he loved you, man, you were under the wing and he was telling you what you needed to know, that you needed to make the tank so strong that no bonehead could stop it. And he supported me when I was experimenting and would stand backstage laughing and going, 'Those people are looking at you like you're from another friggin' planet, man.' But he supported me, and kept hiring me. He was just lovely to me."
The book has another goal too as Jim says: "to go through this absurd journey of definition, and the madness of Hollywood and the burning down of old structures to get to at least a taste of that infinite nothingness and everythingness" and that the Hollywood glitterati are "a bunch of entities and people struggling to make some sort of relevance for themselves."
"In the end, he says, apotheosis can't be reached as an individual; rather, you have to let go of the individual to get a glimpse of enlightenment. "Ramana Maharshi, a wonderful Indian sage, was on his deathbed and one of his servants came up to him and said, 'Ramina, I don't want you to go.' And he said, 'Where can I go? There's nowhere to go.' There's nothing that isn't him. I don't think of my father as gone. I don't think my mother as gone. They'll never go. There's nowhere to go."
Tom asks Jim where they are: "Where aren't they? They're in you", replies Carrey.
It's a wonderful interview. Check it out here:
We at JCO will keep you updated as more news come.
-- Click to
comment this article
.
» Send to friend
---
« Newer article
|
Overview
|
Older article »