NEWS
Happy New Year - Goodbye 2020, Hello 2021!
31 Dec 2020
By Eva Araújo
(Web correspondent)
In these articles we usually praise the year that is about to end and filled the hope bag, that the next year with be even better. Let's face it: Nature did pull a stunt on us with the Covid-19 pandemic so, we would all like to kick 2020 in the butt. But focusing only on the bad, makes you stuck on negativity and as fans of Jim Carrey… we can't complain too much about 2020.
Right in the beginning of this year we saw Jim and the rest of the cast of "
Sonic the Hedgehog
", start their promotion tour for the movie. Jim especially, attended many talk shows that included "
The Kelly Clarkson Show
", "
The Graham Norton Show
", "
The Late Show with Stephen Colbert
", "
The Russell Howard Hour
" and more. Jim was also outside the U.S.A., in both U.K. and Germany, something he hasn't done since "Dumb & Dumber To". Seeing Jim in any of these interviews was a delight. Something we had no idea we needed to have.
Sonic premiere on Valentine's Day (February 14th) and it became a huge box office success! Ranking 3rd in the most grossing movie in theaters in 2020 with and amazing $146 million dollars!!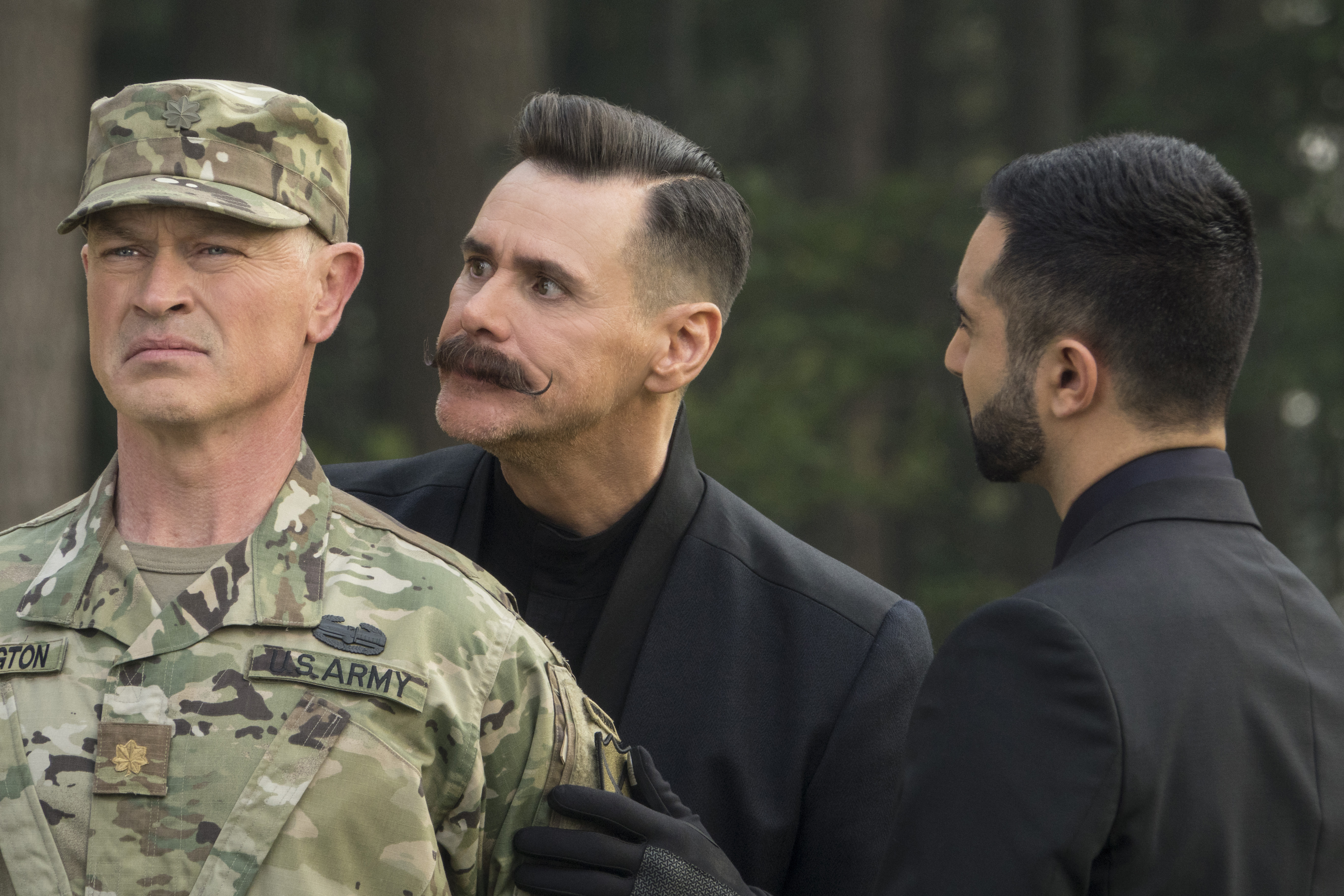 February, the second season (and the last) of "
Kidding
" premiered at Showtime. With 10 episodes with Jim as Jeff Pickles. A critically acclaimed and rewarding series we now have 20 episodes of.
Most of the world experience the lockdown due to the Corona virus pandemic around March and all of the entertainment industry stopped. But because of it we got to see a early release of Sonic in DVD and Blu-ray in May.
Jim also started on Twitter a
Beard Grownth Project
until everyone got to work again. It didn't last long because of the lockdown, unfortunately did but it was still fun to watch.
July brought a gift: Jim's novel "
Memoirs and Misinformation
" was finally released. There were plans for a big promotion tour with 11 events, along with co-author Dana Vachon, which sold out quickly but unfortunately got cancelled because of the pandemic. But that didn't stopped the promotion and we got to see Jim again, this time, at home, via Facetime/Zoom, at "
The Tonight Show Starring Jimmy Fallon
", "
The Daily Show with Trevor Noah
", "
Real Time with Bill Maher
" and many more.
And we got to also see both Jim Carrey and Dana Vachon on an Official Virtual Book Event, where they talked about writing the book. So good! You can't miss it!
In October we saw Jim return to his talent of doing impressions when he played Joe Biden for 6 episodes of the show "
Saturday Night Live
" and he nailed it!
Jim has continued throughout the year to be vocal about his opinion on Donald Trump by sharing many of his cartoons of the now former President of the United States of America. The last cartoon was the election day - which Joe Biden won.
And if you love comedy, if you love stand-up comedy in particular, then you should have already watched the 5 episodes of the new Showtime documentary series "
The Comedy Store
", that features an amazing group of people, including Jim Carrey. Worth to take a look at.
2020 will be over soon. As hard as this year may have been we can look at the next one with more positively than ever. Regarding Jim, we can look forward for the
Critics Choice Super Awards
in January 10th, since he's nominated for several awards and in March the production of "
Sonic the Hedgehog
", will began too.
And who's know! Jim is a pandora box of surprises and talents. We are happy to see what he will bring us next!
We at JCO would like to wish you all
and to Jim Carrey and his family:

HAPPY NEW YEAR!

We at JCO will continue to keep you updated
as more news come in the new year.
-- Click to
comment this article
.
» Send to friend
---
« Newer article
|
Overview
|
Older article »