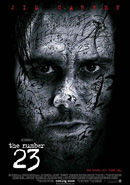 Post the reviews in this topic.
Thrillers just aren't the right tune for Carrey to dance to, and as if somehow compensating for his lack of familiarity with the genre Jim spends most of the movie mugging and overacting. He's too wrong for the role. The part requires a kind of subtlety he just doesn't have. Jim barely gets by as a dramatic actor, as a crazy on the loose in a thriller he's more looney tunes than lunatic.
Josh Tyler
(Cinemablend);
http://www.cinemablend.com/reviews/The- ... -2105.html
---
I'm a bit afraid 'the Number 23' isn't going to be good, the three reviews i saw were bad. And funny enough, they confirm my thoughts on the trailer.
The main problem seems to be that people don't believe Carrey in this character. The biggest problem is -suprise, suprise- Schumacher as a not-so-good director in combination with a silly script.
Ofcours, I can hear you all think, "Don't listen to the critics", I know. And I'm not planning to. I'll make up my own mind. but reading my pre-thoughs on it in the first three reviews ... that concerns me.