SIGHTINGS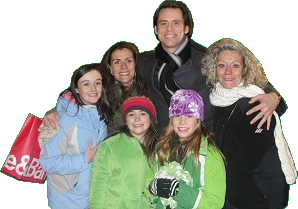 Page 1 of 3
There are a few select individuals who have been fortunate enough to have met Jim Carrey, in this section you can read their stories. We also have tales of general sightings and even phone calls.
If you're among the lucky ducks who've had the opportunity to meet Jim Carrey around a movie set, at one of his book signing or somewhere else, we want to hear about it!
Imagine how envied you'll be...
All you'll need to do is fill a simple
form
.
Sightings
» Story of Sara Dahms
Added: August 3, 2017
Jim Carrey was presented with the Generation Award by Judd Apatow and in his introduction speech Judd made the declarative statement, "Jim is the best. No one comes close." He said it a few times to really let the significance of his words sink in. He wasn't making a joke. He was stating a fact. Jim may be "the best" but nobody recognizes and appreciates funny or has more credibility than Apatow. For Judd to go on the record and make such a bold statement is a true testament to the depth of Carrey's abilities. Jim Carrey received his award and gave his acceptance speech. He was funny, charming and sentimental. It was completely surreal to bare witness to his undeniable genius. It's the exact type of experience my comedy-nerd dreams are made of. Jim also found a way to weave some of his existential philosophies into his speech in much the same way he had during his "I'm Dying Up Here" panel the night before. I may have only minored in philosophy when I was an undergrad, but I can recognize a wise soul when I see one and I appreciate and admire his complexity and spirit. Jim shared his belief that everything in the universe is connected and through this connection we are in fact all things. His words were thought provoking and beautifully humble at their core.
At the end of his "I'm Dying Up Here" panel Jim went to the edge of the stage and shook as many hands as he could, graciously posing for selfies with any of his fans who asked. I was there but not fast enough to get in on that action, so as soon as I saw him shaking hands again after the award show wrapped, I got right over to the front of the stage, phone in hand, ready for my selfie with the great, Jim Carrey. As Jim moved closer and closer to me, I heard him say to his adoring fans, "I don't really want to take pictures, but I will. I just want to meet as many of you as I can." His words had a Buddha like quality to them and with that, I made the decision to put my phone away and respect his humble request. Instead of asking for a picture, I simply shook his hand, looked him in the eyes and said, "You are everything!" I may not have a picture to post on Facebook of this encounter, but the memory will remain with me forever in my heart.
(Met Jim Carrey at Just For Laughs. A night with cast and creators on July 27 and Just For Laughs Awards show on July 28)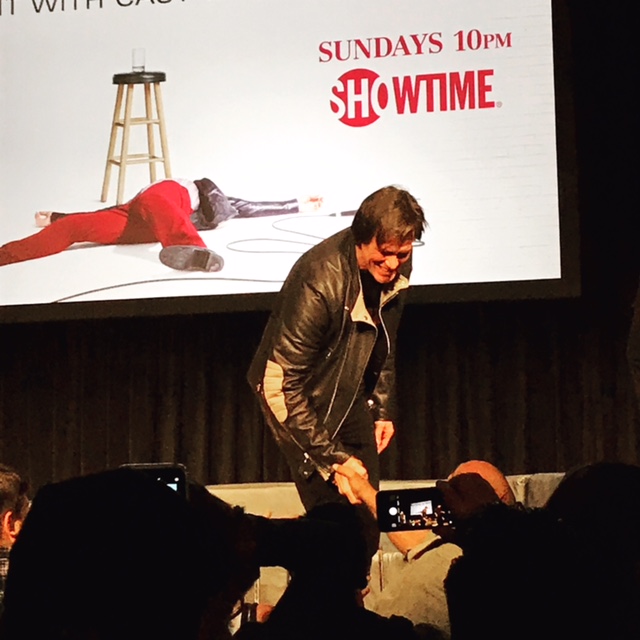 » Story of gothichyppie
Added: August 2, 2017
My brother and I were in line for the Just For Laughs Awards show to which there is only one entrance. Jim eventually showed up by the escalator and I gave him my loveliest smile and wave and he waved back at us, everyone being very casual and respectful.
Then I got to meet him after the show, nothing too spectacular but man, I'll take it! All the guests posed for pictures and EVERYBODY took out their phones. I was only in the fifth row and thought that while everyone was busy taking a billion pictures, I would sneak to the front. I approached Jim and said 'Hi, nice to meet you!' to which he shook my hand and replied 'Nice to meet you too!'. He was up on stage so he was like a ten feet giant to me. Then I just left, not wanting to take too much of his time and let other people have their chance, one polite Canadian to another.
(Met Jim Carrey at Just For Laughs Awards show on July 28)
» Story of Jennifer Joelle Kachler
Added: June 26, 2015
As written in this
article
, Jim Carrey personally selected myself and Mary Veronica to pose for him in the painting...it was an incredible experience. He said he needed help and looked me into the eyes, straight into my soul, like he was truly looking at me and no one else in that moment and said "Do you want to help me? You may get a little dirty." And I smiled and said "Yes, and I don't mind if I do!"
Having Jim Carrey position me as I modeled for him was absolutely unreal. I was speechless, blushing and basically shaking. I was in total awe of his kindness, his artistic expression and his bliss. I feel honored to be the subject of a Jim Carrey original as the process was more than just modeling for him, it was a lesson in life. He taught me so much about art, filmmaking and life in that session then I learned all year because it was an artist inviting an artist into his creative cave, allowing me to see him in action where not many are allowed nor invited to participate.
Jim Carrey is a generous man who shares his everything with the artistic experience and I was involved in it for a moment. A gift that I will cherish for years to come in my creative journey in life.
(Met Jim Carrey at his art studio with class from David Lynch MA in Film on May 15)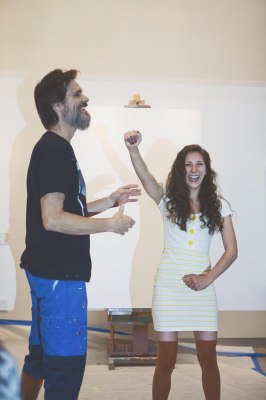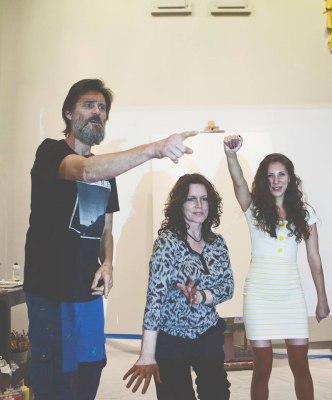 » Story of Sudevi Mossé
Added: June 5 2015
On our last day in Los Angeles we saw Jim Carrey, somewhat unexpectedly. His manager, John Raatz, is on the DLMA board and was traveling with us. He'd dropped hints during the week that we might get to meet the comedic hero, but no one was quite sure until our last afternoon. We were brought up to Jim's art studio in Santa Monica. It was dark with blasting music and a glittering disco ball. We were instructed to gather chairs around a projector that was shining light onto a white canvas. No one knew what was going on and we were all giddy with anticipation.
Finally, Jim walked out and welcomed us warmly. One of the first things he said is that he wanted us to help him make a painting but that he needed two volunteers for it. Jennifer and Mary Veronica raised their hands eagerly. Jim positioned them in front of the projector so that their shadows were cast onto the blank canvas behind them. Jim painted the outline of Jennifer's body, but not her head, and then outlined Mary Veronica's head. Everyone chuckled, since it looked like Jennifer had ripped off her head and was holding it away from her body! He put all kinds of bold colored paints in the canvas. We were awed and confused. We watched Jim create his art as his assistants scrambled to bring him various pails and the tubes of paint. Finally, when the paint was drying, Jim opened up to some Q&A before revealing the artistic masterpiece.
The most memorable thing I took away from talking to David Lynch and Jim Carrey is that as artists we're always going to be wacky and that never changes. The only way to stay fulfilled and happy as an artist is to keep creating. Both David and Jim were warm and uplifting, and inspired us to carry on creating our art. The students and I were all spellbound and riveted by their highly accessible talks."
(Met Jim Carrey at his art studio with class from David Lynch MA in Film on May 15)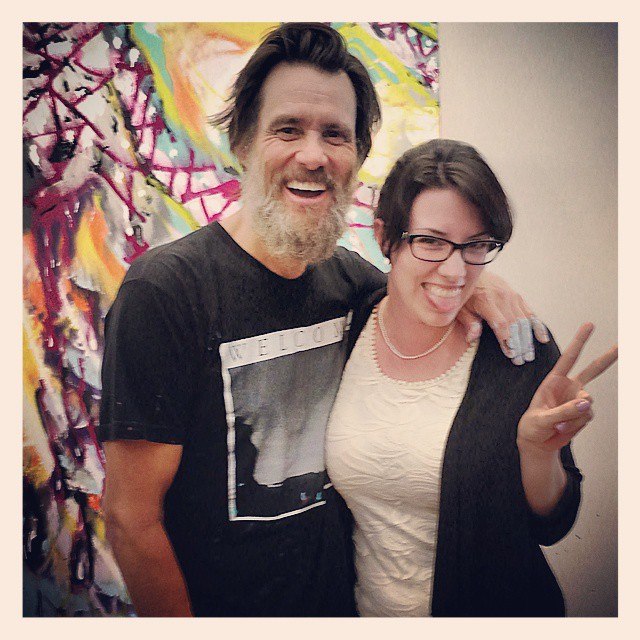 » Story of Danelle Schlegel
Added: January 30, 2014
Hello. My name is Danelle Schlegel and my son's names are Nathan and Gavin (Gavin's Guardian Angels). On October 19th in Atlanta, GA and on October 26th in Los Angeles, CA my family was so blessed to have met our hero Jim Carrey. This is our story:
My son Gavin is 5 and has been going through chemotherapy for B-cell Leukemia ALL since April 6th of last year. He has been fascinated with Jim's movies ever since he was born and as long as I can remember... Like mother like son. His favorite movie is Ace Ventura and he has a toy of Jim from that movie, which he carries everywhere.
After his devastating diagnosis last year the pain inside and out seemed almost to much for our family to bear. Seeing you in your movies Jim has brought that joy back into our lives and helped us sit back and just laugh again. Even if just for that moment. For that, we thank you so very much Jim...
For many years, I have tried to connect with you on Facebook and Twitter with no luck. After your amazing new book came out and you announced the book signings, I told Gavin we could finally see our hero and he freaked out. We were so excited and knew that no matter what the distance, we just had to find a way to meet you...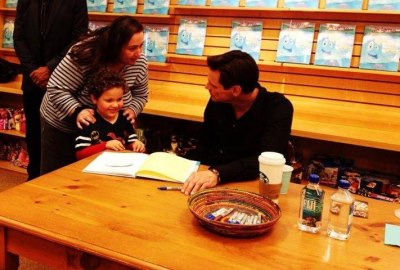 So, on October 19th, with the Dr.'s okay we drove to GA. The whole way there was so very exciting for us all.. My boys and I waited last to meet Jim. As we approached him, he was so very loving to my little boy. I explained a bit of Gavin's situation and how much we loved him. I let him know he was our hero and thanked him so very much for making my son's wish come true. He embraced us all with such warmth and love, even though he had been signing for hours. Gavin and him even made funny faces. We were able to make a video with Jim and our family on camera and take a few pictures. We will cherish those moments with him forever in our hearts... Thank you, Jim. Best day Ever!!
After we arrived back home, I logged onto my Facebook account and was overwhelmed with joy to see one of those pictures of us on his page Jim Carrey is Here. Gavin was so happy by that, we drove to CA on October 26th just to say Hi once again.
The day of the signing, Gavin was waiting for Jim to read his book, when he was pointed out by Jim and he shook his hand. He remembered Gavin and that lite up his world Thank you, Jim so much... We got to the front of the line and got another photo for our memories. We told him again how great he is and how much we loved him and for making such a difference in my family's lives. I also let him and his daughter know, that we couldn't wait for "How Roland Rolls 2" to come out.
Thank you, Jim for everything. (For just being you) The most talented actor, painter, sculptor and writer there is and will ever be... You have a heart full of such love and compassion for others. And that is why we love you so very much and always will... Happy Late birthday. We pray to see you again soon. We love you, Jim!!
You are the GREATEST...
(Met Jim Carrey at book signing events, Barnes & Noble in Atlanta on October 19 and Barnes & Noble in LA on October 26)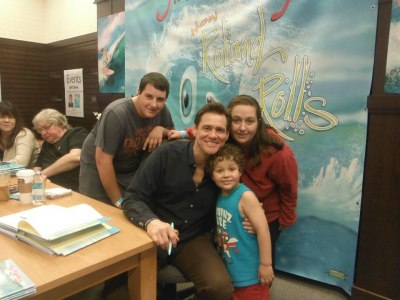 » Story of Eddy Gutierrez
Added: November 4, 2013
Jim Carrey is amazing and it was a dream come true for me to meet him at his book siging. I'm deaf and I taught him how to use fingerspell his name (J-I-M). He practiced fingerspelling 3rd times. It was the best day ever! Thank you, Jim.
(Met Jim Carrey at book signing event, Barnes & Noble in LA on October 26)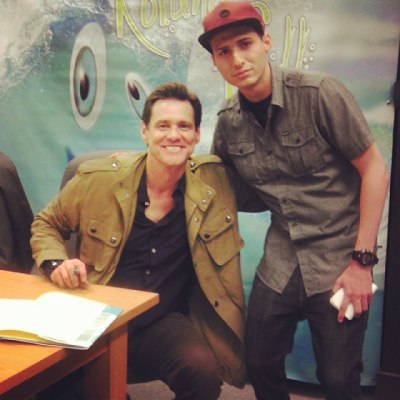 » Story of Maria Perez
Added: October 27, 2013
Waiting in line to meet Jim Carrey yesterday was well worth it, unfortunately my son and his girlfriend were not as lucky as me since they had prior commitments and were unable to stay however they did purchase the books and Jim Carrey was nice enough to sign all three. As I assumed Jim Carrey is an amazing person and my experience yesterday was amazing he is a down to earth individual and was exactly the person I imagined him to be nicest person ever. Hope to do it again. Thank you Jim Carrey you are amazing.
(Met Jim Carrey at book signing event, Barnes & Noble in LA on October 26)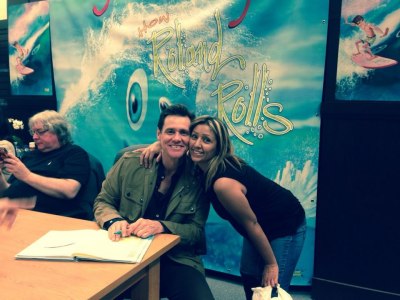 » Story of Stacy Scott
Added: October 27, 2013
Jim gave my son his Roland face - a "moment" that I am so happy was captured on camera. Sparks flew, emotions ran high... he actually talked to him!
(Met Jim Carrey at book signing event, Barnes & Noble in LA on October 26)
» Story of Justin Ellings
Added: October 27, 2013
Jim Carrey is Amazing and It was a dream come true for me to meet him today at his book signing. It was The BEST Day EVER! Thanks for doing Fire Marshall Bill with me!!
(Met Jim Carrey at book signing event, Barnes & Noble in LA on October 26)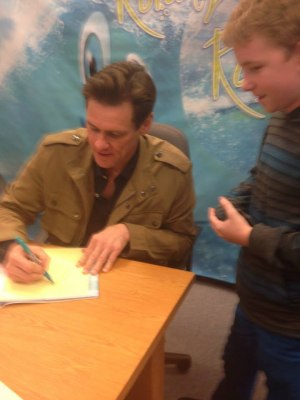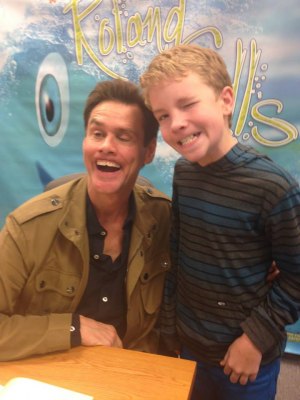 » Story of Robert Weisfeld
Added: October 27, 2013
Me my daughter Ashlee and my grandson Jackson meeting Mr. Carrey today at The Grove in L.A at the Barnes & Noble book signing my daughter was soooo happy and nervous and shaking the only words she could get out was thank you. He shook hand's with my grandson as we left such a genuinely nice guy we are proud to say we are fans of Mr. Carrey.
(Met Jim Carrey at book signing event, Barnes & Noble in LA on October 26)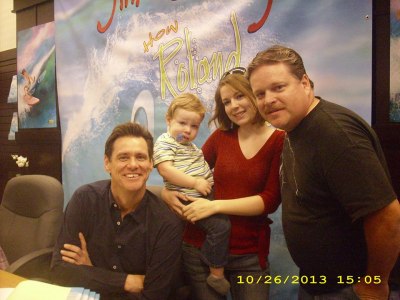 » Story of Elizabeth Velasco Lopez
Added: October 27, 2013
Jim Carrey not only is FUNNY but also a GREAT person! My daughter Sky was soooo HAPPY that Jim took 2 of her drawings she made of his book. :)
(Met Jim Carrey at book signing event, Barnes & Noble in LA on October 26)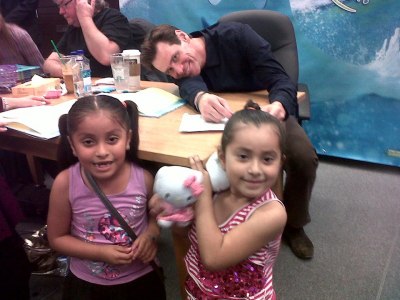 » Story of Pamela Raffanini
Added: October 27, 2013
I was lucky to get a chance to meet the AMAZING Jim at the book signing in NYC on Oct. 5th 2013. I still questioning if it was for real.. Can't quite believe it yet apart from the fact that I have my photo to prove it all. Seeing Jim sign books without stop and without ever taking his smile off for an entire afternoon, made me confirm once again the great professional, talented, humble person he is; what amount of dedication it takes to get to those standards that wouldn't be possible without all the passion that Jim puts into his work. I'm more than thankful to have met one of the most brilliant people on earth. I'm sure I'll never forget that moment when it was finally my turn to step in and have my copy of How Roland Rolls signed, when suddenly everything stopped and I had Jim in front of me. All the memories of his work suddenly came up, all those moment that form so much of me, how do you resume EVERYTHING in 10 seconds? I thought. All I did was hug him and tell him: "I don't know what to say."
(Met Jim Carrey at book signing event, Barnes & Noble in New York City on October 5)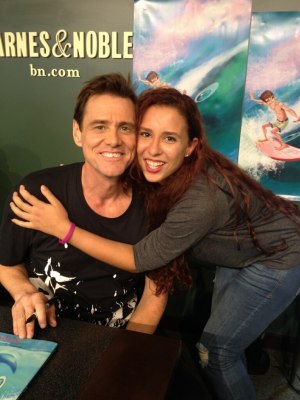 » Story of Jordan Grimbly
Added: October 24, 2013
On Sunday, October 6th, 2013, I had the opportunity of meeting Jim Carrey in Toronto.
I have been a fan ever since I first saw Ace Ventura: Pet Detective when it was released on Home Video. I can remember girls in second grade wanting to play "House", and the only way I would play was if I could be Ace Ventura. I also dressed up as The Mask for Halloween that year as well. Apparently, back in second grade, I asked the teacher if I could go to the bathroom, and I came back into the classroom in costume as The Riddler in character. I then left and returned out of costume and asked everyonein the class if they'd just seen The Riddler because I had just seen him in the hallway. I even cut my hair like Lloyd Christmas back in third grade.
To start off, I made sure to thank him for coming out and giving everyone an opportunity to meet him and I told him that I was sure everyone here was excited that he was here. He then told me that it can get pretty isolating being in the industry. Going off that, I told him that he was the reason why I want to become an actor and he looks up at me and said "Well, I hope you get to the pot of gold at the end of your rainbow". We spoke about a few other things, but after that, unfortunately my mind kind of got lost in the moment. I forgot to mention a few other things to him, but it's probably for the best, as everyone got to speak with him for about a minute, which is still better than I expected.
I wanted to try and stay as low key as possible, I wanted to try and just talk to him like he was a normal person. I know that Jim's a funny guy, but I didn't want him to feel like he had to be "on" for me, I just wanted a quick and normal conversation, and it was very cool to have that with him.
It was such a trip meeting him, it's such a weird experience. You see these people on a flat screen for so long, you begin to think they don't actually exist, and so once you meet them, it really becomes a head trip.
(Met Jim Carrey at book signing event, Indigo Yorkdale in Toronto on October 6)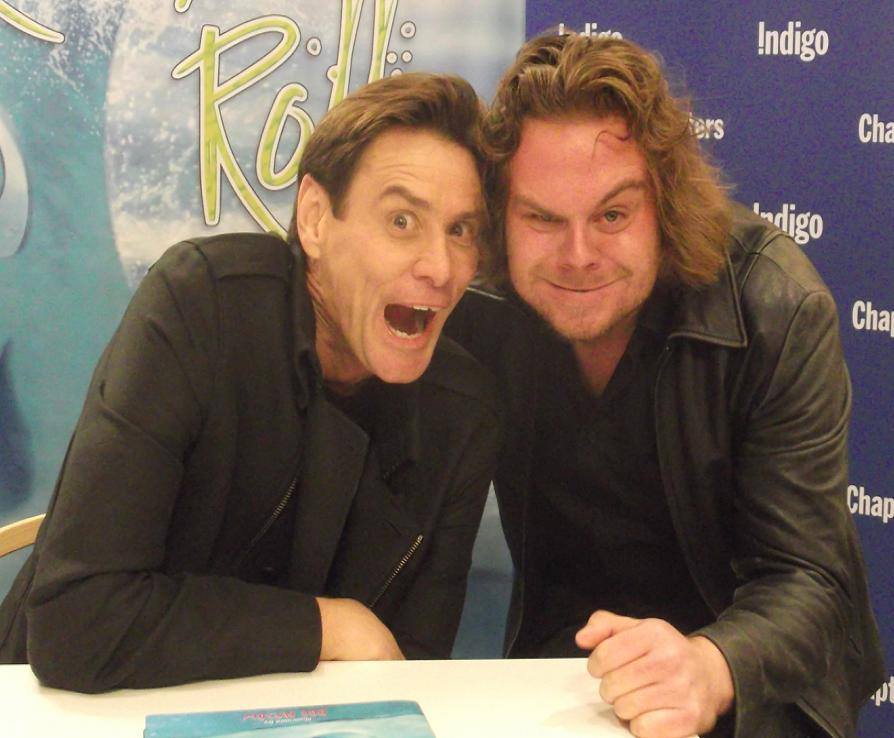 » Story of Dylan Novak
Added: October 21, 2013
Saturday I got to meet my favorite actor for my 19th birthday. I have been a fan for years and never thought I would get to meet him. Mr. Carrey was extremely nice and took time for his fans. When I asked him if he could do the Fire Marshall Bill face as well as a serious one he was more than happy to do so.
Thanks again Mr. Carrey!
(Met Jim Carrey at book signing event, Barnes & Noble in Atlanta on October 19)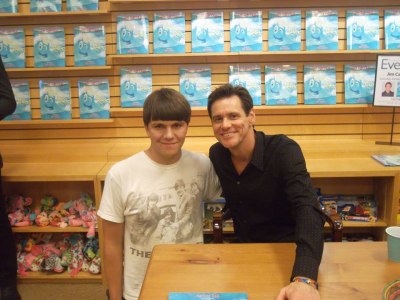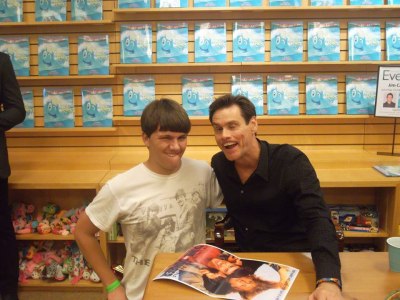 » Story of Sonya Dotson
Added: October 20, 2013
Jim Carrey. I was thrilled to have met you!! I was the lady with the picture of the African child happy as ever with the 'rock camera' he had! I wanted you to keep the print out but was so enjoying my time meeting you that I forgot. I love your sweet demeanor and the care you took, as we were getting our picture with you!
God bless you Jim!!
(Met Jim Carrey at book signing event, Barnes & Noble in Atlanta on October 19)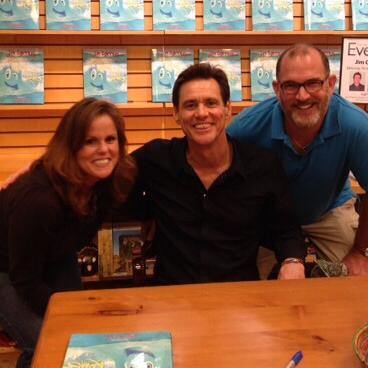 » Story of Amy Minor
Added: October 20, 2013
My family really enjoyed meeting Jim Carrey. Addison can't stop talking about the book reading, now only if I can convince her he's not Elvis.
(Met Jim Carrey at book signing event, Barnes & Noble in Atlanta on October 19)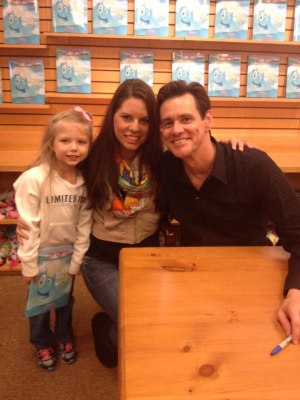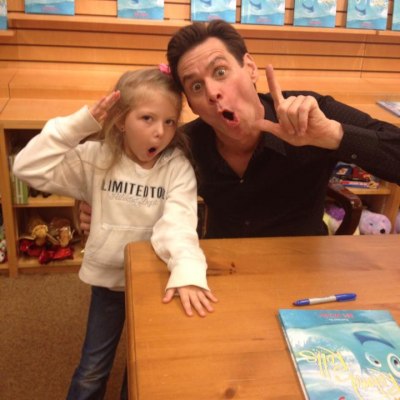 » Story of Catherine Sarah Manna
Added: October 17, 2013
On October 6th I had the pleasure of meeting James Eugene Carrey best known as Jim Carrey, this is my story...
I have longed for this day, about 2 years long. I never thought it would come this soon. I must be one of his biggest fans or biggest pain in the butt. I have been regularly tweeting Jim for the past two years and was always wondering when I would get the opportunity to meet him. When Jim penned his book, I thought he would be doing a book signing somehow, and I was sure that he would be back at our home town Ontario. Although I moved to British Columbia more than 20 years ago, I was born and raised in Toronto and Mississauga Ontario.
So when James, announced that he was having a book signing in Toronto, I made plans at the last minute 3 days before the event to fly to Ontario just to see him that weekend!
It was a great experience, uplifting and spiritual for me. I felt like a kid when he came out and read the book, it was a nice feeling. I flew in the night before on Saturday the 5th and the next morning lined up at 6 AM.
I was 10th in line, although I was scanning the line most of the night. It was a rainy day, but just perfect. I met a wonderful friend/couple next to me who was attending York University for acting, and I knew as soon as they arrived that they were unique. He looked like a young Jim Carrey, good looking but not of course as good looking as Jim Carrey and she was sweet and cute. They were huge fans of Jim's. He had said his favourite movie of Jim's was "Eternal Sunshine of the Spotless Mind" because it reminded him of himself. He asked me what was mine, I said two of them "Man of the Moon" and "The Truman Show", I said it was a great movie Eternal Sunshine, but depressed me a bit cause she reminded me of me, of my past how I used to be, but no longer am. It was great moments we shared.
I had shared a song I had written for Jim Carrey, on my tablet, they loved, said it was sexy, and they shared a video of Jim from "Inside the Actor's Studio" as we were waiting. The time went by, just beautifully, fast even, it was exciting, truly.
They moved us inside out of the rain, but we were okay with waiting in the rain, we never felt any discomfort no one complained. At one point some were a bit, hyperventilating, in the excitement and anticipation, so we were just saying to each other, breath, breath...so no one would faint and then miss all the great stuff coming up.
I made it in the first group, last one, 10th in line. Time went by quickly.
After a great introduction, out came Jim Carrey!! We all cheered him on!! And a big - We Love You Jim, JC, I heard it all!! He was ecstatic and happy and looked 20 years younger at that moment of emotion and excitement!! Picture perfect not even a camera can capture!! Which brings me to the next part of my story.
He did a little stand-up thing that was so funny, and the kids were sitting nicely in the front, he really connected with them and all of us, different generations, so nicely!
It's like the older generations like me loving him and the newer ones, from kids to teens, they were all there!!! Great energy in the good, that is what the MC lady announced him had said. Great energy!!!
So after a few jokes, to break any tensions between us and Jim, he tells us heart warningly, how he is still a big kid inside, we all can connect I'm sure...I'm emotional at this point as he is connecting with each and ever one in the audience at everyone's level no matter who they are. We all felt his caring and loving energy...Jim just being Jim was refreshing and fun to be a part of, him letting us into his world for that moment and time, will be unforgettable...
Jim read the story to us, which gave it life he read with feeling and enthusiasm, it was like your father was reading it to you, so you felt like a kid for a moment he gave the story that he created meaning and purpose something for everyone to think about. He made an impression that will be lasting and he connected with everyone that way.
After the story was over and a good cry it was time to meet Jim up close and personal, and get your book signed quickly, because there's tons of people behind ya. So naturally everyone has there cell phone out, and recording everything he is saying and doing and snapping that shot...but one person...me?!
Although I love seeing pictures, I don't like taking them, and I hate cells phones I just don't have one in my possession. To me, it would have taken away from the moment, that I was truly enjoying and taking in. Plain and simple as that.
So when it was my turn to meet Jim, the long anticipated wait, longing to see him had arrived, what do I say? Well he extends his hand out to shake it, but, in my nervousness I look away, and say, I don't have a cell phone, or a camera. I hadn't planned what I was going to say, I just said what came to me, naturally. And he said, that's okay. I forgot to shake his hand, and he said that's okay, come up here so I did. As he was signing my book he had asked me, why I didn't have a cell phone and I didn't know what to say, because I wasn't expecting him to ask me any questions. I certainly was saying very much, but I did tell him that I don't know how to use them in my little emotional nervousness, but that wasn't true, I lie under pressure, not intentional.
Then he asked me what my name was, and I told him, I explained I flew in from B.C to see him and he said that it was nice. I also said I was proud of him! Which is true, and that was my wonderful experience and I am happy that I came all the way from B.C Canada to see Jim Carrey.
It was worth that and even more, I would do it again and again and again, endlessly till eternity even, cause that's all we have...
(Met Jim Carrey at book signing event, Indigo Yorkdale in Toronto on October 6)
» Story of Sean Gilchrist
Added: October 8, 2013
I knew about the signing from the calender on the site for awhile. I got there at 8:45 am. We slipped in just under the 100 person mark in the line. I remember talking to the people in front of me in line who just heard about it the night before; the one woman didn't even care about Jim, she just collected autographs.
When he came out onstage, he killed it. Was funny without over doing anything, was just very real and present. I was amazed to hear him read How Roland Rolls, even though as he said his page turning was horrible! As in watching the power of a NHL player take a slapshot in person, as to just seeing it on tv, hearing his characters and vocal control was amazing to witness live. An unneeded reminder of how awesome he is.
Again, as I got closer to the front of the line I was shocked to see some people just go up, hand him the book, and just pose for a picture while Jim signs it for them. I was sooo excited to meet him!
He has been my hero/idol for 20+ years. He was so open and receptive to talk with me. I was able to thank him and say how much he has effected my life. Even ask him some acting/ comedy advice. It was hard to take in everything he said, my heart was racing, and I was so excited. It felt like we talked for both 10 minutes and 2 seconds at the same time. We had a mix up when it came to the photos, when he did a "Roland" face I smiled, and he smiled when I did my version of "Roland". I gave him a huge hug, shook his hand again, and told him I look forward to working with him one day. He said "alright, cool" and he seemed to actually mean it. Not just with me, but with everyone he met he seemed to actually care, and want to listen to his fans.
It was a surreal experience to meet my life time hero/idol, that's for sure... Great guy, amazing artist, and a totally present human being.
(Met Jim Carrey at book signing event, Indigo Yorkdale in Toronto on October 6)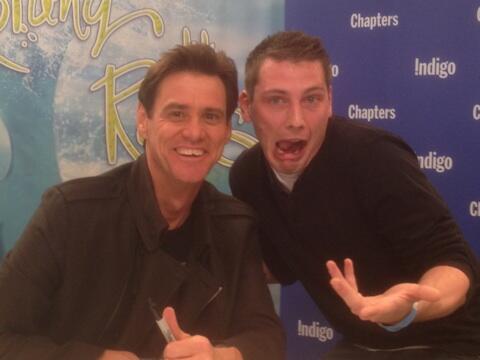 » Story of Jessica King
Added: October 8, 2013
I'm so happy that I met Jim Carrey at NYC and I was shocked that I shake his hand during autograph. Thank you so much because you are my favorite actor and hero Jim until I was 11 years old that my dream come true and now I did :').
(Met Jim Carrey at book signing event, Barnes & Noble in New York City on October 5)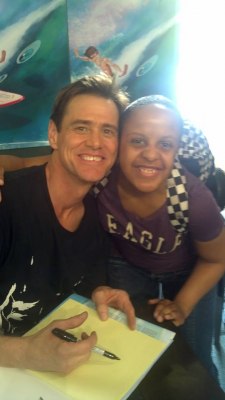 » Story of Mila Milosevic
Home Page:
The Flourishing Artist
Added: October 7, 2013
I MET JIM CARREY. THE – JIM CARREY. YES.
Say whaaat?
What can I say, it was a dream come true. I've always loved Jim Carrey, ever since I was little girl watching "The Mask". Later in life he has become one of my biggest idols and inspirations as he is a huge visualization believer and has been sharing his experience of the power of mind with people all over the world for years. Here's one of his speeches that I recommend you to watch:
"Around 1990, when Jim Carrey was a struggling young Canadian comic trying to make his way in Los Angeles, he drove his old Toyota up to Mulholland Drive. While sitting there looking at the city below and dreaming of his future, he wrote himself a check of $10 million, dated it Thanksgiving 1995, added the notation "for acting services rendered", and carried it in his wallet from that day forth. The rest, as they say, is history." – from "The Success Principles" by Jack Canfield.
This story serves as an every-day motivation for me – and as you might guess – I have the same kind of check written for myself dated for the September 3rd 2016. I actually pulled it out and showed Jim Carrey how his influence has been so powerful and inspiring and I'll never forget that look in his eyes. "That is AWESOME." he said. It's not all in money for me of course – as it wasn't for Jim Carrey either – it's about that strong belief and clear image of what I want in my life. You need to be specific, you need to see it clearly; that's how the Universe will be able to align itself just the right way for you.
Life opens up opportunities to you, and you either take them or you stay afraid of taking them. -Jim Carrey
Do YOU want to achieve success and love from people all over the world like Jim Carrey did? Well… you CAN. It's all a question of belief and courage to pursue your goals.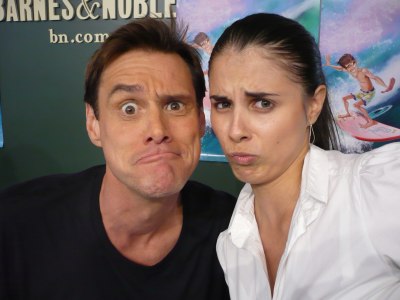 I met Jim Carrey at the Barnes and Noble bookstore on Union Square in New York City, on a lovely Saturday afternoon that resembled a pleasant summer day even though it was October 5th. He was signing his book and talked to each and every person who came up to him for 5 whole hours with only 1 short break (hey, we all need to go to the bathroom). He gave each person individual attention and respect, enthusiasm and genuine interest in what they were saying. A man who is not only one of the best comedians ever born, but the kindest, most down to earth celebrity you'll meet. I mean come on – he shook my hand, gave me a hug, signed my book, took a picture with me and had a conversation! I am aspiring to be like him when I become famous and influential to the world. He's the best.
"Ok, now, funny face!"
P.S. Jim Carrey wrote a children's book called "How Roland Rolls" – if you have a kid, the story has a message your child will definitely want to remember. After all, bringing the children and their parents together through reading his book is what Jim Carrey (a father and grandfather) wants most.
(Met Jim Carrey at book signing event, Barnes & Noble in New York City on October 5)
» Story of Heather Himpler
Added: October 7, 2013
That was the best day of my life!! He was so sweet to me cause I was crying so much that my sister had to talk for me she said "Jim, my sister is your biggest fan and shes been waiting forever to meet you!" and he look at me blubbering all over the place uncontrollable crying and said "Apparently!" then gave me and big hug! And all I could do was say "I Love You!" BEST DAY EVER!!!
(Met Jim Carrey at book signing event, Barnes & Noble in New York City on October 5)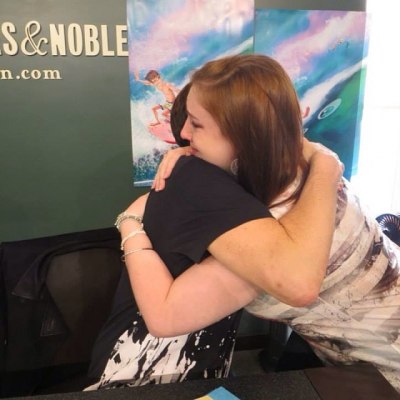 » Story of Evan Torres
Added: October 6, 2013
Met Jim Carrey today at Barnes and Nobles in union square. I was nervous talking to him but it was still great and this is probably the only picture you'll ever see me smiling...only because of Jim Carrey :D
(Met Jim Carrey at book signing event, Barnes & Noble in New York City on October 5)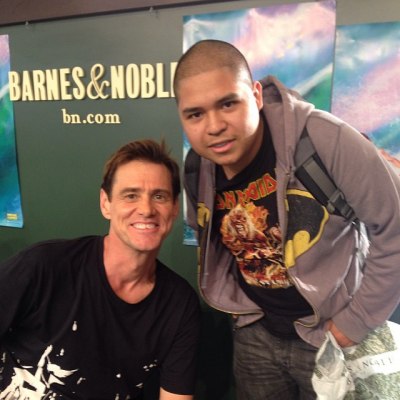 » Story of Andrew Suydam
Added: October 6, 2013
I have met a couple of famous people in my life like Tracy Morgan, Hayden Panettiere, Jeff Bridges, David Alan Grier, etc. However, Jim Carrey was always the Number #1 person that I always wanted to meet. But that was a tough one since I assume he would be a busy man. He would be too busy to come to comedy clubs or conventions or other places where I meet famous people. When I first heard that Jim Carrey was coming to town, I knew I had to attend the event. I wouldn't miss it for the world. This was an once in a lifetime experience for anyone. When the day finally came, Jim did not disappoint. He couldn't have been nicer. He definitely cared for everyone who came out to see him that day. I'm forever a fan.
(Met Jim Carrey at book signing event, Barnes & Noble in New York City on October 5)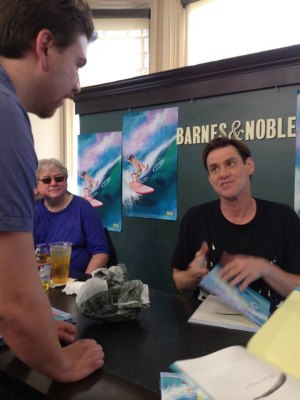 » Story of Sarah Sunsinuray Van Benschoten
Added: October 6, 2013
You know I waited over 20 years for that moment , and was very upset I wasn't allowed to get pic. I would have like to capture that moment of when I met my Chilhood idol. Prob won't ever again. Cries...Something I thought would never happen and did. I met Jim Carrey! Was a day I'll never forget but for the waiting for him and being treated rudly by staff put a spoil on what was supposed to be the best day of my life. I am not happy!!! This chance will never happen again for me! I am the biggest Jim Carrey fan ever! People shouldn't mess with once in a life time chances! Thank you, Sarah Van Benschoten AKA Stanley.
(Met Jim Carrey at book signing event, Indigo Yorkdale in Toronto on October 6)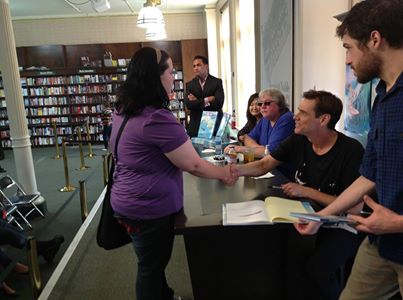 » Story of Laurie Olivieri Canavan
Added: October 15, 2011
We met Jim Carrey in Central Park during the filming of this movie. He actually stopped and offered to take a picture with us. Jim's not only a great actor but what a kind man to stop and take a minute out of his life to make five girls VERY happy! This was back in December 2010 and my girls are still beaming about it.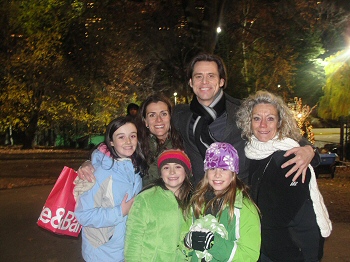 » Story of Brando Benetton
Added: July 8, 2011
I was lucky enough to meet Jim Carrey on the set of "Mr. Popper's Penguins" in November 2010, while he was filming overnight at the Guggenheim Museum. I waited hours outside, interestingly watching the movie being filmed, until at around 2am, he walked out of the museum and took a car to his trailer, a few blocks down! I followed the car and, seeing him step out of it. I approached him (there were no other fans around). He was so nice, and when I asked for a picture he was more than happy to take it!
A few days later I bumped into him again, while he was filming another scene close to my school. I was lucky enough to have the picture with me, and guess what, he signed it! :)
» Story of Laurie
Added: November 20, 2010
Laurie met Jim Carrey on the set of "Mr. Popper's Penguins". They were filming in New York Friday night!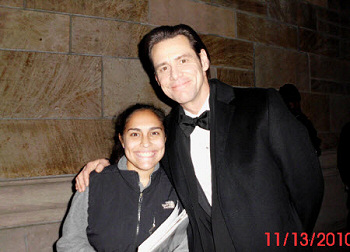 » Story of Michael Ducote
Added: July 23, 2010
I only worked one day with Mr. Carrey as I only had an off camera line but he did initiate a conversation with me when he was told I was a real police officer. He asked about my job and seemed interested. I gave him one of our police challenge coins from our department and I think he liked it but who knows?
» Story of Johnny Rock
Added: March 27, 2010
Jim and I on the set of "I Love You Phillip Morris". I play "New Cellmate" and get to hit Jim in the face with a phone! :-) He is a great guy and very personable ;-)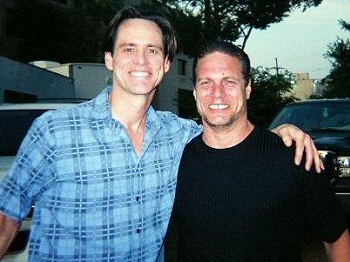 » Story of Lillo Carpino
Added: March 23, 2010
I met Jim Carrey from Mr. Popper's Penguins in Boston`s airport and I took a fan photo with him. He is so funny! Oh my God..I couldn`t stop from laughing :)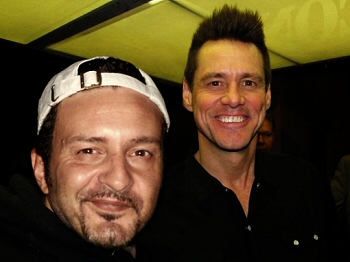 » Story of Norma Jean
Added: December 20, 2007
Home Page:
Everything Norma Jean
I am currently working as an extra on the new movie, "Yes Man" with Jim. The first day (which was this past Thursday) when I saw him come in the room my eyes welled up with tears. I have been such a fan of his since his early days on "In Living Color" (ha-I can actually imitate the Vera DeMilo voice) and have seen every movie he's appeared in. He's very inspirational to me as a comedian and one of the people that inspired me to create characters such as "Bev."
It would be a dream to at least spend some time with Jim and be able to show him "Bev," in hopes that she might have a cameo in some of his upcoming projects.
It has been great even being in the same room with him and I'm back on set again tomorrow. Watching him is teaching me a lot about comedic acting and timing with film. His expressions and comedic abilities are unmatched by his peers, hands down.
Long Live Jim Carrey-A Comedy Genious!
» Story of Mark Wilkerson
Added: November 19, 2005
We (Mark, Nick & Sam) met Jim Carrey tonight at the airport in Louisville. He's here for the opening of the Muhammad Ali Center tomorrow.
We waited at the airport last night for Jim to arrive - we were the only ones there, luckily enough. I used to work at the airport, so I knew where the private planes arrived. Nick and Sam and their sister Alex (who's in the photo) made a sign for Jim, and when he stepped off the plane, he saw it and walked over to us. He had the airport personnel open the gate and he walked through, shook our hands and talked to us. Alex gave Jim the flowers. He posed for a couple of photos, signed the poster ("Smell good always - Jim Carrey") and we said goodbye.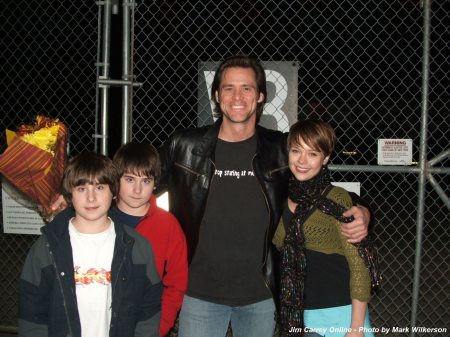 » Story of Korinne
Added: August 11, 2004
I was walking around Malibu with my family on the fourth of July 2004, and I saw him drive by... I glanced over because I noticed him, and he saw me and he put his hand up... I wanted to flip out. lol.
1 |
2
|
3
|
»