Frequently Asked Questions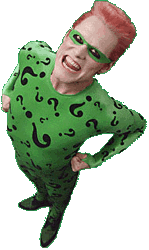 Question: What's the story on those cartoons that star Carrey characters?Answer:
"The Mask: The Animated Series" was shown on CBS TV. It's based on the comic book by
Dark Horse Comics
and the New Line Cinema movie. However, the cartoon cannot use Carrey's likeness for the 'Stanley Ipkiss' character. (He did not sign off for this and receives no compensation for this.) However, since all dialogue, color schemes, special effects and so forth are owned by New Line and Dark Horse they can base the cartoon on those things. Is that clear?
"Dumb & Dumber - The Animated Series" premiered on ABC TV in mid-October, then died sometime in the spring. Again, the characters in the cartoon were based on the characters in the movie and the cartoon used the dialogue, color scheme, style of humor and so forth that the movie used. (Sans the rights to reproduce either Carrey's or Jeff Daniel's likenesses. Even if the movie is a wholly owned product and the movie company has the right to do with the property whatever they want to, an individual still retains the rights to their own image. It cannot be commercially reproduced, with certain exceptions, without permission. Go ask a lawyer for more details.)
CBS TV debuted the cartoon 'Ace Ventura: Pet Detective' in December of 1995. (The show debuted with a Christmas special) When this was first announced, the producers said that they had some input from Carrey, as well as 'access to his voice.' (I have no idea what that means but it sounds painful) The cartoon was on CBS TV on Saturday mornings. Morgan Creek (a division of Warner Bros.) owns this flick and has control over it's licensing. However, Carrey co-created and co-wrote the character so maybe he has more input into how it is licensed for 'other properties.'
There was even a very special cross-over episode wherein 'Ace Ventura' met 'The Mask'. This is the kind of
Very-Special-Episode-TV
that keeps fans going in between movies. We liked it a lot (We especially liked it when 'Ace Ventura' impersonated 'The Cable Guy' in an episode. And they said that movie would never make a Saturday morning cartoon. Hah!)
« Previous Answer
Back to overview
Next Answer »