NEWS
The Incredible Burt Wonderstone Is Nothing Short Of Incredible
17 Mar 2013
By Heather Turk
(Editor/Reporter)
As a Las Vegas local, I found myself questioning whether
The Incredible Burt Wonderstone
would work as a nationwide release back when the film was first announced. Sure it sounded hilarious, especially for someone like me who has interviewed the magicians the movie pokes fun of numerous times in the past, but I was worried that those who only occasionally visit the city may not care or even get most of the film's humor.
Judging by
Burt
's dismal box office receipts, I wasn't the only one who thought that the movie spoke to a narrow audience, which is a shame considering that
Burt
is easily the best comedy of the year.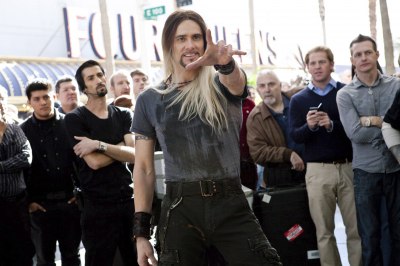 Though the premise is a little dated and predictable (even though the Entertainment Capital of the World is still home to some of the world's best magicians, Las Vegas is a Cirque du Soleil town now), the film is well written and packs plenty of laughs. Steve Carell plays the titular character, a Las Vegas magician who has let success go to his head. He along with his partner Anton Marvelton (Steve Buscemi) have headlined at Bally's for years, but the crowds are starting to dwindle. Times are changing, but Burt and Anton's dated routine, unfortunately, has not.
Enter Steve Gray, a street magician who's part Criss Angel, part David Blaine. Performing for crowds on downtown Las Vegas' Fremont Street Experience (and later televising the bits on his hit TV series "Brain Rapist"), Gray is the future of magic, performing such unbelievable "feats" as holding his urine for 12 days and sleeping on hot coals. Burt thinks he's a joke, but the crowds love him...and the owner of Bally's (James Gandolfini) is beginning to question whether or not he's just found his newest headliner.
Anton comes up with the idea to stage a daring stunt of their own to save their cushy Vegas gig, but Burt's selfish ways result in the longtime partners calling it quits. Without Anton by his side (think Siegfried without Roy), Burt is reduced to performing in an old folk's home for retired Vegas performers. What looks like the end of Burt's career, though, soon becomes something more, as Burt discovers the man who first inspired him to become a magician residing at the retirement home: magician Rance Holloway (played by the always wonderful Alan Arkin). Rance tries to help Burt rekindle the passion he once had for magic, but is it too little, too late?

© Warner Bros. Pictures
While Steve Carell may be the star of
The Incredible Burt Wonderstone
, it's Jim Carrey who steals the spotlight. His over-eccentric magician is pure perfection, and though his time on-screen is limited, audiences will find themselves counting down the minutes 'til his next hilarious appearance. Carrey hasn't been this great on-screen in a long time, and second to Ace Ventura, Steve Gray just may be the character Carrey was born to play.
Not that Carell doesn't shine as Burt Wonderstone. The scene where he tries to do his longtime act without Anton by his side is pure movie magic, but if there's only one incredible performance in
Burt Wonderstone
, Carrey's is it.
Buscemi also dazzles as the lovable Anton, and the brief list of cameo appearances is like a who's who of Las Vegas. Really, the only downside to
Burt Wonderstone
is Olivia Wilde's character Jane, the reluctant magician's assistant-turned-love interest. While Wilde does the best with what she's given, there's just no chemistry between her and Burt, and their relationship seems forced and cliché. When it's later revealed that she too is an aspiring magician, audiences can't help but roll their eyes. The real chemistry on-screen is between Burt and Anton and Burt and Steve, and
Burt
is at its best when it leaves the sparks to its three male leads.
While there are some insider jokes that may go over the average audience member's head (like a scene involving the Lady Luck casino), for the most part, screenwriters Jonathan M. Goldstein and John Francis Daley (
Horrible Bosses
) do a good job at keeping the jokes broad enough that even those who live outside of Las Vegas will get them. Still, the film is probably funniest for those who do live in Sin City or at least visit often, which may be its downfall.
Ultimately, it looks like
The Incredible Burt Wonderstone
's biggest trick may be the disappearing act it's about to do in theaters if people don't start seeing it, which is a shame considering the film is one of the best of both Carrey and Carell's careers. Do yourself a favor and skip
Oz
for
Wonderstone
-you won't be disappointed.
The Incredible Burt Wonderstone
is now playing in theaters everywhere.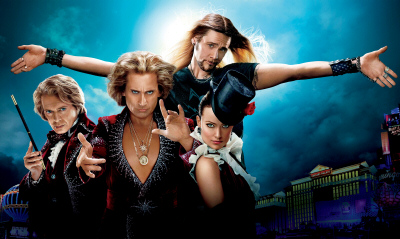 © Warner Bros. Pictures
-- Click to
comment this article
.
» Send to friend
---
« Newer article
|
Overview
|
Older article »