NEWS
A Grinch under the bed
11 Mar 2000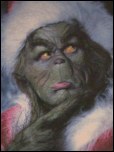 More pics of the Grinch keep popping up these days, as this close-up
s.a._jcfan
sent us the link to, and which seems to have raised some controversy amongst
AICN
's Talkbackers.
"Aint-It-Cool News retrieved a pic of a big close-up of Jim in Grinch make-up. On some of the subject of the discussion board, other users claim the movie should get a PG-13 rating. One said he looks like a green dog (minus the yellow eyes) and the rest are pretty much freaked out. (i.e. 'I don't think I can sleep', 'The Grinch is scaring me again!', 'This looks like one freaky take on Christmas' and 'WTF?!!!')"
Editor's Note:
In a recent show "Entertainment Tonight" briefly shown a new full-body picture of Jim Carrey as the Grinch, next to Eddie Murphy as the Nutty Professor. If you happened to catch this on tape and can do a screen grab of the above mentioned picture, don't forget about us! ;-)
-- With a big Spank You to
s.a._jcfan
for the pic info. Image ©
Universal Pictures
.
» Send to friend
---
« Newer article
|
Overview
|
Older article »