NEWS
About The Production: Kick-Ass Is Reborn
04 Aug 2013
By Tommy Pihl
(JCO Editor-In-Chief)
"Kick-Ass," the revolutionary creator-owned comic that Mark Millar launched with artist John S. Romita Jr. in 2008, challenged curious readers with one simple question: "Why has nobody ever tried to become a superhero?" The two men answered that query with a barrage of violence, memorable characters and quotable dialogue.
Freshly buoyed by the blockbuster success of the Universal actioner Wanted—based on his same-titled book—Millar began to explore the possibility of bringing "Kick-Ass" to the big screen. Because "Kick-Ass" was an independent comic, this allowed the creators greater freedom in approaching production partners who would appreciate the series' bracingly unique storylines.
Around that time, director Matthew Vaughn was looking for his next project and had recently been introduced to Millar by Stardust co-writer Jane Goldman and her husband, Jonathan Ross. Millar later pitched Vaughn a number of ideas, but it was Kick-Ass that resonated most. Vaughn was determined to apply the same anarchic spirit of the comic to the filmic version—even if that meant including scenes in which an 11-year-old Hit Girl mows down dozens of heavily armed men with an arsenal of weaponry and a string of expletives. When turned down by Hollywood's major studios, Vaughn decided to finance Kick-Ass independently.
Scripted by Goldman and Vaughn, Kick-Ass brought to the screen the wild story of Dave Lizewski, an ordinary Manhattan teenager who sets out to become a real-life superhero. Donning a green-and-yellow wet suit and calling himself Kick-Ass, he captures the imagination of the public and becomes an online phenomenon. Kick-Ass soon discovers he is not the city's only superhero when he meets a fearless and highly trained father-daughter crime-fighting duo—the cowl-draped Big Daddy and ninja assassin Hit Girl. As Kick-Ass becomes entangled in their quest to take down the criminal empire of local mafioso Frank D'Amico, our hero gains a nemesis of his own: Frank's teenage son, Chris, who has taken to calling himself Red Mist.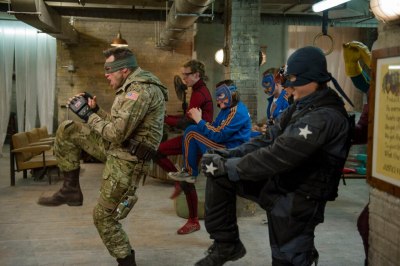 The movie was nothing short of a huge gamble, but one that the filmmakers were prepared to take. Kick-Ass was lensed in 2008, with Vaughn showing it to potential distributors a year later. He subsequently sealed deals with Lionsgate and Universal Pictures to release it in the U.S. and internationally, respectively, in 2010. Kick-Ass was met with astonishing reviews such as Richard Corliss' Time magazine rave: "It soars, jet-propelled, on its central idea of matching a superhero's exploits with the grinding reality of urban teen life and on the aerodynamic smoothness of the film's style."
Although the groundbreaking film caused some critics to raise their eyebrows in dismay, it was adored by audiences who understood Vaughn's strong desire to upend the genre. In turn, the movie pulled in almost $100 million globally, proved enormously successful on DVD/Blu-ray metrics and gained a passionate following along the way.
All the while, Millar and Romita continued the work on their homegrown saga. The first chapter of their follow-up comic series, "Kick-Ass 2, Issue 1," debuted on October 20, 2010. Set several months after the events of the first run, the books reconnect us with Mindy and Dave as they struggle to keep their identities as Hit Girl and Kick-Ass a secret—while she trains him to be a better hero who can take a much-less-forgiving punch. Meanwhile, Red Mist returns with an increasingly psychotic new attitude and an unprintable name change to match. Forming a group of super-villains, Chris takes the deadly game to the next level as he attempts to exterminate the duo that killed his reprobate father.
Twenty-four hours after its release, "Kick-Ass 2, Issue 1" sold out, and the "Hit Girl" companion title has since become the most popular comic book with a female lead in more than a decade. The first two chapters of the "Kick-Ass 3" series are currently in release, completing the trilogy and bringing Dave Lizewski's story to an exciting finish later this year.
Millar walks us through the evolution of this sig-nature property: "Kick-Ass was about a guy deciding to become a superhero and influencing others to do the same. Kick-Ass 2 takes that idea and runs with it. Now we have this group of people who, inspired by the heroics of Kick-Ass, have formed a crime-fighting gang, Justice Forever. At the same time, Chris is embarking on the opposite journey. He has decided to become a self-proclaimed super-villain and is recruiting his own army. It takes something that was singular in the first movie and makes it into something more exciting. It's that sense of escalation, of expansion, that you always want with a sequel."
As Millar and Romita created the characters and own the rights to them, the two men take the fate of our every-day superheroes very seriously. Romita explains that he and Millar have just as much invested in the fate of Dave, Mindy and the other members of Justice Forever as the diehard fans do, and it is tough to create bad situations that happen to them. The artist says: "All of the interesting characters that are in Justice Forever, you want them to win. Here I am, a comic book artist, and I want these characters to be superheroes because I don't want anything bad happening to them."
Kick-Ass' unexpected success, set the stage for a sequel; however, it would take a couple years for the next chapter to begin production. Kicking off in 2011, Vaughn met with Cry_Wolf director Jeff Wadlow to discuss a project known as Bloodshot. Wadlow had written the screenplay, and Vaughn was attached to direct.
Other commitments resulted in Vaughn's inability to continue with Bloodshot, but he remained interested in working with this intriguing young director. When Vaughn's obligations to the X-Men franchise wrapped him up for the foreseeable future, the filmmaker pondered abdicating both writing and directing duties to Wadlow, which would allow Vaughn to remain involved as a producer.
Wadlow was so adamant that Vaughn pass the mantle on to him, he set to work on a script without a deal yet in place. The filmmaker recalls: "I wrote it to direct it, and I wasn't going to let anyone else do it. That's the upside of taking on the risk of writing the script without a deal in place, initially. Even though Matthew and I talked a lot, I jumped before there was any real plan in place. I wanted to make the movie, and so I wrote it to make it."
-
Read the full text
-- Source: Universal Pictures. Click to
comment this article
» Send to friend
---
« Newer article
|
Overview
|
Older article »