NEWS
How sweet the DVD
01 Nov 2001
by The Don
I got my Grinchy little hands on the Collector's Edition of "How The Grinch Stole Christmas" interactive DVD from Universal. My snitch had come through for me again.
This DVD is rather neat because many of the special features you have to access via your computer through the progam "Interactual DVD". The DVD is set up exactly like the Grinch Web site, so those who have visited the site will be saying, "Ah! I've seen THIS before!" It's got some extra features though that weren't on the Web site. Let me run down them for you...
THE GRINCH'S CAVE
Who Pics
Cast & Crew
Production Notes
POST OFFICE
Sound Snippets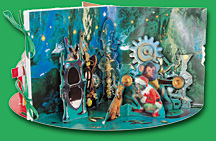 "The Grinch" DVD Interactive Play Set.
© Universal Pictures
CINDY LOU'S HOUSE
Web Browser
Screen Saver
Grinch Recipes
THEATRE
Spotlight on Location
Deleted Scenes
Outtakes
Who School
Makeup Application & Design
Seussian Set Decoration
Visual Effects
Max's Playhouse
Faith Hill "Where Are You, Christmas" Music Video
Theatrical Trailer
Grinch's Special Offer
Grinch Game Trailer
Try MSN Free
My favorite spot (besides watching the movie itself) had to be the Theatre. I loved watching the outtakes! I don't know, but just seeing Jim Carrey keep saying "Can I do it again? Let's do it again. I want to do it again," over and over just made me howl.
The film itself is presented in widescreen format (my personal taste - but who really cares?) and is every bit "whonderful!" Get this DVD, folks! It's well worth it! You'll have a Grinchy time, especially with Carrey's performance.
This is The Don, slinking off for now...
-- Click to
comment this article
.
» Send to friend
---
« Newer article
|
Overview
|
Older article »