Frequently Asked Questions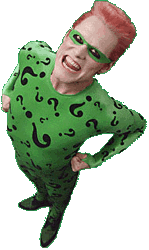 Question: Is Carrey a real madman in 'real life'? What's he like?A:
Damned if I know, I'm just a garden variety fan, not one of those people who hide in bushes and take pictures of celebrities when they are skinny-dipping and stuff. Based on interviews he has given, Carrey seems to be a normal guy who likes home, hearth and family. He paints and sculpts in his spare time and likes to read. (Among his favorite books are self-help stuff like 'The Road Less Travelled'. He also favors C.S. Lewis and Joseph Campbell.) His tastes in music appear to lean toward kick-ass rock-'n'roll and alternative stuff. In the way of other totally useless information, Nickelodeon Magazine reported that Carrey has two pet parakeets (Sunrise and Squeek) and a pet iguana named Houston, and 3 dogs. His shoe size is 11, his favorite cartoon character is Deputy Dawg, he prefers Mexican food to Chinese food, and his nickname as a kid was Jimmy-Gene the String Bean. (Which makes sense if you think about it.) Oh yeah, Nick Mag. also asked him if it is true that if you make a face long enough, your face will freeze that way and he said, "No, it won't freeze, but you'll be making faces for the rest of your life." Given the source, I think that question has now been authoritatively answered.
« Previous Answer
Back to overview
Next Answer »