Larry King Live
Page 1 of 2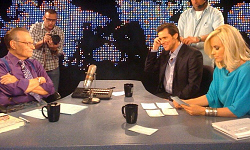 Larry King Live was an American talk show hosted by Larry King on CNN from 1985 to 2010. It was CNN's most watched and longest-running program, with over one million viewers nightly.
Original run:
June 3, 1985 – December 16, 2010


Past appearances by Jim Carrey on Larry King Live. Click to read more:
»
April 3, 2009

»
December 15, 2008
»
December 16, 2001
»
December 19, 1999

»
Imdb.com
»
Wikipedia
Basic Information
Air Date
April 3, 2009
Recorded
-
Episode
Season 26, Episode x
Genre
Talk-Show
Official Site
[US]
Running time
15 minutes
Guest(s)
Jim Carrey
Jenny McCarthy
J.B. Handley
Dr. Jerry Kartzinel
Host(s)
Larry King

Info
Larry speaks with a panel that includes Jenny McCarthy and Jim Carrey about Autism. They debate over causes and treatments.

Discussion
see our forum
Multimedia
Pictures,
Related News
Larry King Live
04 Apr 2009
By TNPihl
(JCO Editor-In-Chief)
Jenny McCarthy and Jim Carrey were yesterday guests in
Larry King Live
on CNN to debate over causes and threatments about autism. Three years ago was Jenny McCarthy's son Evan diagnosed with autism and her six-year old Evan is now undiagnosed.
To bring more focus about treatments and their experiences Jenny has written four books about autism, the newest "Healing and Preventing Autism" released earlier this week. Jim Carrey was part of the interview to bring so much focus about the problem as they can.
Larry King speaks with a panel of experts about what causes autism, vaccine programs, genetic factors and about threatments. You can watch the first 10 minutes of the episode from Larry King Live below.
For a full transcript of the debate -
click here
.
-- Source:
CNN
. Click to
comment this article
.
1
|
2
|
Next »