Today
Page 1 of 2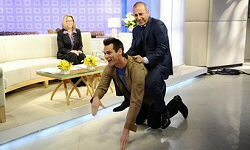 Today (also referred to as The Today Show) is an American breakfast television show that airs every morning on NBC.
Original run:
January 14, 1952 – present


Past appearances by Jim Carrey on Today. Click to read more:
»
June 16, 2011

»
March 10, 2008
»
February 20, 2007
»
December 20, 2005
»
December 14, 2004
»
May 21, 2003
»
November 13, 2000
»
June 19, 2000
»
December 20, 1999

»
Facebook
»
Imdb.com
»
Wikipedia
Basic Information
Air Date
June 16, 2011
Recorded
Live
Episode
Season 60, Episode 0616
Genre
Talk-Show
Official Site
[US]
Running time
6 minutes
Guest(s)
Jim Carrey
Host(s)
Matt Lauer
Natalie Morales
Ann Curry

Info
Promoted "Mr. Popper's Penguins".

Discussion
see our forum
Multimedia
Pictures,
Related News
The Today Show
16 Jun 2011
By Priya Baboota
(Web correspondent)
Jim Carrey also appeared on 'The Today Show' this morning to promote "
Mr. Popper's Penguins
" which is releasing throughout U.S tomorrow on June 17th.
Carrey interrupted the female news reporter, Natalie Morales, in her newscast by suddenly appearing in the background making faces and adding his own humerous dialogues in between -- and then offered her a flower -- causing her to be slightly "embarrassed." He also acted like a horse and Today's host, Matt Lauer, rode on him spanking his ass like he was riding on a horse.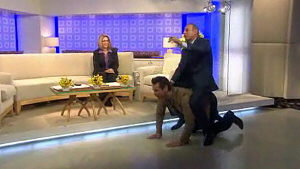 Jim later sat down with Today's reporter, Ann Curry, to talk about the movie. He said that he loves working with animals and believes that if you rub penguin's belly the wish comes true, like he did as he wished him to be pecked mercilessly! He also joked about Anthony Weiner that it's strange that his body looks really fit with the pack abs and his face looks like a fly!
Watch the three hilarious clips here:
-- Click to
comment this article
1
|
2
|
Next »