BIOGRAPHY
Page 2 of 5
Other movies began to filter through, "Finders Keepers", "Once Bitten", "Peggy Sue Got Married", "The Dead Pool", "Pink Cadillac" and "Mike Hammer: Murder Takes All" then came "Earth Girls are Easy". Despite being an unimpressive movie Jim made an impression on co-star Damon Wayans who recommended Jim to his brother for a new show "In Living Color". This was to be his big chance. The role led to Jim Carrey's Unnatural Act in 1991 and led to a role in Fox's Emmy nominated TV film "Doing Time on Maple Drive". A serious role in which he played a young man with a serious drinking problem, it showcased Jim's straight acting talents but he continued with "In Living Color", sticking with comedy for the meantime.





Well received, Jim stayed with the show until 1994 and used it as a vehicle for characters such as Fire Marshall Bill and Vera de Milo. He was able to push boundaries and test audience reactions and across the industry was receiving attention and acclaim, which was to lead to his first blockbuster.
"Ace Ventura: Pet Detective". Made for just $12 million the movie raked in $72 million and put Jim at the top of his game. This was a movie Jim had more than the usual hand in, he re-wrote it around his sense of humour and the public and the industry loved it.

The next Movie to showcase his talents was "The Mask" with a young, then unknown, Cameron Diaz. Again the public loved the zany half animated antics and his sheer energy and skill were well received by his peers earning him a Golden Globe nomination.

At home however things were not going so well, as his marriage became under strain. The next movie was to prove the breaking point.

"Dumb & Dumber" was a universal smash hit. A comedy about 2 idiots returning a briefcase was made for $16 million and netted a whopping $246 million meaning in 1994 his movies had generated a massive $550 million. He was now the biggest movie star on the planet at last. But the joy was short lived, when finally his marriage to Melissa collapsed resulting in a particularly bad divorce. He sought solace in the arms of his "Dumb & Dumber" co-star Lauren Holly who denied any involvement in the marriage break-up.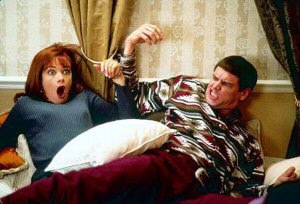 An educated middle class successful actress in her own right Lauren and Jim would fall in love and later marry, only to divorce amid rumours of infidelity several months later. But whilst his personal life was taking a hammering his professional life was pushing him into the stratosphere.

Joining the Batman Franchise in 1995 he gave an exceptional performance as The Riddler in "Batman Forever" blowing ALL his co-stars off the screen much to Val Kilmer and Tommy Lee Jones' horror.
Next came the 'follow up' to "Ace Ventura: Pet Detective", "Ace Ventura: When Nature Calls". Another huge box office hit Ace WNC was to pull in over $100 million and sealed Jim's identity as one of the highest grossing movie stars on the screen.

Next came the first huge pay check, $20 million for "The Cable Guy". Directed by Ben Stiller and co-starring Mathew Broderick, "The Cable Guy" saw Jim's first disappointing return at the box office. Critics had not like the darkness of the movie and the public stayed away, fuelling speculation that Jim was past his best.

Not so however. The next movie "Liar Liar" saw Jim re-teamed with his 'Ace Ventura' director Peter Shadyac. The result was a hilarious parody of the 'honest' lawyer, a lawyer who cannot lie. Back on form again Jim blew the sceptics away earning another Golden Globe nomination and drawing $200 million at the box office.

« | 1 | 2 | 3 | 4 | 5 | »