BIOGRAPHY
Page 4 of 5
This takes us to December 2005 with "Fun with Dick and Jane" which was a re-make of the old Jane Fonda and George Segal 1977 movie and co-starred Tea Leoni. Jim also produced the movie and was instrumental in initiating a huge re-write until he was happy. He explained his choice of movie by relating it to the difficult times his family experienced when he was young and the scandals rife in the business world currently. A movie with a message, the movie was well received at the box office despite tepid reviews.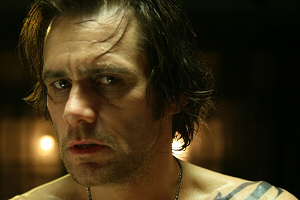 Jim's next big project was the supernatural thriller "The Number 23".
Directed by Joel Schumacher and co-starring Virginia Madsen this was yet another new avenue for the Maverick Jim. A thriller with very dark undertones it was released to mixed critism. Unlike any of his earlier projects it tells the story of Walter Sparrow and a seemingly innocuous number. On his birthday, Walter Sparrow, an amiable dog-catcher, takes a call that leaves him dog bit and late to pick up his wife. She's browsed in a bookstore, finding a blood-red-covered novel, a murder mystery with numerology that loops constantly around the number 23. The story captivates Walter: he dreams it, he notices aspects of his life that can be rendered by "23," he searches for the author, he stays in the hotel (in room 23) where events in the novel took place, and he begins to believe it was no novel. His wife and son try to help him, sometimes in sympathy, sometimes to protect him. Slowly, with danger to himself and to his family, he closes in on the truth.

Whilst the cast did their best with the script the critics tore into the film which earned Jim a Razzie nomination for worst actor. It seemed to be going 'pear shaped' for Jim who took the step of firing his longtime agent Nick Stevens to move to CAA.

There followed a period of reflection and disappointment as projects were proposed and some dropped, the biggest being "Used Guys" co-starring Ben Stiller and dropped literally hours from filming.

What was needed was a return to a high profile family movie and Jim found this with the movie "Horton Hears a Who!," taken from the Dr. Seuss book. An expensive animation, directed by Jimmy Hayward and Steve Martino and co-starring Steve Carrell and Carol Burnett this big budget family flick was just the ticket to put him back on top. In it Jim plays the voice of Horton, the inventive and imaginative elephant who teaches his young friends about the amazing world around them. One day Horton, with his big ears, hears a voice on a speck of dust floating in the jungle air. Horton catches the speck on a dandelion, and begins to talk to the speck. The Mayor of Whoville (voice Steve Carell) talks to Horton, and the Mayor can not believe that there is something bigger than his world. After there are several climate changes (darkness in the middle of the day and snow in summer) that occur in Whoville, the Mayor believes that his world is in great danger. The Mayor tries to warn his people of the impending doom, but everybody ridicules him and thinks he is crazy. Horton is getting the same reaction from everyone who thinks he is also crazy; especially the kangaroo (voice Carol Burnett) who wants to get rid of the speck, and Horton's wild ideas. Horton defends the speck by saying that "a person's a person, no matter how small."

The movie was a huge worldwide hit and saw Jim back on top.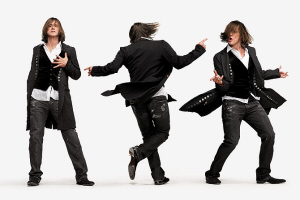 « | 1 | 2 | 3 | 4 | 5 | »