BIOGRAPHY
Page 5 of 5
This period also saw him return to television screens with an appearance in "The Office" and a short for 'Funny or Die' as St. Nick with Eva Mendes and Ryan Gosling. Around this time Jim Carrey began taking his art hobby more seriously, tweeting taster images and alluding to a potential exhibition which came to fruition privately in LA. He also appeared at the 2nd G.A.T.E conference, The Global Alliance for Transformational Entertainment, alongside Eckhart Tolle and other inspirational speakers.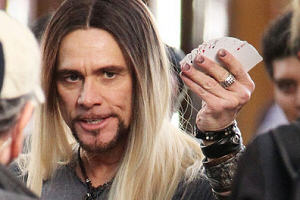 Towards the end of 2012 Jim appeared in the hit US comedy "30 Rock" as Dave Williams in the episode 'Leap Day' in another guest appearance.

His next big appearance was as magician Steve Gray in "The Incredible Burt Wonderstone", directed by Don Scardino and starring Steve Carell and Steve Buscemi. Released in Spring 2013, the film centred around the superstar magicians, Burt Wonderstone (Carell) and Anton Marvelton (Buscemi) and their attempt to revitalise their careers when challenged by the street magician Steve Gray (Carrey). The film received lacklustre reviews and poor viewing figures. Despite the negativity Jim's performance was regarded as the films highlight.

Moving away from movies, Jim threw himself into the spotlight again with the release of a music single and video shown on FunnyOrDie.com. 'Cold Dead Hand' was a controversial spoof video with remarkably catchy tune and saw Jim drawing attention to the ongoing gun law debate in America. Few could have anticipated the backlash he received as a result of the video and it seemed to have sparked a war with FOX News. He was deluged with vitriol on Twitter and there were calls to have Jim deported back to Canada. Yet, worldwide Jim has been applauded for posting his anti-gun views publicly and fellow celebrities such as Snoop Dog and Piers Morgan have publicly come out in support.

2013 was also the year Jim appeared in 2 sequels. He appeared in "Kick-Ass 2" as Colonel Stars and Stripes which saw him spend a considerable time in London during filming. Directed by Jeff Wadlow and starting Aaron Taylor-Johnson and Chloe Grace Moretz the film sees Kick-Ass joining with a group of 'normal' citizens who have been inspired to fight crime in costume whilst in their nemesis 'Red Mist' plots his revenge.

At the end of the year Jim had a cameo in Will Ferrell's highly anticipated sequel "Anchorman: The Legend Continues", in a line-up of actors which reads like a 'Who's who' of Hollywood celebrities.

In another complete diversion from his acting career Jim has released a children's book. 'How Roland Rolls' is a metaphysical tale about a little wave and was revealed on the 30th may 2013 at the American Book Expo in New York. Despite tough competition from the likes of Grumpy Cat, fans turned out in force to meet Jim and purchase his autographed books. The book was released in September and Jim promoted it with many book signing events across the country.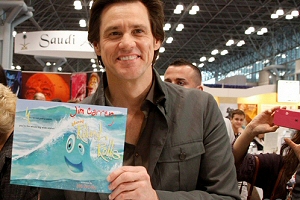 Jim Carrey's most highly anticipated film "Dumb and Dumber To" was filmed in the fall of 2013. Directed by Bobby and Peter Farrelly the sequel sees the two dim-witted primary characters, played by Jim and Jeff Daniels, setting out on an adventure which sees them searching for one of their long-lost children in the hope of gaining a new kidney. Premiered 20 years after the first movie and was one of the funniest movies in 2014 and had a great box office run worldwide with $170 million.

In January of 2014 we were also able to see Jim in the "Hawking" documentary in which he was interviewed to tell the story of how he met him.

« | 1 | 2 | 3 | 4 | 5 | 6 | »