BIOGRAPHY
Page 5 of 5
He also began to reveal how happy his personal life had become with Jenny McCarthy and Evan, her son with ex-husband John Asher. McCarthy spent a lot of her time as an activist for autism, and Jim was often seen supporting her (McCarthy's son, Evan, was diagnosed with autism at age 3). McCarthy even referred to Jim as "The Autism Whisperer" because he was so good with her son. They appeared on TV shows together like Oprah, and The Ellen DeGeneres Show to talk about autism and their love for each other. After 5 years of dating they decided to end their relationship announced by them on Twitter on April 6, 2010.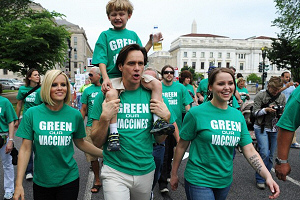 Next came the optimistically named "Yes Man" based on the autobiographical book by the much loved British author, comedian and TV personality Danny Wallace who spent a year of his life saying yes to every opportunity presented to him. Co-starring Zooey Deschanel and directed by Peyton Reed Jim plays Carl Allen, whose life is going nowhere--the operative word being "no"--until he signs up for a self-help program based on one simple covenant: say yes to everything--and anything. Unleashing the power of "YES" begins to transform Carl's life in amazing and unexpected ways, getting him promoted at work and opening the door to a new romance. But, his willingness to embrace every opportunity might just become too much of a good thing.

This movie was a leap of faith for our $20 million man who agreed not to take anything up front, opting for a percentage of the 'back end', a first for such a major movie star and indicative of the financial climate. The movie premiered in London on 9/12/08 and had general release on December 19, 2008.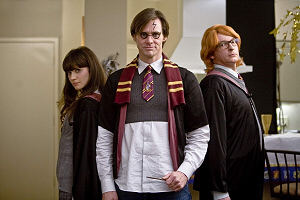 2008 was a busy year for Jim with 2 films completed on top of various charity projects. One such project was the independent film "I Love You Phillip Morris". A dark comedy that was written marked the directing debut of Glenn Ficarra and John Requa, the writing team behind Bad Santa. Andrew Lazar and Far Shariat produced the low budget film for Luc Bessons company EuropaCorp. Based on a true story it tells the remarkable story of master conman Steven Russell, a married father whose exploits landed him in the Texas criminal justice system. Russell fell madly in love with his cellmate Phillip Morris, played by Scottish actor Ewan McGregor, who eventually was set free, which led Russell to escape from Texas prisons four times.

The film premiered at the prestigious Sundance Filmfestival in January 2009. After a long and bumpy road trying to secure a US distributor, but once the movie did find a distributor after being re-edited, its release date was pushed back multiple times in the US before Roadside Attractions came in to save the day. It had limited premiere on December 3, 2010.

Next to be filmed in 2008 was the Robert Zemeckis, screen capture version of "A Christmas Carol", Charles Dickens' timeless tale of an old miser who must face Ghosts of Christmas Past, Present and Yet-to-Come, as they help to bring kindness to his otherwise cold heart. The Ghosts remind him of the man he used to be, the hard truth of what the world is today, and what will happen if he does not strive to be a better man. Set around Christmas, the most joyous day of the year, Scrooge realizes the sharp contrast of his own personality.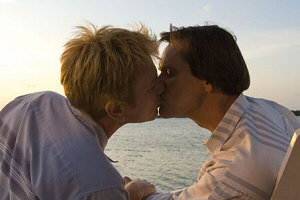 The stars in the film play multiple characters and Jim plays four separate roles in this updated version of A Christmas Carol. Jim portrays Scrooge, as well as the three ghosts (Past, Present, and Yet-to-Come). His dynamic character roles keep the four characters as diverse as being played by four actors. He is joined in this project by a mix of British and American talent including Gary Oldman, Bob Hoskins, Colin Firth and Robin Wright Penn. The film premiered in 3D in London on 3/11/09 and had general release on November 6, 2009. The movie was a huge worldwide hit and has become the second most popular Christmas movie alltime after "How the Grinch Stole Christmas".

Next came the 2011 worldwide smash "Mr. Poppers Penguins", directed by Mark Waters and co-starring Angela Lansbury and Carla Gugino. The film depicts how the life of businessman Tom Popper begins to change after he inherits six penguins, and as he turns his apartment into a winter wonderland, his professional side starts to unravel, and his personal life transforms. Based on a much loved children's book the film grossed $190 million worldwide making it one of the biggest movies of the year.

This period also saw him return to television screens with an appearance in "The Office" and a short for 'Funny or Die' as St. Nick with Eva Mendes and Ryan Gosling. Around this time Jim Carrey began taking his art hobby more seriously, tweeting taster images and alluding to a potential exhibition which came to fruition privately in LA. He also appeared at the 2nd G.A.T.E conference, The Global Alliance for Transformational Entertainment, alongside Eckhart Tolle and other inspirational speakers.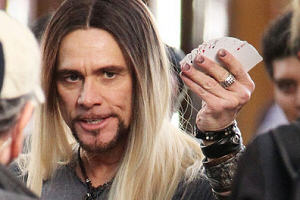 Towards the end of 2012 Jim appeared in the hit US comedy "30 Rock" as Dave Williams in the episode 'Leap Day' in another guest appearance.

His next big appearance was as magician Steve Gray in "The Incredible Burt Wonderstone", directed by Don Scardino and starring Steve Carell and Steve Buscemi. Released in Spring 2013, the film centred around the superstar magicians, Burt Wonderstone (Carell) and Anton Marvelton (Buscemi) and their attempt to revitalise their careers when challenged by the street magician Steve Gray (Carrey). The film received lacklustre reviews and poor viewing figures. Despite the negativity Jim's performance was regarded as the films highlight.

Moving away from movies, Jim threw himself into the spotlight again with the release of a music single and video shown on FunnyOrDie.com. 'Cold Dead Hand' was a controversial spoof video with remarkably catchy tune and saw Jim drawing attention to the ongoing gun law debate in America. Few could have anticipated the backlash he received as a result of the video and it seemed to have sparked a war with FOX News. He was deluged with vitriol on Twitter and there were calls to have Jim deported back to Canada. Yet, worldwide Jim has been applauded for posting his anti-gun views publicly and fellow celebrities such as Snoop Dog and Piers Morgan have publicly come out in support.

2013 was also the year Jim appeared in 2 sequels. He appeared in "Kick-Ass 2" as Colonel Stars and Stripes which saw him spend a considerable time in London during filming. Directed by Jeff Wadlow and starting Aaron Taylor-Johnson and Chloe Grace Moretz the film sees Kick-Ass joining with a group of 'normal' citizens who have been inspired to fight crime in costume whilst in their nemesis 'Red Mist' plots his revenge.

At the end of the year Jim had a cameo in Will Ferrell's highly anticipated sequel "Anchorman: The Legend Continues", in a line-up of actors which reads like a 'Who's who' of Hollywood celebrities.

In another complete diversion from his acting career Jim has released a children's book. 'How Roland Rolls' is a metaphysical tale about a little wave and was revealed on the 30th may 2013 at the American Book Expo in New York. Despite tough competition from the likes of Grumpy Cat, fans turned out in force to meet Jim and purchase his autographed books. The book was released in September and Jim promoted it with many book signing events across the country.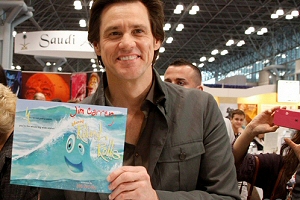 Jim Carrey's most highly anticipated film "Dumb and Dumber To" was filmed in the fall of 2013. Directed by Bobby and Peter Farrelly the sequel sees the two dim-witted primary characters, played by Jim and Jeff Daniels, setting out on an adventure which sees them searching for one of their long-lost children in the hope of gaining a new kidney. Premiered 20 years after the first movie and was one of the funniest movies in 2014 and had a great box office run worldwide with $170 million.

Moving onto upcoming projects. Jim is scheduled to film "Ricky Stanicky" in 2015. This is to be directed by one of Jim's greatest collaborators and friends Peter Farrelly and is pencilled in for a late 2015 release. The story is based around three characters who burn down a house in their youth and blame a fake person they call Ricky Stanicky. 20 years later we learn they have been using this alibi to get out of every uncomfortable situation in life. When their wives force them to set up a meeting with Stanicky, they hire an actor who is played by Jim. Also the comedy "Deep Cover" is on the list as producer and star for release in 2015/2016 by writer Johnny Rosenthal.

After the success of Jim Carrey's children's book "How Roland Rolls" more books are planned. A new children's book and another book is planned to be published in the coming years.

By Nicola West

« | 1 | 2 | 3 | 4 | 5 | Back