Dumb & Dumber
Page 1 of 5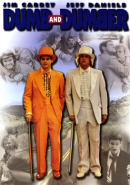 USA 16 Dec 1994
Netherlands 23 Feb 1995
Australia 16 Mar 1995
Spain 30 Mar 1995
Germany 6 Apr 1995
UK 7 Apr 1995
Poland 28 Apr 1995
Finland 12 May 1995
Denmark 19 May 1995
Norway 26 May 1995
Sweden 9 Jun 1995
Argentina 13 Jul 1995
Portugal 28 Jul 1995
Japan 16 Sep 1995
Hungary 16 Nov 1995

»
Imdb.com
»
MovieWeb
»
Yahoo! Movies
»
Wikipedia
Basic Information
Current Status
On DVD
US Release
December 16, 1994
DVD Release
May 21, 1997
Official Sites
Not available anymore
Genre
Comedy
Running time
107 minutes
Credits
Jim Carrey ... Lloyd Christmas
Jeff Daniels ... Harry Dunne
more »
Story Line
Harry (Jeff Daniels) and Lloyd (Jim Carrey) are two dumb losers who try to return a suitcase full of money to its pretty owner. After a journey full of accidents they arrive in snowy Aspen try to find her but a pair of criminals follow them and try to steal the money in the suitcase. Along the way the little issue of 'love' makes things interesting.
more »
Discussion
see our forum
Multimedia
Trailer, Pictures, Video Clips, Sound Clips
Related News
13 Apr 2012

Memorable Moment: Dennis Miller Live 1994

Jim Carrey gave an interview on the talkshow 'Dennis Miller Live' on April 29, 1994 via satellite. He was filming "Dumb & Dumber" those days, so his hairstyle was like the character Lloyd Christmas. Jim was promoting his upcoming movie, "The Mask". Miller asked "How are you Jim?". Jim replied: "B...

Read more

09 Jun 2011

Jim Carrey hints at sequel possibilities

Until now Jim Carrey has stuck by his 'no sequels' policy but responding to popular demand, he seems to be re-considering bringing back some of his most famous characters. While doing interviews for his upcoming movie "Mr. Popper's Penguins", Jim hinted that he might be changing his mind, returning ...

Read more

04 Mar 2011

"Dumb and Dumber" Sequel in talks

The Farrelly Brothers were giving hints of making a sequel to Jim Carrrey's hit comedy "Dumb and Dumber" (1994) earlier this week at a press junket for their new comedy. Jim Carrey and Jeff Daniels involvement in this yet to be made movie are still not confirmed, though Bobby Farrelly is very int...

Read moreRelated headlines

07/09/2010

Memorable Moment: Carrey on Letterman (1994)

10/22/2006

Top 40 comedy movies

01/03/2006

Dumb and Dumber: Unrated DVD

10/23/2005

Contents of "Dumb And Dumber: Unrated" DVD

09/24/2005

Dumb And Dumber Special Edition DVD

01/13/2003

"Dumb and Dumberer" WARNING

02/14/1998

New Line plans a prequel to "Dumb & Dumber"
1
|
2
|
3
|
4
|
5
|
Next »