The Mask
Page 1 of 5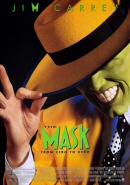 USA 29 Jul 1994
Netherlands 20 Oct 1994
France 26 Oct 1994
Germany 24 Nov 1994
Spain 25 Nov 1994
Australia 8 Dec 1994
Finland 23 Dec 1994
Denmark 25 Dec 1994
Sweden 25 Dec 1994
Argentina 29 Dec 1994

»
Imdb.com
»
MovieWeb
»
Yahoo! Movies
»
Wikipedia
Basic Information
Current Status
On DVD
US Release
July 29, 1994
DVD Release
November 24, 1998
Official Sites
Not available anymore
Genre
Comedy
Running time
97 minutes
Credits
Jim Carrey ... Stanley Ipkiss/The Mask
Cameron Diaz ... Tina Carlyle
more »
Story Line
Stanley Ipkiss (Jim Carrey) is a wimp but when he finds a mask that depicts Loki, the Norse night god of mischief he becomes a manic super hero.
more »
Discussion
see our forum
Multimedia
Trailer, Pictures, Video Clips, Sound Clips
Related News
10 Aug 2020

The Mask 2, Mask 3 - Could it be a Possibility?

We know what you are thinking… Seeing Jim Carrey reprise his role of "The Mask" would be amazing and even though Jim has never been too keen on making sequels, not only has he open up to it but now that there will be a sequel to "Sonic The Hedgehog", it guarantee he will do it. That being said, t...

Read more

29 Jan 2020

Jim Carrey Open For "The Mask" Sequel

Yes, your eyes are not pulling tricks on you. During the press junket for the movie "Sonic the Hedgehog", Jim was asked about a possible sequel to "The Mask" and contrary to what we expected… Jim is open for it, if the right thing happens: "I don't think in terms of sequels and stuff like that,(…...

Read more

29 Jul 2019

25th Anniversary of The Mask

Time flies! Especially if you're having a good time! 25 years ago, today, July29th 1994, the movie "The Mask" hit the theathers. Even though the movie had been filmed before the release of Ace Ventura, by the time it premiered people knew who Jim Carrey was. The movie, which cost $23 million t...

Read moreRelated headlines

04/10/2018

The Mask Animated Series on DVD today

01/07/2015

Memorable Moment: Space Ghost in 1994

06/13/2011

Jim Carrey awarded the Funniest M.F.

02/20/2011

Memorable Moment: Carrey on Letterman (1994)

10/18/2008

"The Mask" and "Dumb and Dumber" also on Blu-ray

03/12/2007

Comedian Richard Jeni Dead

05/16/2005

The Mask (New Line Platinum Series)

03/08/2005

The Mask (New Line Platinum Series)

08/01/2001

Jim back in "The Mask 2"?
1
|
2
|
3
|
4
|
5
|
Next »