Sonic the Hedgehog 2
Page 1 of 5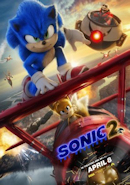 Basic Information
Current Status
Filming
US Release
April 8th 2022
DVD Release
2022
Official Sites
[US] [UK] more »
Genre
Animation / Action / Adventure
Running time
-
Credits
Ben Schwartz ... Sonic (voice)
James Marsden ... Tom Wachowski
Jim Carrey ... Dr. Robotnik
more »
Story Line
Sonic the Hedgehog 2 centers on Sonic (Ben Schwartz) and his friends, such as Tails and Knuckles, who run around collecting items and points as they attempt to foil the global domination plans of Dr. Robotnik (Jim Carrey). more »
Discussion
see our forum
Multimedia
Trailer, Pictures,
Related News
08 May 2021

Jim Carrey Gives Car To Crew Member

Jim Carrey is a talented man. But, he's also a good man and last Friday, he proved how generous he is. Jim is currently filming the sequel "Sonic the Hedgehog 2" and, as a gift to the crew, he decided to do a raffle to give away a Chevy Blazer RS. The base model is over $40.000. For those who may...

Read more

26 Apr 2021

More set photos from Sonic 2

We have no idea what the story for the sequel is but we are certain there's going to be a war. Okay, maybe not a war but a big fight for sure. New set photos from Fort Langley, Canada, where the production of "Sonic the Hedgehog 2" is happening, have surface and in them we see tanks, helicopters ...

Read more

22 Apr 2021

Sonic 2 set photos reveal the look of Knuckles and Tails

With the production of "Sonic the Hedgehog 2" still going on, no wonder we get to see some set photos of the making. Even though the main character is Sonic, in this sequel he's joined by best friends Tails and Knuckles. When you have an actor, interacting with CGI characters, we get to see some ...

Read moreRelated headlines

04/21/2021

Jim Carrey spotted on set for Sonic the Hedgehog 2

03/16/2021

Sonic the Hedgehog 2 Begins Production

02/12/2021

Jason Momoa Offered Knuckles Voiceover Role In Sonic 2

02/11/2021

Official Title and Teaser for "Sonic The Hedgehog" Sequel

02/08/2021

Sonic Animated Series on Netflix and Lego Set

01/28/2021

Sonic 2 - Filming Locations

11/23/2020

Sonic the Hedgehog 2 Production Start in March

07/24/2020

Paramount sets a date for "Sonic the Hedgehog 2"

06/22/2020

Possible Sonic the Hedgehog 2 Release Date

06/01/2020

Sequel to Sonic the Hedeghog in the Works!
1
|
2
|
3
|
4
|
5
|
Next »