Anchorman 2: The Legend Continues
Page 1 of 5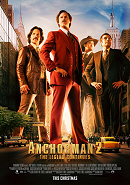 United Kingdom Dec 18, 2013
Ireland Dec 18, 2013
USA Dec 18, 2013
Canada Dec 18, 2013
Australia Dec 19, 2013
New Zealand Dec 19, 2013
Iceland Dec 20, 2013
Sweden Dec 20, 2013
Slovenia Dec 26, 2013
Denmark Jan 30, 2014
Germany Jan 30, 2014
Mexico Jan 31, 2014
South Africa Jan 31, 2014
Austria Jan 31, 2014
Norway Feb 7, 2014
Lebanon Feb 20, 2014
United Arab Emi. Feb 20, 2014
Cyprus Feb 21, 2014
Israel Feb 27, 2014
Brazil Feb 28, 2014
Portugal Mar 13, 2014
Finland Mar 14, 2014
Venezuela Apr 4, 2014
Chile Apr 17, 2014
Peru Apr 17, 2014
Argentina Apr 17, 2014
Colombia Apr 18, 2014
Panama Apr 25, 2014
Spain Apr 25, 2014
Belgium Jun 18, 2014
France Jun 18, 2014
Russia Jun 19, 2014
Ukraine Jun 19, 2014
Italy Jun 26, 2014

»
Imdb.com
»
MovieWeb
»
Wikipedia
Basic Information
Current Status
On DVD
US Release
December 18, 2013
DVD Release
2014
Official Sites
[US] [UK] more »
Genre
Comedy
Running time
119 minutes
Credits
Will Ferrell ... Ron Burgundy
Christina Applegate ... Veronica Corningstone
Steve Carell ... Brick Tamland
more »
Story Line
The continuing on-set adventures of San Diego's top rated newsman. more »
Discussion
see our forum
Multimedia
Trailer, Pictures, Video Clips
Related News
03 Oct 2014

"Anchorman 2" Bloopers Online

Funniest Movie Bloopers at YouTube has released "Anchorman 2: The Legend Continues" Bloopers which are really funny. Bloopers related to Jim Carrey for about 30 seconds is also included in the clip, which comes half of the clip is over (find it at minute 10:18). In the blooper, Jim Carrey seems t...

Read more

19 Mar 2014

Anchorman 2 Blu-ray features with Jim

Paramount Home Media Distribution has announched news about the upcoming release of "Anchorman 2: The Legend Continues". It will be released on Blu-ray Combo Pack (Blu-ray/DVD/UltraViolet) and single disc DVD. The three disc Blu-ray will feature a total of three versions of the film: theatrical, unr...

Read more

06 Mar 2014

Vote for Jim Carrey for Best Fight

The time has finally come! Nominations have been announced for the 2014 MTV Movie Awards. The live event will be hosted by Conan O'Brien, and will be shown on Sunday April 13th. Jim Carrey is once again nominated, but this time he's not on his own. He and several castmates from the hit comedy ...

Read moreRelated headlines

12/23/2013

Great opening for "Anchorman 2"

12/18/2013

Anchorman 2 - Now Playing!

12/11/2013

Anchorman 2 - A week away

10/25/2013

"Anchorman 2" Trailer Online

05/08/2013

Jim Carrey Cameo in "Anchorman 2"
1
|
2
|
3
|
4
|
5
|
Next »