Anchorman 2: The Legend Continues
Page 2 of 5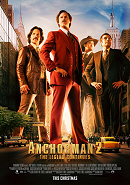 What's it about
A sequel to 2004's "Anchorman: The Legend of Ron Burgundy." Will Ferrell, will return to the title role with supporting cast members Steve Carell and Paul Rudd said to be involved as well. The original film also starred Christina Applegate, David Koechner, Fred Willard, Fred Armisen, Chris Parnell and many more.
Credits
Production Companies
Apatow Productions
Gary Sanchez Productions
Paramount Pictures
Distributor
Paramount Pictures
Director
Adam McKay
Writers
Will Ferrell
Adam McKay
Producer
Judd Apatow
Cast List
Will Ferrell
Christina Applegate
Steve Carell
David Koechner
Paul Rudd
Kristen Wiig
James Marsden
..... Ron Burgundy
..... Veronica Corningstone
..... Brick Tamland
..... Champ Kind
..... Brian Fantana
..... -
..... -
Movie Quotes
Taglines
Coming soon.
« Previous
|
1
|
2
|
3
|
4
|
5
|
Next »