Sonic the Hedgehog 2
Page 2 of 5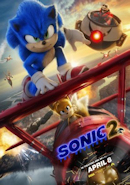 What's it about
Plot details remain largely unknown, but with the ending of the first movie leaving Dr. Robotnik stranded, as well as introducing Sonic's loveable sidekick, Tails, and hinting at the arrival of fan-favorite character Knuckles, the scene is set for a bigger, better sequel.

With a release date revealed for the upcoming sequel, we can while away the time wondering whether the long-time supporting character, Knuckles, will make an appearance. Luckily for them, director Jeff Fowler has discussed the character before, suggesting that it is likely that the red echidna will enter the fray eventually.
Credits
Production Companies
Original Film
Blur Studio
Marza Animation Planet
Paramount Pictures
Sega of America
Distributor
Paramount Pictures
Director
Jeff Fowler
Writers
Patrick Casey
Josh Miller
Producers
Neal Moritz
Mie Onishi
Tim Miller
Executive Producers
Toby Ascher
Jeff Fowler
Tim Miller
Composer
Junkie XL
Art Director
Grant Van Der Slagt
Editor
Stephen F. Windon
Cast List
Ben Schwartz
Tika Sumpter
Jim Carrey
James Marsden
Lee Majdoub
Natasha Rothwell
Adam Pally
Neal McDonough
Tom Butler
Frank C. Turner
Shannon Chan-Kent
Brad Kelly
Elfina Luk
Garry Chalk
Michael Hogan
Peter Bryant
Jeremy Arnold
Jeanie Cloutier
Bailey Skodje
Dean Petriw
Jeff Sanca
Lisa Chandler
Chris Gailus
Bethel Lee
Anthony Santiago
Jeremiah Oh
Charles Heffernan
Terence Kelly
Sean Campbell
Scott Patey
Sandy Robson
Andrea Marcum
Benjamin Valic
Donna Jay Fulks
..... Sonic the Hedgehog (voice)
..... Maddie Wachowski
..... Dr. Ivo Robotnik
..... Tom Wachowski
..... Agent Stone
..... Rachel
..... Billy Robb
..... Major Bennington
..... Commander Walters
..... Crazy Carl
..... Roundhouse Waitress
..... Roundhouse Thug
..... Secretary of Homeland Security
..... Navy Chief of Staff
..... Air Force Chief of Staff
..... Amy Chief of Staff
..... Business Man
..... Business Woman
..... Minivan Kid #1
..... Minivan Kid #2
..... Mini Van Dad
..... Minivan Mom
..... News Anchor
..... Receptionist
..... Senior Glass Installer
..... Junior Glass Installer
..... Mima
..... Former Zimmer
..... Bartender
..... Bar Patron #1 / On Set Sonic
..... Bar Patron #2
..... Yoga Instructor
..... Baby Sonic (voice)
..... Longclaw (voice)

Movie Quotes
Coming soon..
Taglines
Coming soon..
« Previous
|
1
|
2
|
3
|
4
|
5
|
Next »