The Mask
Page 2 of 5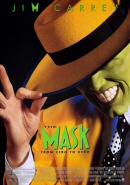 What's it about
Reviewed by LOKI
This goes down in my books as my favorite movie of all time. Why? Well, my character plays a pretty big role in this flick. But other than that, I'd have to say it's my favorite film for other - many other - reasons. It was a history making film, sporting ground-breaking work in computer generated special effects headed up by George Lucas' Industrial Light and Magic (ILM). Never before had a human been portrayed as a live-action character who followed the laws of animated cartoon physics so extensively in a motion picture: cartoon laws dictated first by Tex Avery of Warner Bros. fame. A signature cartoon of Avery's even makes a cameo appearance in the film, establishing the foundation of the production's inspiration: Red Hot Riding Hood.
The film also brings back to the spotlight those wonderful Berkley Busby musicals of the Golden Hollywood era. (You can still catch them on AMC, TCM, and TNT cable television channels.) We see that not only can Jim Carrey dance, he can SING. From a super-fueled Jitterbug Jive to a hot Latin Rythmn, this film manages to make song and dance musicals cool again - if only for a short moment in time.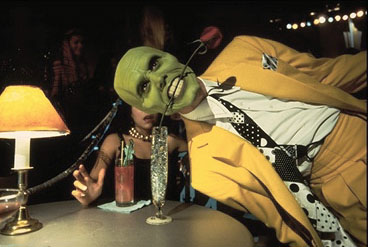 © New Line Cinema
But, let's not forget the sweetest guy on the planet, Stanley Ipkiss, and his ever faithful and adorable Jack Russell terrier, Milo. If it weren't for these guys, we wouldn't have characters we could feel empathy for, we wouldn't have the film's funniest moments, we wouldn't have a movie, and we wouldn't have anybody to find those keys!
I just love this movie. And I'm just gonna' have to give it a 10.
Credits
Production Companies
Dark Horse Entertainment
New Line Cinema
Distributor
New Line Cinema
Director
Chuck Russell
Writers
Michael Fallon
Mark Verheiden
Mike Werb
Producer
Robert Engelman
Executive Producers
Michael De Luca
Mike Richardson
Chuck Russell
Associate Producers
Ann Burgund
Carla Fry
Composer
Randy Edelman
Cinematographer
John R. Leonetti
Editor
Arthur Coburn
Cast List
Jim Carrey
Cameron Diaz
Peter Riegert
Peter Greene
Amy Yasbeck
Richard Jeni
Orestes Matacena
Tim Bagley
Nancy Fish
Johnny Williams
Reg E. Cathey
Jim Doughan
Denis Forest
Joseph Alfieri
B.J. Barie
Catherine Berge
Phil Boardman
Krista Buonauro
Debra Casey
Blake Clark
Christopher Darga
Suzanne Dunn
Joely Fisher
Kevin Grevioux
Peter Jazwinski
Howard Kay
Robert Keith
Beau Lotterman
Scott McElroy
Richard Montes
Ivory Ocean
Robert O'Reilly
Louis Ortiz
Daniel James Peterson
Jeremy Roberts
Eamonn Roche
Randi Ruimy
Ben Stein
Nils Allen Stewart
Chris Taylor
Bullet Valmont
Wendy L. Walsh
Meadow Williams
Max
..... Stanley Ipkiss
..... Tina Carlyle
..... Peter Riegert
..... Dorian Tyrell
..... Peggy Brandt
..... Charlie Schumaker
..... Niko
..... Irv Ripley
..... Mrs. Peenman
..... Burt Ripley
..... Freeze
..... Detective Doyle
..... Sweet Eddy
..... Police Officer
..... Alley Punk #1
..... Cigarette Girl
..... Guard
..... Lady Cop
..... Alley Punk #3
..... Murray
..... Paramedic #3
..... Reporter
..... Maggie
..... Henchman #7
..... Park Policeman
..... Niko's Thug #2
..... Police Officer
..... Megaphone Cop
..... Niko's Thug #1
..... Henchman #1
..... Mayor Mitchell Tilton
..... The Figure
..... Coco Bongo Vallet
..... Henchman #6
..... Bobby the Bouncer
..... Mr. Dickey
..... Screaming Lady
..... Dr. Arthur Neuman
..... Orlando
..... Coco Bongo Cop #1
..... Alley Punk #2
..... Herself
..... Pebbles
..... Milo the Dog
Movie Quotes
| | |
| --- | --- |
| The Mask: | No Milo, not the "cheese"... The "keys"! |
| The Mask: | It's party time. P, A, R, T. Why? Because I gotta! |
| The Mask: | Our love is like a red, red rose... and I am a little thorny. |
| The Mask: | SSSSSSSSSSSSSSSMOKIN! |
| The Mask: | Ohh, somebody stop me! |
| The Mask: | You were good, kid, real good. But as long as I'm around, you'll always be second best, see? |
| Charlie Schumacher: | The Coco Bongo Club. Hottest new joint in town. Only the creme de la creme need apply. |
| Stanley Ipkiss: | So how do we get in? |
| Mrs. Peenman: | Ipkiss, turn down those cartoons! |
| Stanley Ipkiss: | All right, Mrs. PeenMAN! |
Taglines
From Zero To Hero
Stanley Ipkiss is not the man he used to be.
« Previous
|
1
|
2
|
3
|
4
|
5
|
Next »