Ace Ventura: When Nature Calls
Page 3 of 5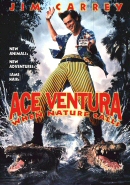 Production Notes
The last two years have been extraordinary ones for Jim Carrey. Already known for his comic energy and the spectrum of outrageous characters he created in the Emmy Award-winning comedy series "In Living Color," Carrey acknowledges that it was his starring role in the original "Ace Ventura: Pet Detective" that catapulted him to film stardom.
Carrey now returns to the role of Ace following standout performances in three additional hit motion pictures: "The Mask," "Dumb and Dumber" and "Batman Forever." Yet, of all the characters Carrey has now inhabited, from grinning pyromaniac Fire Marshall Bill and female gladiator Vera de Milo on "In Living Color" through the bumbling bank clerk and crazed avenger who danced the rhumba in "The Mask," to the lovestruck limo driver in "Dumb and Dumber" and the maniacally brilliant Riddler in "Batman Forever", the character closest to Carrey's heart and funnybone is Ace Ventura.
So when producer James G. Robinson, Chairman and CEO of Morgan Creek Productions, approached Carrey about a sequel, Carrey was glad to don the signature Hawaiian shirts and upswept hairstyle and once again breathe life into Ace.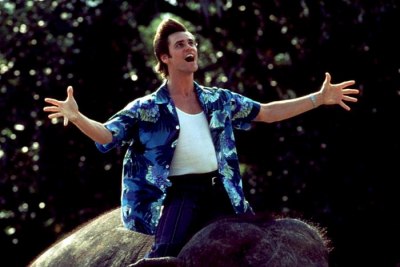 © Warner Bros. Pictures
"I love that guy, I love the character," says Carrey, "and I love the 'do. Ace embodies absolute enjoyment of life. He has no respect for authority; basically, he's like a child. He always seems to be playing and having such a good time at whatever he does." "Ace is totally irreverent," adds writer/director Steve Oedekerk, "and that's why kids love him so much. Ace respects no one. He's a completely good guy, but he has absolutely no respect for normal conventions."
But, according to Oedekerk, that's just part of his appeal to audiences. "Although all of Jim's characters are hilarious, Ace Ventura is the embodiment of comedy; it's all the guy is about. He is a pure and total comedy force. Everything he does is funny. If he's going to sip coffee, he's going to sip the coffee funny. If he's walking through the door, he's going to walk through the door funny. With Ace you get the most comedy you can get on screen in a movie. "And that's Jim's appeal as well, he's just blatantly funny. Comedy exudes from him, as opposed to coming from the moment or the on-screen relationship."
Oedekerk, who has known Carrey since their days as stand-up comics, wrote sketches with him as a staff writer for "In Living Color" and was a consultant on "Ace Ventura: Pet Detective." Subsequently, Oedekerk became a sought-after comedy screenwriter and was ready to make his directing debut, so when it came time for an "Ace" sequel, Oedekerk was immediately enlisted as the writer and, thereafter, as the director as well.
But both Carrey and Oedekerk had very specific ideas about the sequel. As Oedekerk says, "We thought 'why even do it, if we're not trying to do something staggeringly bigger and better and funnier? ' That was the goal, first with the script, then with the movie."
WHY AFRICA?
Oedekerk explains, "Jim had the concept for Africa and that meshed beautifully with my idea of a totally different movie. We didn't want to make the same movie over again with the same setting, the same supporting characters and just a different animal missing." "I've always been fascinated with Africa," says Carrey, "I've always wanted to go there. And it's the quintessential 'Ace place' - where he'd want to be and where he'd probably end up, with all his animal pals. It was a logical step for him, "And I felt strongly that I wanted to go international with the second 'Ace' film," Carrey continues. "Something happened in the first one which was kind of cool; there was a kind of Bondian aspect to Ace, like Agent 007. So I sort of saw the sequel in the vein of a James Bond film."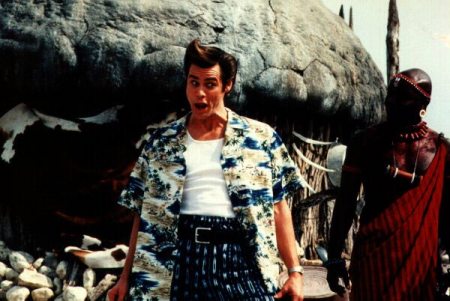 © Warner Bros. Pictures
Adding to the international flavor of the film is the gallery of mostly British actors, many classically trained, in supporting roles. Ian McNeice, who plays Ace's sidekick, Fulton Greenwall, says, "Because Jim is so inventive and so big, my role had to be supportive and as real as possible in order to feed into that. It's the only way this kind of comedy can work. I think this was the key for all the side characters around Jim - to totally believe in what we were doing, to totally believe in the story, and let Jim do his thing as Ace."
Simon Callow portrays British consul Vincent Cadby, who hires Ace and lives to regret it. "I'd seen the first Ace Ventura film, so I had an idea of what to expect from the point of view of Jim's character. My character is basically what you'd call a foil But I thought it would be fun dueling with Jim Carrey, and it was. "As a foil," Callow continues, "it was important that I became absolutely loathsome to the audience. It increased the attractiveness of Ace and the triumph of the good forces - or the forces of mayhem, anyway! After all, that's what Ace really is: the anarchy principle of all comedy. "And Jim gave an enormous amount. He was phenomenally inventive and worked on a very high level of adrenaline, so you kind of jump onto that moving bus."
Maynard Eziashi, as the Chief s son, Ouda, was delighted with the amount of improvisation in the film. "Everyone was constantly working off everyone else. I just couldn't help laughing and ad-libbing because Jim was always throwing out so much to me - and all of it was funny."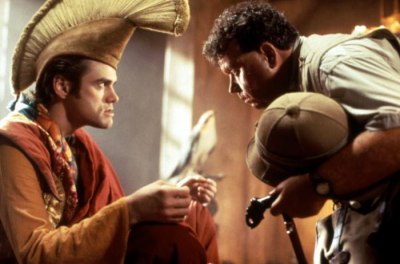 © Warner Bros. Pictures
"Whenever I prepared a scene with Jim," says Sophie Okonedo, a former member of the Royal Shakespeare Company, who plays the Princess, "even though we'd rehearsed, I'd never really know what he was going to do from one take to another. And that made my reactions completely spontaneous."
American actor Bob Gunton, who portrays the eccentric Burton Quinn, owner of Quinnland Safari Park, is best known for his dramatic roles in films, although he's done many comedies with very broad humor in the theatre. "I wanted to do something that was really goofy for a change," explains the actor, "a real knockabout comedy whose sole intention is to amuse people. The thing I love about Jim's character is this infectious joy of life, the sense of making every moment, every encounter, an adventure. And that gave me a tremendous force to react to."
Collaborating With Carrey "The process of directing Jim was as collaborative as possible," says Steve Oedekerk. "We've worked well together as writers over the years, and we worked in the same way with me directing. I was very open to Jim's ideas and he was very open to mine; it was pretty egoless. "We were always trying to make everything better. Even if the stuff seemed great, we'd talk about each scene, asking each other if there were any jokes we missed or if there were ways we could do something physically. We were always looking for a new line or a new beat. "We're both punchline-oriented," adds Oedekerk, "so we'd toss around stuff to come up with the funniest things. Sometimes we laughed so hard that it literally looked like Jim's mouth was going to swallow his body backwards, and I'd have to walk away in a crouched position just so I could get a breath of oxygen. Basically, when we work together, we have fun."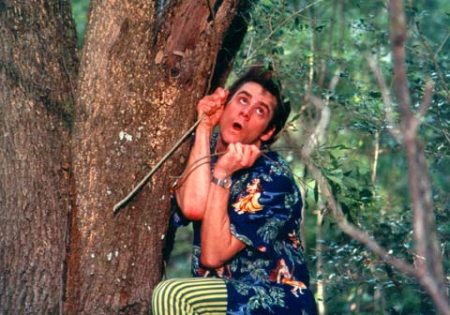 © Warner Bros. Pictures
A key decision about the look of the film was made early on when the filmmakers decided to shoot in a wide-screen format. Director of photography Donald E. Thorin explains, "With the film's big action and because Jim Carrey plays so big, wide-screen was a natural choice." Production designer Steven Lineweaver agrees. "But to support that, the visuals had to be very striking, the most exotic, the most intense. So the makeup, the hair, even the huts in the villages had to have a certain extreme quality. It's definitely a world that's a little more incredible than if it were in a documentary.
"We took the best of everything and put together our own tribal looks. The two warring tribes, the peaceful Wachatis and the warlike Wachootoos, were a very simple good-and-evil green foliage, flowers, natural materials. For the warlike Wachootoos and their village, we used l very stark motif, with bones, bark, dust, fires, even evil-looking skull bones for the witch doctor'. headdress."
Recalls Lineweaver, "Jim had more than enough energy to play any set I built. He's high- maintenance; he'd really work the set. So I had to give him things to play with - we brought in food for a party scene and suddenly, the asparagus was up in his mouth like a walrus; or at a tribal banquet, he stuck zucchinis on all of his fingers."
Costume designer Elsa Zamparelli, known for her work on period epics like "Dances With Wolves" and "The Last of the Mohicans," has had a passion for African tribal costumes since childhood. She says, "I decided to draw heavily on the Masai and Sambura tribes, using bits and pieces - clothing, headdresses, necklaces, earrings - that would suit my needs and the director's vision." Zamparelli says that designing clothes for Ace was particularly challenging, because Ace's character had already been established in the first film.
"Although he has a similar look this time, with the trademark Hawaiian shirt, I gave him a little different edge - it's basically a swashbuckler style, with the boots and the easy-fit pants. And nothing really matches," laughs Zamparelli, "but somehow it works because Ace wears the clothes."

© Warner Bros. Pictures
Zamparelli especially enjoyed choosing clothing for the opening sequence, which finds Ace on a mountaintop. "I thought, 'Okay, he's mountain-climbing - lederhosen!' Ace in lederhosen is funny. I've been in Switzerland and Austria and people do still wear them, so I figured that would be just the perfect outfit."
Zamparelli continues, "As I expected, when I first mentioned the idea to Jim he wasn't sure, but when he saw them and tried them on, he said, 'Yes, this is Ace, this would be great.' "
CREATING ACE'S UPSWEEP
Hairstylist PAULETTA LEWIS, working with Jim Carrey, was responsible for the now- infamous Ace hairdo, originally created for "Ace Ventura: Pet Detective." Lewis explains its origins: "I was working with him on "In Living Color" when he asked me to design his hair for a movie called 'Ace Ventura' The look he told me he wanted was like a cockatoo from the back and normal from the front. So I started going to pet stores, getting books on birds, and that's how the Ace 'do was born.
"Getting Jim's hair ready each day required lots of teasing, lots of backcombing, but not a lot of spray," Lewis explains. "People think it's a lot of spray, but it's not. It took me an hour every day. And at the end of the day he'd just wash it out."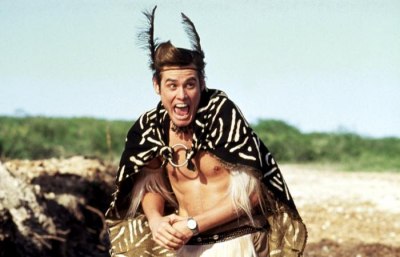 © Warner Bros. Pictures
ON LOCATION
The settings for "Ace Ventura: When Nature Calls" include a wide variety of terrains, from Himalayan mountaintops to densely forested jungle. For logistical reasons, however, the filmmakers preferred to keep the actual filming site of the movie primarily in the United States. After months of extensive scouting, they selected areas around San Antonio, Texas, and Charleston, South Carolina, as the two primary sites for the African setting, and Vancouver, British Columbia, for the Himalayan sequences.
A 15,000-acre ranch in Hondo, Texas, with open, grassy savannas and varied herds of animals (including zebra, impala, gazelle and antelope), doubled for the Wachati and Wachootoo villages. In South Carolina, The Botany Bay Plantation, a nature and game preserve, offered lush, dense, tropical vegetation, as well as rivers and a salt marsh with tall brown grass, all necessary to duplicate the jungle look. The Cherokee Plantation, complete with a Georgian manor house and manicured lawns, served as the exterior of the British Consulate in Bonai.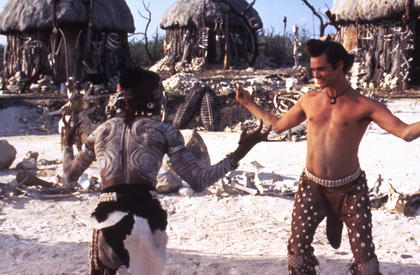 © Warner Bros. Pictures
MORE ANIMALS
As in "Ace Ventura: Pet Detective," animals are an integral part of "Ace Ventura: When Nature Calls." And once again, CATHY MORRISON, who runs Birds and Animals Unlimited, was responsible for providing and training all the animals used in the film. Binks, the white-throated capuchin monkey who reprises his role as Ace's companion, Spike, is the only animal actor to return from the original film. However, "Ace Ventura: When Nature Calls" utilized five times the number of animals seen in the previous film. And this time around, they're of the variety and type specific to Africa, including giraffes, elephants, zebras, lions, water buffalo, three kinds of antelope, ostriches, chimpanzees, a baboon and assorted birds. As Morrison says, "The animals in the first film had to fill an apartment. In 'Ace Ventura: When Nature Calls,' they had to fill Africa."
Ace finds a special ally in the form of Boba the elephant, played by a gentle pachyderm named Dixie. Her standout moment: coming to Ace's rescue as she leads a charge of all the animals in the most elaborate animal sequence of the film.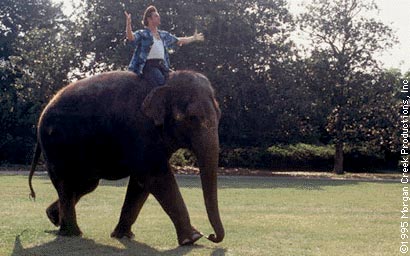 © Warner Bros. Pictures
Still, once again, with all the animals in "Ace Ventura: When Nature Calls," the wildest creature in the animal world is its only human member, as Ace Ventura gets back into action, confounding his enemies, eluding his pursuers, and showing his fans how the true professional always gets his man... er, beast.
« Previous
|
1
|
2
|
3
|
4
|
5
|
Next »