I'm Dying Up Here (TV)
Page 2 of 6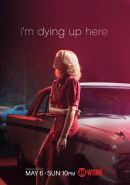 What's it about
The new one-hour SHOWTIME drama series I'M DYING UP HERE explores L.A.'s famed '70s stand-up comedy scene where the careers of legends such as David Letterman, Jay Leno and Richard Pryor were launched. The series delves into the inspired, damaged and complicated psyches of those who stand alone in front of an audience "dying" for fame, fortune and, with any luck, a shot on Johnny Carson. I'M DYING UP HERE stars Academy Award winner Melissa Leo (Wayward Pines, Treme), Ari Graynor (Bad Teacher), Michael Angarano (The Knick), Clark Duke (Hot Tub Time Machine), Andrew Santino (Mixology), Erik Griffin (Workaholics), RJ Cyler (Me and Earl and the Dying Girl), Al Madrigal (The Daily Show), and Jake Lacy (Obvious Child) as part of a large ensemble cast. This fictional group of competitive but close-knit comedians is mentored by "Goldie" (Leo), a brassy comedy club owner who rules over her business with an iron fist, but nurtures her comedians with tough love. For Goldie and her crew, there's truly no such thing as an easy laugh. Recurring guest stars include Stephen Guarino (Happy Endings), Brianne Howey (Horrible Bosses 2), Jon Daly (Kroll Show), and Ginger Gonzaga (Togetherness). Guest stars include Emmy nominee Dylan Baker (The Good Wife), Oscar® nominee Robert Forster (Jackie Brown), Oscar nominee Cathy Moriarty (Raging Bull), with Sebastian Stan (Captain America: The Winter Soldier, The Martian) and Emmy Award nominee Alfred Molina (Chocolat).
Produced by SHOWTIME, "I'm Dying Up Here" is created and executive produced by Dave Flebotte, and executive produced by Michael Aguilar and Golden Globe winner Jim Carrey, along with Christina Wayne for Endemol Shine Studios and Assembly Entertainment. The series is based on the non-fiction book of the same name by William Knoedelseder. The pilot was written by Flebotte and directed by Jonathan Levine.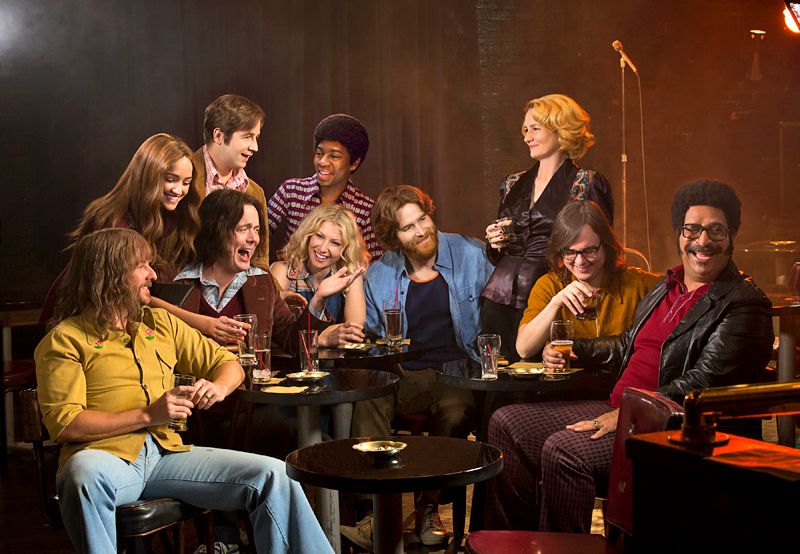 Credits
Production Companies
Assembly Entertainment
Endemol Shine North America
Distributor
Showtime
Directors
Adam Davidson (2 episodes)
Iain B. MacDonald (2 episodes)
Jon S. Baird (1 episode)
Kate Dennis (1 episode)
David Evans (1 episode)
Jonathan Levine (1 episode)
Julie Anne Robinson (1 episode)
Jake Schreier (1 episode)
Writers
William Knoedelseder (10 episodes)
David Flebotte (created by) (9 episodes)
Al Madrigal (9 episodes)
Jim Carrey (2 episodes)
Cindy Chupack (2 episodes)
Cindy Caponera (1 episode)
Alex Herschlag (1 episode)
Justin Hillian (1 episode)
Dave Holstein (1 episode)
Jeff Shakoor (1 episode)
Martin Weiss (1 episode)
Producer
Jeff Shakoor
Executive Producers
Jim Carrey
Michael Aguilar
David Flebotte
Christina Wayne
Composer
Alex Ebert (10 episodes)
Editors
Colin Patton (4 episodes)
Fabienne Bouville (3 episodes)
Robert Komatsu (3 episodes)
Cast List
Melissa Leo
Ari Graynor
Clark Duke
Michael Angarano
RJ Cyler
Erik Griffin
Andrew Santino
Al Madrigal
Stephen Guarino
Jon Daly
Ginger Gonzaga
Obba Babatundé
W. Earl Brown
Jeffrey Nordling
Jake Lacy
Joel Kelley Dauten
Rick Overton
Ryan George
Diana Gitelman
Jerron Horton
Dom Irrera
Claudia Abrego
Michelle Arthur
Sarah Hay
Richard Kind
Glenn Morshower
Earl Skakel
P.J. Byrne
Kim Delgado
Brianne Howey
Cathy Ladman
Amanda Quaid
Sebastian Stan
..... Goldie Herschlag (10 episodes)
..... Cassie Feder (10 episodes)
..... Ron Shack (10 episodes)
..... Eddie Zeidel (10 episodes)
..... Adam Proteau (10 episodes)
..... Ralph King (10 episodes)
..... Bill Hobbs (10 episodes)
..... Edgar Martinez (10 episodes)
..... Sully Patterson (10 episodes)
..... Arnie Brown (9 episodes)
..... Maggie (9 episodes)
..... Barton Royce (7 episodes)
..... Teddy (7 episodes)
..... Eli Gershmann (7 episodes)
..... Nick Beverly (6 episodes)
..... Gabe Schwartz (6 episodes)
..... Mitch Bombadier (6 episodes)
..... Ricky the Bartender (5 episodes)
..... Betty Patterson (5 episodes)
..... Walter Rice (5 episodes)
..... Fitzy (5 episodes)
..... Presicion Driver (4 episodes)
..... Customer (4 episodes)
..... Tawny (4 episodes)
..... Marty Dansak (4 episodes)
..... Warren Hobbs (4 episodes)
..... Al Simms (4 episodes)
..... Kenny Vessey (3 episodes)
..... Stage Manager (3 episodes)
..... Kay (3 episodes)
..... Tish Norman (3 episodes)
..... Susan Hobbs (3 episodes)
..... Clay Appuzzo (1 episode)
Movie Quotes
Coming soon..
« Previous
|
1
|
2
|
3
|
4
|
5
|
6
|
Next »