Man On The Moon
Page 3 of 6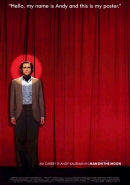 Production Notes
The Beginning
Had it not been for Michael Douglas' birthday party, it is entirely possible Man on the Moon would never have been made. Among the invitees were two people who had first met during filming of the producer's Academy AwardÔ-winning motion picture, One Flew Over the Cuckoo's Nest: director Milos Forman and Danny DeVito.
Forman, who received Academy Awards® for One Flew Over the Cuckoo's Nest and Amadeus, is known for making provocative, witty and deeply-felt films about complex men who have forged their own paths to success. He most recently directed his 7th film in this country, the acclaimed motion picture The People vs. Larry Flynt, for which he also received an Academy Award™ nomination. Since his directorial debut in Czechoslovakia in 1963 with Black Peter, the Czech-born director had earned international acclaim for such films as Loves of a Blonde, before coming to the U.S. to make Taking Off, Hair, Ragtime and Valmont. Collectively, his films have received 36 Oscar® nominations.
In discussing the auspicious meeting, Forman recalls, "Danny and I happened to be sitting together and for some reason the conversation turned to Andy Kaufman. Years before I had seen his television specials and I had always been fascinated by him and the fact that he never broke out of character. When Danny began telling me stories about Andy and his own experiences with Latka and Tony Clifton, I told him 'this is fantastic.'"
DeVito remembers that as he and Forman continued their conversation, "we became more and more enthusiastic, until Milos finally said 'this would make a great movie.'"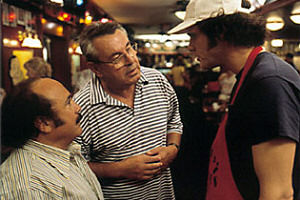 "From that moment on, four years ago" says DeVito, "I began calling people to get the ball rolling."
DeVito continues, "I think Milos was fascinated by the duality of Andy's characters. Andy was a crafty guy and nothing was ever what it seemed. There were such mechanics underneath Andy's demeanor of naiveté, but what was happening, was always by design."
According to producer Michael Shamberg, "Andy used all the elements of entertainment as an art form. He made the audience laugh and he antagonized them, so it was not just about him doing stand-up, it became about culture. He was always pushing the envelope to take the audience to new places."
"We're in an era of packaged material, in an entertainment media-obsessed culture and yet everybody's thirsty for material that is non-packaged," continues Shamberg. "Andy was a performance artist but instead of using literature as his reference or classical art as his reference, he used the clichés and the grist of the entertain-ment business as a reference."
Shamberg adds, "If you look at the lineage of the great standup comics who've had an influence on generations, comics like Lenny Bruce or Richard Pryor, Woody Allen and Robin Williams, Andy Kaufman is certainly among that pantheon of people whose style and material was breathtakingly fresh. His fearlessness is timeless—and he made it up as he went along."
Once Forman and DeVito got the idea of making a film about Kaufman, they began to put together the list of people who had been involved in the comic's life: the people who would help shape the story and the script. As they began their quest, they quickly discovered that everyone who had known or loved Andy personally, was thrilled by the idea of a movie being made about his life and his art.
One of the first people DeVito contacted was George Shapiro, who with his partner Howard West, had been Andy's manager from 1975 until his death.
"When Milos and I were still at Michael's party and talking about the project," says DeVito, "the first thing that came out of my mouth was 'you'll direct the movie, I'll produce the movie and I'll play George Shapiro.'"
"George loved Andy dearly and I knew that," continues DeVito. "He was closer to Andy than anybody I knew. When Andy was on Taxi, George would come to every show. He really cared about what was going up on the screen. And I knew he would be the same way about our movie."
It was important for the producers to be as faithful to the true Andy Kaufman as possible, so the second person DeVito contacted was Bob Zmuda, Andy's best friend who had collaborated with him since the mid-1970s.
Continues DeVito, "I called to tell George and Bob what was on my mind because I wanted this to be a family experience. I wanted everybody to come together again, no matter where they were in their lives at that moment, to embrace Andy's spirit and join in this celebration of his life."
Recalls Shapiro, "I first met Andy in 1975. I was having lunch with Carl Reiner and Dick Van Dyke, and Carl, who had just returned from New York, was telling me about the most bizarre and wonderful act that he'd ever seen at the comedy club, "Catch A Rising Star." And Carl, who has total audio recall, did Andy's entire act with all the accents and jokes and describing the conga drums and the Elvis impersonation. It was fascinating."
Shapiro continues, "Then, Budd Friedman mentioned to me that he was flying Andy out to Los Angeles to work at the Improv and suggested that I come to see him. I loved his act and I gave him my card and soon thereafter we began working together."
Bob Zmuda, who had met the comic just before Kaufman auditioned for Saturday Night Live remembers that, "Andy was already known as a hot act on the nightclub-cabaret circuit in New York when I first saw his act at the Improv. And he totally pulled one over on me."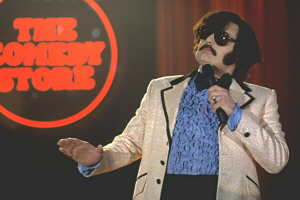 Zmuda continues, "Even though other comics in the room told me it was all a put on, I was amazed that he kept up the 'foreign man' routine once he came off stage. He not only kept it up, but when he saw me watching him, he asked if I could help him load some of his stuff into his car because his back was hurting him. Because I was interested in talking to him, I said of course and when I went back stage he had all kinds of thing to be loaded: the conga drums, his suitcase, a 16mm projector and there I was lugging all this stuff and I clearly understood why his back was hurting. I no sooner finished loading the car then he closed the trunk, straightened up and turning to me said 'sucker' as he got in and drove away."
"I couldn't believe he'd gotten me so badly," Zmuda says. "But it was the beginning of a relationship which lasted until his death."
The other person who shared Andy's life and who would become actively involved in the filmmaking process, was Lynne Margulies, who met and fell in love with Andy and lived with him for the last two years of his life.
Margulies says, "The people who loved and got Andy's routines felt as though they were in a special club, that they were the only people who understood what he was doing. There were people who loved him and people who hated what he was doing. And Andy wanted them to hate him. The more they hated him, the more he felt like he was doing what he wanted to do."
She continues, "He felt that his mission in life was not only to entertain people, but to completely perplex them, confuse them, make the mad. For him, that was pure entertainment. He was entertaining them, but they were entertaining him by getting so angry with him and he loved it."
Towards the end of Kaufman's life, even before anyone knew he was sick, no one would hire him on television because of the incidents on Fridays and Saturday Night Live.
Margulies says, "I remember telling him that he'd done his job so well that people really hated him and that he would have to come out and reveal that it was joke. And he said 'no way.' Even if his career was dead and he never worked again, he was not willing to give away anything. He had amazing purity. It was frustrating but you had to admire him."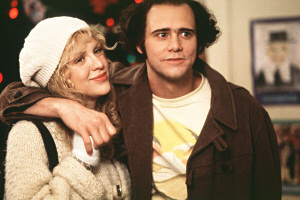 When it came time to write the script, Forman and Jersey Films turned to Alexander and Karaszewski, Golden Globe winners for their screenplay for Forman's The People vs. Larry Flynt. The producers wanted the screenplay for Man On The Moon to follow the eccentric comic's life from his television-obsessed childhood on Long Island to his untimely death from a rare form of lung cancer in 1984. Alexander and Karaszewski received critical acclaim for their first biopic, Ed Wood, and they recently wrote and directed Foolproof, which will be released by Universal Pictures in 2000.
"It wasn't until we started researching this project," says Alexander, "that I realized how many things about Andy Kaufman I had seen at the time. We really didn't know very much about his life, because it had never been documented. There was a grab-bag of magazine articles but we really learned everything by interviewing all of his friends, family and co-performers."
He continues, "George Shapiro, who had kept tapes of his association with Andy over a five-year period, gave us nearly 300 pages of transcripts. We also spent about five months interviewing dozens of people. Every family member plus former girlfriends and friends, standup comics, the Taxi cast and then once word got out about the project, people started finding us. We'd get cold calls from Great Neck from people who had gone to high school with him."
Adds Karaszewski, "This is by far the toughest script we ever had to write. Keeping everything straight was very difficult. So much of the movie is hoaxes by Andy that on every page we had to make the decision, 'is this something the audience is in on? which characters are in on this and which characters don't know what's going on?' It was extremely unconventional."
"We tried to stay as faithful as we possibly could," Karaszewski says. "I think we ended up having to restructure certain events here and there to keep the story going. But we wanted to include as many Kaufman stunts as we could and we wanted to give each of those stunts some kind of dramatic meaning. In order to do that, they couldn't just be occurring randomly, so we played certain of them as reactions to events in his life."
"We like to cram our biopics into a really solid three-act structure," says Alexander. "But after a few months of writing, we were stumped because we couldn't seem to figure out who Andy was. And part of the problem was that through all of the numerous interviews, it had begun to seem like Citizen Kane where Joseph Cotton is talking to all these different people trying to figure out who Kane was. We were trying to figure out who Andy was and everyone was giving us a different answer."
Luckily, Lynne Margulies clued the writers into who Kaufman really was. "Guys, there was no real Andy," she says. And that gave them the secret to the movie…the premise.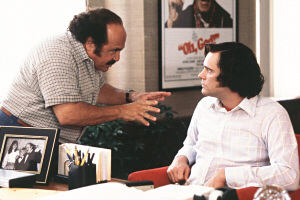 Karaszewski says, "It was as if a light went off. No matter how many times Andy took off a mask, there was another mask underneath and he consistently left everyone, including everyone who loved him and everyone who was close to him, scratching their head. So we gave up trying to get under his skin, because that was impossible."
He continues, "We like taking the person's art and showing how it reflects his work. Andy's life and his work are basically one. And when there are so many people still living who knew your subject, you definitely feel more of a responsibility. We probably felt it more so on this movie because we did such extensive research and interviews with Andy's friends and relatives. We felt a bond with these people."
"Besides," he laughs, "half the people in the film are executive producers on the movie. Technically, we were writing about our bosses!"
Bringing the Project to Life
When it came time to cast the film, everyone involved knew exactly who they wanted to portray Andy Kaufman.
"As long as four years ago," states DeVito, "when I was first trying to get the movie made, my initial idea was to cast Carrey. In this case, I think the Gods were shining down on us. Everything went so smoothly and to have Jim doing the part was miraculous, because not only is he a terrific actor, but he is such a major, major fan of Andy Kaufman."
Carrey most recently starred as Truman Burbank, whose life is an on-going television series in the critically-acclaimed The Truman Show. He has created some of the most popular and entertaining characters in modern film history. His unique combination of improvisation, mimicry and innovation with an outrageous style of physical comedy has captured the attention of film audiences throughout the world in such films as Liar Liar, Ace Ventura: Pet Detective, The Mask, Batman Forever, Dumb and Dumber, Ace Ventura: When Nature Calls and The Cable Guy.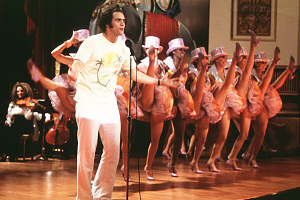 "It takes a musician to play a musician," says Shamberg. "And it takes a comic to play a comic. We would see readings from some of the most talented actors in the business, but it was only in the tape that Carrey made for us that the silence was funny. Jim understood the silence. And because he had the timing and the look, he was able to make the empty spaces funny. I use a musical reference because comedy is also about rhythm and timing and an inner chord that is not just the spoken word."
And as if Carrey's comedic timing and risky career moves weren't similar enough to the real Andy Kaufman, the fact that they both share the same birthday—-January 17—provided the filmmakers with additional reason to believe that Carrey was indeed their man.
Carrey went to great lengths to completely immerse himself into the character of Andy. He says, "I'm sure there were people on the set who looked at me like I was some frickin' actor who's in his little head trip or whatever, but that's what Andy did-I don't think I'd do it for anything else."
Carrey continues, "He lived the character, and you believed that either he was nuts or he really was this character. There was no like, 'you know, I'm not insane.' There's no apology to it, wand it was so freeing."
"One of the things about Carrey's performance," relates Producer Stacey Sher, "is that he is so committed to making his performance come alive. Jim really fought to play this part, and it was in the quiet moments of the comedy material when he continued to be funny that went beyond being impersonation. His became a completely organic performance. Sometimes it seemed that Andy was actually inhabiting Jim's body."
No less an authority than Margulies says about Carrey's performance, "Jim's portrayal is so real it's been like free therapy. When I first thought about who they would cast in a movie about Andy, I didn't think they could ever find anyone who could capture him."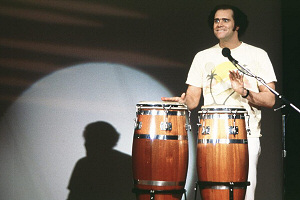 "We all met with Jim before filming began and he asked us questions about what Andy was like," Margulies says. "Once filming began, Jim and Bob Zmuda and I all connected so much that it became almost like an osmosis process. It was as if Jim were drawing this information from us, things about body movements or speech inflections. It became so strong that there were times after a take that Bob and I would look at one another and say, 'how did Jim know about that?"
"Shapiro is only half-joking," she laughs, "when he says we should pay Jim once a month to go out to lunch and be Andy for us. Because we don't want to lose him again."
"When Danny first called and said that he wanted to portray me in the film," recounts Shapiro, "I told him I would be thrilled and honored. I reminded him that as long ago as Taxi, I had always told him that I loved his work. I was such a huge fan of Danny and his character Louie De Palma. He always tickled my funnybone. He has that great sense of humor and warmth and I knew I'd come off as a nice guy despite my dark side."
One of the entertainment industry's most successful filmmakers, DeVito also co-starred in Forman's One Flew Over the Cuckoo's Nest. He most recently starred with Holly Hunter in the Jersey Films production of Living Out Loud and directed, produced and starred with Rhea Perlman and Mara Wilson in Jersey Films' Matilda. Other acting credits include L.A. Confidential, The Rainmaker, Get Shorty, Junior, Hoffa, Batman Returns, The War of the Roses, Twins, Tin Men, Jewel of the Nile and Romancing the Stone.
"What I loved the most about Danny playing me is that I felt throughout the movie that he cared deeply about Andy, which captured my feelings and that was the most important thing," says Shapiro.
"It is strange," he continues, "to have someone playing you, particularly when you're on the set every day. Just the fact that they're saying George and its another person, not me, was a bit of an adjustment. What I found interesting was that the way my character was written, the portrayal was actually combination of me and my partner Howard West. He's the more serious business man and I'm the more lenient one. So it's as if Larry and Scott captured Shapiro-West in the role of George Shapiro."
According to DeVito, portraying George Shapiro while the original was on the set wasn't a problem. "I had always thought that he was one of the nicest people you'd ever want to meet, which is why I wanted to play him. And having George on the set was good fun, because I was able to show him things he never knew about himself. Beside, it's against my type to play this kind of nice-guy part," the actor laughs.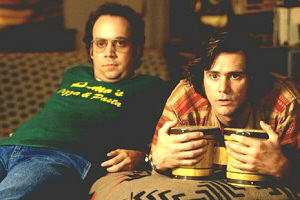 "I just love and admire that girl," says Forman about Courtney Love, who he cast three years ago as Althea Leasure, and who he now has cast as Andy's lover and soulmate, Lynne Margulies. And Love was also no stranger to Jersey Films, having starred in their film Feeling Minnesota several years before.
Love received the New York Film Critics and the Boston Society of Film Critics Awards, among other accolades, for her passionate and touching portrayal of Althea Leasure in Forman's The People vs. Larry Flynt. One of alternative rock's most fascinating performers with her band, Hole, Love also appeared in the films Sid and Nancy and 200 Cigarettes.
"Our film is not an historical biography and it's not always faithful to the facts," Forman continues. "It is, however, always faithful to the spirit of the facts. What Lynne represents in the story has a scale from being on the one hand a tigress and on the other hand, the most loving, vulnerable, almost innocent, girl. And Courtney has that span."
"Basically," says Sher, "Courtney is playing the girl next door who ends up dating and then living with Andy Kaufman. Lynne was with him through so many of the permutations of his career. She was his kindred spirit and soulmate -- the person who was there for him through some of his biggest triumphs and through the tragedy of his early death."
And Love strove to be as faithful to the character of Lynne as possible. "It was really important to me that Lynne had a life on screen," Love says. "She wasn't just really lucky to go out with someone on a TV show…she was an editor who was very prosperous and who had a good career."
Margulies recalls, "At first I thought it was going to be weird. Courtney and I are really so different that I had a hard time imagining her as me. But after we met, I realized that she was really a great choice. And there were times when I would be watching on the video monitor and suddenly it was like watching myself."
Margulies continues, "The most unsettling thing was in the beginning. People would be calling her 'Lynne' and I'd start to respond. For a second, it was like being a non-entity."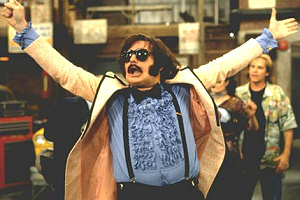 But for Love, the experience was a positive one. "I met Lynne at dinner on my birthday the night I met Jim," says Love, "but then she was on the set like everyday, and she was a great presence to have."
Says DeVito, "As an actor it felt good to have Lynne there while we were shooting, because you knew when you were scoring, when you were getting it right. She was so involved and it was a very emotional experience for her. She's such a sweet woman and to look over and see her face while Jim was performing as Andy and knowing it was striking such a deep note with her, was really a thrill."
"Having Bob Zmuda on hand was also extremely helpful," says DeVito. "He was absolutely on the front line with Andy all the time and so was a great asset for us."
Called "the sorcerer's apprentice" by the screenwriters because he was the only one who knew how Andy's tricks were done, Bob Zmuda played an integral part in the making of the movie.
"The two most important concepts that Andy introduced to American humor," Zmuda states, "Is that he was the first to say 'don't worry about being liked by the audience,' which was unheard of. Comedians always needed to be loved. Kaufman said, 'throw that one away.' Secondly, he felt that you didn't have to be funny. You had to be interesting, you couldn't be boring, but you didn't to have to be 'ha ha' funny."
He continues, "When I talk to other comics, that knowledge meant so much to them because it gave them more freedom they could just go out and do their routine no matter how it landed. Robin Williams probably said it best when he called Andy the 'kamikaze of comedians' because he didn't care if he bombed. In fact, he wanted to bomb. And that was such a radical turn and so different from what everyone else was doing."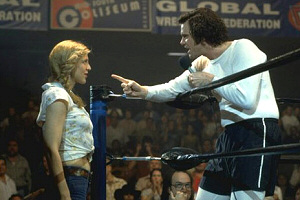 Recalling his time spent on the set of Man On The Moon, Zmuda says, "It was the most nerve-wracking experience in my life," (watching Paul Giamatti, the actor cast to portray him). "When Milos chose Paul to play me, he invited me to watch the audition tape Paul had made with Jim, who was off-camera. And what struck me was that there was something that reminded me of Andy and me together. I don't know what it was, but there was a kind of magic, they seemed like buddies."
Zmuda says, "One of the funniest moments came when I was watching Paul during a take and I noticed that he had his thumb in his mouth and was biting his finger nail, just chomping away on it. And I was thinking 'what in the world is he doing,' and at that precise moment I noticed that I was doing the same thing. Paul had captured one of my habits that I hadn't even been aware of."
In addition to The Truman Show, Giamatti had three films in theatrical release last year: Steven Spielberg's World War II epic Saving Private Ryan, F. Gary Gray's thriller The Negotiator, and Betty Thomas' Dr. Doolittle with Eddie Murphy. His other motion picture credits include roles in Private Parts, My Best Friend's Wedding, Donnie Brasco, Sabrina and Mighty Aphrodite.
"What's interesting about someone like Bob Zmuda," recounts Giamatti who was entrusted with the role, "is that he's the guy behind the scenes. It's those people who prefer to remain anonymous who are interesting to me, because as an actor, I prefer to remain anonymous I like to be the faceless guy."
Giamatti continues, "There was something really bizarre about these two guys, Andy and Bob, who were always playing these insane characters. It was always interesting and as an actor, it was compelling. To some extent, it's strange playing a real person because you have to keep some of the real Bob Zmuda and at the same time remain faithful to the character as it is written in the script. It becomes a funny line to walk."
Man On The Moon also marks a reunion for many of the original Taxi cast, who appear as themselves in the film. Judd Hirsch, Marilu Henner, Christopher Lloyd, Jeff Conaway and Carol Kane return as Alex, Elaine, Jim, Bobby and Simka, respectively, whose weekly antics kept the Emmy Award-winning series at the top of its form from September 12, 1978 - July 27, 1983. It was on Taxi that Kaufman created the role of the lovable, if frequently incomprehensible mechanic, Latka Gravas.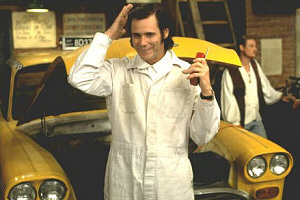 For the actors, having so many of the people who knew and loved Andy connected to the movie, made it very intense.
According to Giamatti, "The people who were around Andy were a very tight family. This has been nice because with all of them there, you feel like you're part of that family."
At the helm, keeping it all together was Milos Forman, who more than 20 years before had given DeVito his "breakthrough" role in One Flew Over the Cuckoo's Nest.
Recalls DeVito, "We'd always stayed in touch, but it was serendipitous running into him at Michael Douglas' party. Then, along with Christopher Lloyd who appeared with me and Andy on Taxi, Milos cast Cuckoo's Nest alumni Vince Schiavelli and Sidney Lassick, in the film. It was a wonderful reunion."
DeVito continues, "We all remembered Milos as a very nurturing director. And it was good to see that he still gives his actors a lot of latitude to make it real and natural."
"Milos has this incredible understanding of human behavior," says Shapiro. "And he and Jim seemed to have a complete under-standing of who Andy was and what he wanted to do. The relationship between director and actor was phenomenal because there was such flexibility in bringing Andy's spirit into the project. Milos is able to make the actors feel completely comfortable."
"I should know," Shapiro laughs, "I've never acted before and Milos chose me to play a small role in the movie. I was never more nervous in my life but he made me feel that I could do it."
Love was drawn to the project because of the subject matters with which Forman continues to associate himself.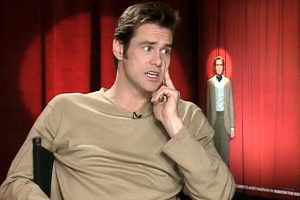 "He makes a film, and it's cinema, and it's fictional on a certain level," says Love. "He honors the person's life, and he lets people around that person come in with their input, and he really immerses himself in that person's energy and life."
Adds Giamatti, "Milos is an amazing director. It's as if he's invisible a lot of the time. He's very straight-forward about what he wants and he keeps things spontaneous. You know that there is an over-riding vision and that the end result is going to be fascinating. He's not a director who's in your face all the time, yet he is totally in control of the entire arena."
According to Sher, "This was also an extraordinary experience because you had so many of the real people involved in the filmmaking process. Then you had the movie version of these people. Everybody was over-lapping all the time and it created a hyper-reality."
In addition to the cast of Taxi, some of these people included Little Wendy, Lorne Michaels, David Letterman and Budd Friedman, who all played themselves. Even Bob Zmuda, Lynne Margulies and several members of Andy's real family appear in the film, although not as themselves.
About The Production
Filming on Man On The Moon began at Universal Studios in July, 1998. The company subsequently shot at over 30 locations in the greater Los Angeles area before moving to New York for ten days of location work at various Manhattan locales as well as two sites in Great Neck, Long Island where Andy Kaufman was raised.
With a crew that numbered over 100 people, the company zig-zagged across the Los Angeles basin for three months, a traveling film studio with all the equipment, personnel and transportation carriers that the image implies.
Locations as diverse as: the Home of Peace Memorial Park in East Los Angeles; the Carpenter Performing Arts Center at Cal State Long Beach; the back lot at Paramount Studios; the Olympic Grand Auditorium; a downtown highrise; the Brandeis-Bardin Institute in Simi Valley; the Vine Street theater in Hollywood; Jerry's Deli on Ventura Blvd.; and the main street of La Puente, California were used to depict various locales where Kaufman lived his life.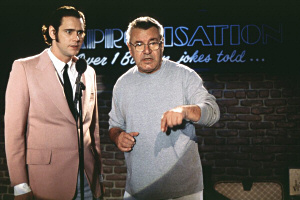 One of the more interesting of the Los Angeles locations was "The Mermaid," a registered Historical Landmark which was built high up in the hills of Topanga Canyon in 1930 as a country club. Over the years "The Mermaid" evolved into a casino and brothel run by the notorious mobster Mickey Cohen; an American Legion Hall and Jewish Boys School in the 1950s, and a concert hall in the 1970s where such well-known entertainers as Joni Mitchell performed.
For most of the shoot, each location was a one-day affair, which meant that unlike a circus which comes to town for a week at a time, the Man On The Moon troupe slipped away at the end of each day, only a memory to the area's residents.
Behind the scenes, Forman selected many people with whom he had worked before. Executive producer Michael Hausman, who began his association with the director in 1970 on the film Taking Off, has been a part of the Forman team ever since.
Explains Hausman, "Milos always goes for reality, whether it's casting or the look of the film. When we were looking for locations in Los Angeles, we knew that we needed to be as close to the reality as possible. We'd take a broad sweep of places and show him possibilities, then go on a tour to narrow it down. Once he sees a place, if it's right he'll say or he'll say what's wrong with it."
Unfortunately, the production was not able to use Andy's real house in Great Neck, but was able to find two houses in the same neighborhood where an exterior shot and several interior scenes of Andy as a boy were shot.
"In terms of the look, he hires people that he trusts completely, usually people that he's worked with before if they're available," Hausman says. "And once he makes a decision, he trusts them completely. Patrizia Von Brandenstein is a case in point. She began with us in the early days and most recently, on The People vs. Larry Flynt."
Von Brandenstein, who received an Academy AwardÔ for her work on Forman's film, "Amadeus," as well as an Oscar nomination for the design of his film, "Ragtime," was also one of the first to come aboard.
"The wonderful thing about Milos," says Von Brandenstein, "is that we talk about what he needs in the scene—not the physical world, but how he wants to shape the scene emotionally, what he needs to do dramatically. He has an unerring sense of what is physically right and wrong, the natural rhythm of things. You need to follow that so that what you come up with will have a physical completeness. His instincts, which are an editor's instinct, are absolutely to be trusted."
Von Brandenstein says that when she first is approached about a film, she "tries to read the script several times and become very familiar with it, because you have to trust the material and the things that surround the story, the auxiliary world."
She continues, "In Man On The Moon, I had always thought that the image of the standup comic was the actor surrounded by light. It's the most basic image of the performer. I used to have a teacher who said 'start with the actor and the light.' He was talking about shaping space, and I thought that a performer like this, a performance artist, had to have that kind of iconic surround. I have tried very hard, for subliminal reasons and for the story, to always have that ring of light around Andy."
She adds, "I also thought that his strength and his tremendous and profound appeal to us, even now, is that he found a way for us to access our childhood and put aside being an adult so that for just a short time we could capture simplicity, innocence and joy. His material is deeply simple but it is profound and affecting. In a basic way, we can give ourselves over to him."
Because of this, in the beginning of the film, the audience see his early influences, the icons of his childhood, his toys, his delight in performing for his baby sister.
"We needed to see that in a powerful and strong way because it reflects all along," Von Brandenstein says. "Also, the idea that a man, even at his own funeral, could orchestrate and present himself as an event. It takes enormous strength to do that."
The entire process was a collaboration between Milos and Tass, the director of photography and Jack English, the chief lighting technician. The production used strong colors for the clubs, but the things that Andy intimately controlled in his life, have very clear, bright, fairly saturated colors.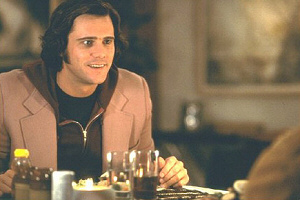 "When Andy is in the offices of Shapiro-West, he walks down a hallway where there are huge images of comic greats around him on the walls," she says. "Images of these people consistently come up again and again throughout the film, and at the end, in The Comedy Store, we see that Andy has entered into that pantheon."
Seventy-three different sets were used in this film, with the goal being to take these bits and pieces and shape them into a whole. "It's almost a mosaic," Von Brandenstein says.
When it came to Carrey, Von Brandenstein says, "Jim is an actor, who like many serious actors, has actually delved into the mysteries of what he is doing. Accuracy is important to him and genuineness. Jim is a seeker of truth and to find the truth you have to look several different ways. He always told us what he needed, what he wanted to try and do and we tried to provide that for him."
"Film is a communal affair," the designer points out, "and you just keep at it with the director and the costume designer and the cinematographer and the cast until eventually there is a consensus."
Cinematographer Anastas Michos, who previously worked as the cameraman for Forman on The People vs. Larry Flynt, was entrusted with the job of lighting Man on theMoon.
Recalls Hausman, "Tass (as Michos is called) was a lucky find for us. He was Philippe Rousselot's operator for many years and we liked that style and we knew that Tass knew how to do it. It was essential on this movie, because Jim Carrey's preparation for Tony Clifton and Andy Kaufman was rather extensive, so our shooting hours were reduced. It meant that once we had Jim on set, we had to make the most of it. And we needed a cameraman who could accomplish what was needed in a specific period of time."
"Milos is very much a realist in his style of filming," explains Michos. "He loves the accident, or at least the planned accident. So all of our shots were designed to look as if they were in the moment. He likes to see the actors on the set and then decide what we're going to do physically. This way he gives his cast a certain amount of freedom to do what feels natural."
He continues, "When you're shooting a film that is based on a real person's life, who also lived in our lifetime, you have to tread a fine line. The film is about Andy Kaufman and his relationships with other people. And Andy is the only person we know so that we needed to believe that the character was Andy and not Jim Carrey."
"One of my main concerns was to be sure that I was making Jim Carrey look like Andy Kaufman, which really did depend on where I put the light," Michos says. "At the same time, I had to balance the lighting to make the moment dramatic."
Michos continues, "The photography should never draw attention to itself. When we're in a nightclub, we wanted to feel like it was a real club, not a stylized version of a nightclub. Throughout the film, our intent was to make the photography invisible which is why there were not a lot of huge camera moves. The nightclub and concert scenes basically were filmed so that the movie audience will feel like the club's audience. It is always from their perspective."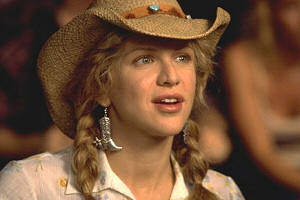 "The only big camera moves that we made were when we were establishing a location, when we were arriving someplace. The camera was always an objective being, not a subjective one," Michos says.
"We also shot a lot of television scenes in this film, so we needed to differentiate television reality from film reality," he continues. "The look in television is driven by the fact that it is a proscenium event: it's three cameras with an audience, so all the lighting setups have to be off the floor. The lighting is higher than normal and the video levels are different, so it tends to impart a certain look that you would not get on film."
He says, "Because Milos likes to capture the moment, impromptu and real, he frequently uses two cameras. But he doesn't use them in a conventional sense, where one camera would have a wider lens and the other would have a tighter lens and both cameras would be looking in the same direction. Milos likes to do what he calls 'criss-cross cameras.' The difficulty from my standpoint is that you are literally lighting in two directions at once and trying to control that is difficult. Of course, it's magic in the editing room because everything is a match-cut."
One of the larger scenes that Michos lit, was the filming of Andy's show at Carnegie Hall. The Los Angeles Theatre, built in 1931 and a registered Historic Landmark, doubled for New York' august auditorium.
Says Hausman, "We would have needed to shut down Carnegie Hall for several weeks and that was impossible. At most they could have given us two days in a row. So we came up with a compromise, which was the Los Angeles Theatre. Patrizia then created Carnegie Hall with sconces in the reverse toward the audience, the walls on the sides were redone to match Carnegie Hall and we then created our own atmosphere. We were there a month between prepping and filming."
Before they were able to shoot the exterior of Carnegie Hall in New York, the production had to show them what had already been shot in Los Angeles. "We were very pleased that they agreed to it immediately after seeing the tapes we sent to them," he says.
"Manufacturing Carnegie Hall in Los Angeles was extremely difficult," relates Michos, "because it is such a recognizable place. We solved the problem by building just the stage. The rest had to be an illusion. The only solution was to plunge everything else into darkness."
Michos continues, "Part of image-making is to give an audience a little bit to hold onto and take everything else away. They will fill in the blanks because they need to in order to fill in the story. Rather than show Carnegie Hall, we established where we were with dialogue and narrative and as long as we didn't show something that didn't look like Carnegie Hall—we were in Carnegie Hall."
When it came to the wardrobe for Man On The Moon, Jeffrey Kurland, who had costumed Jersey Films' Living Out Loud as well as fifteen films for director Woody Allen, was selected. An Academy AwardÔ nominee for Bullets Over Broadway, Kurland was happy to have so many of the people who knew Andy Kaufman available for his research.
"From the very beginning, Milos told me what he wanted the movie to look like," Kurland says. "He was very clear that he wanted it to be real. He wanted Andy to look like Andy and he wanted everyone in the film to look real. He did not want it to be an homage to 1970s fashion."
He continues, "This was the first time I had worked on a film about real people and it's been an interesting process because you are able to sit down and talk to people who knew Andy and have them show you pictures of themselves with Andy.
It was very helpful because then we were able to recreate Andy's life."
Kurland spent a great deal of time talking with Lynne Margulies, Bob Zmuda and members of Andy's family. Lynne sent him some of her personal photos, and he was able to view numerous tapes from Bob's and Jersey's library of Andy's shows.
"Usually when you do a period picture, you research through pictures and photos. With this film, my research did not have to rely solely on artificial means," says Kurland.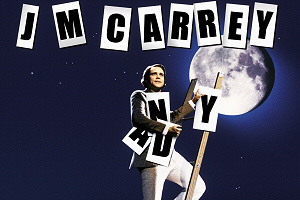 Along with her memories and photographs of Andy , it turned out that Lynne Maruglies had also kept lots of Andy's belongings, which she had stored when he died. "I had his performance outfit, his checkered coat and black turtle neck and blue shirt and his white pants. I even had his shoes and socks along with several T-shirts," she says.
Margulies adds, "What the audience will not be aware of is the fact that in the hospital scenes, Kaufman's actual x-rays and medical records are being utilized, all of which I had kept."
"Andy was a natural performer," states Kurland, "and when he was performing he wore his own clothes most of the time. Working from photographs and Lynne's storage boxes, we duplicated the fabric which was used for Andy's checkered jacket and the foreign man's jacket. Because we knew we needed many multiples of the wardrobe, everything of Jim's was made for us, even Andy's white jeans, which he wore nearly every day of his life."
Because of the time frame, the late '70s and early '80s, vintage clothing was a big factor.
"Courtney was very interested in the look and she was willing to go along with this completely different character," says Kurland. "She is very knowledgeable about the period so she didn't come into the process blind. She was aware of what the look was and the different nuances so it was fun to work with her. After all, black tights and Dr. Scholl sandals is not exactly Althea Leasure…or Courtney Love!
Along with the principal actors, Kurland was charged with the job of costuming hundreds of extras who appear in various venues, from Harrah's nightclub to wrestling matches in Memphis.
"This was one of the harder aspects of the show for me," Kurland says, "because people don't think of the '70s and early '80s as period, because they're so close to that era. But it means that you can't just ask the extras to bring their own clothes to wear. What differentiates the look is the shape of the collars and lapels, the fit of a suit, the cut of a shoe as well as the jewelry, belts, etc. Also the fabrics were completely different. They were much more colorful and the use of polyester alone was amazing."
He continues, "We also had to dress hundreds of extras who appear as the audience at Harrahs. This was a more dressy crowd, with the women in gowns and their hair properly coifed. Then we had the audience for The Merv Griffin Show which was completely different. Television audiences in California are basically made up of tourists. So basically they all look the same because whether they're from the midwest or the south or New York, once they arrive in Los Angeles they wear their day-wear, shorts and sandals, etc."
He continues, "For the wrestling audience in Memphis, where we had 600 extras who were in the foreground and several thousand who were in the upper reaches of the Grand Olympic Auditorium, the look was well documented on tape, which made our job a little easier. You always have to take a certain amount of theatrical license when you're costuming a film. Although, where Andy Kaufman is concerned, he was theatrical license -- he owned theatrical license!"
« Previous
|
1
|
2
|
3
|
4
|
5
|
6
|
Next »