Once Bitten
Page 2 of 5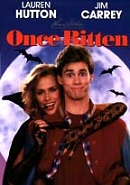 What's it about
The Countess (Lauren Hutton) is a centuries-old vampire who requires a triple feeding of virgin blood before every Halloween to maintain a youthful appearance. She now lives in 1980s Los Angeles where, in an oft-repeated joke, teenage virgins are a rare commodity. She sends Sebastian, her servant and all of her lesser vampires out to find one. Mark Kendall (Jim Carrey) is a high school student who desperately wants to 'do it' with his girl friend Robin (Karen Kopins) in the worst way, but she wants to wait. Jamie and Russ, Mark's goofy friends, convince him to go to a Hollywood pick up spot. Here fate intervenes: Mark meets the Countess - both characters finding the perfect mate to satisfy their desires. But something happens...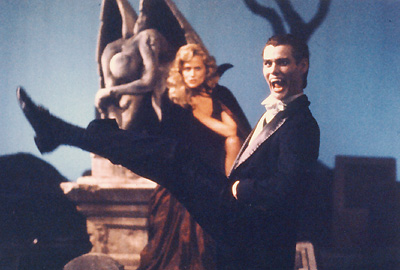 © Samuel Goldwyn Company
Credits
Production Company
Night Life Inc.
Distributor
Samuel Goldwyn Company
Director
Howard Storm
Writers
Dimitri Villard
David Hines
Jeffrey Hause
Jonathan Roberts
Producers
Frank Hildebrand
Dimitri Villard
Robert Wald
Executive Producer
Samuel Goldwyn Jr.
Composer
John Du Prez
Cinematographer
John Du Prez
Editor
Marc Grossman
Cast List
Lauren Hutton
Jim Carrey
Karen Kopins
Cleavon Little
Thomas Ballatore
Skip Lackey
Joseph Brutsman
Stuart Charno
Robin Klein
Glen Mauro
Gary Mauro
Carey More
Peter Elbling
Richard Schaal
Peggy Pope
Anna Mathias
Kate Zentall
Laura Urstein
Megan Mullally
Garry Goodrow
Dan Barrows
Alan McRae
Ruth Silveira
Ron Vernan
Terry Wills
Dee Dee Rescher
Opelene Bartley
Dominick Brascia
Nancy Hunter
Philip Linton
Don Richey
Anthony Storm
Casey Storm
Maria Vidal
Hillary Carlip
Kimberlye Gold
Nancy Scher
Kelly Salloum
..... Countess
..... Mark Kendall
..... Robin Pierce
..... Sebastian
..... Jamie
..... Russ
..... Confederate Vampire
..... Cabin Boy Vampire
..... Flowerchild Vampire
..... Twin Vampire #1
..... Twin Vampire #2
..... Moll Flanders Vampire
..... Bookseller
..... Mr. Kendall
..... Mrs. Kendall
..... Daphne
..... Tanya
..... Darlene
..... Suzette
..... Wino
..... Harry
..... Man in Drag
..... Instructor
..... Man at Table
..... Principal
..... Laundromat Lady
..... Lunch Counter Lady
..... Young Man Buying Ice Cream
..... Woman Shopper in Unisex Store
..... Boy in Shower
..... Bouncer
..... Kid #1
..... Kid #2
..... High School Band
..... High School Band
..... High School Band
..... High School Band
..... High School Band
Movie Quotes
| | |
| --- | --- |
| Mark Kendall: | I don't want to be a vampire. I'm a "day" person. |
| Mark Kendall: | Get me outta here. |
| Countess: | Hello, tall, dark and handsome. |
| Mark Kendall: | Me? |
| Mark Kendall: | I was wondering. Are you a prostitute? |
| Countess: | I'm whatever you want me to be! |
| Mark Kendall: | I can't be a vampire. I have to go college. |
| Mark Kendall: | It finally happened. Did I enjoy it? |
| Mark Kendall: | Last week I went to a bar in Hollywood where I met a strange woman. She took me to her house and I think we had a good time, but ever since then weird things have been happening... |
Taglines
Mark Kendall just found out that his one-night stand has been around for centuries.
A one-night stand with eternal complications!
A tasty comedy.
« Previous
|
1
|
2
|
3
|
4
|
5
|
Next »