Mr. Popper's Penguins
Page 3 of 5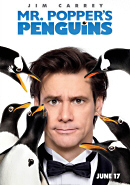 Production Notes
"Mr. Popper's Penguins," says Jim Carrey, is a movie that "stands out because it's like nothing else out there. And I still get to be me, kind of crazy and fun and edgy." Indeed, the film returns Carrey to the comedy style - and movie character - that catapulted him to global superstardom. And Carrey couldn't be happier about it. "I wanted to do a movie that families are going to remember," he explains. "Some people resist working with children and animals, for fear of being upstaged. But I love capturing the spark of innocence. And what is better than animals - penguins, in our case - and children to bring that out in us?"
"Mr. Popper's Penguins" is based on a novel, originally published in 1938, written by the husband and wife team of Richard and Florence Atwater. The book tells the very funny yet touching story of a humble, small-town house painter and his family who inherit twelve penguins. Awarded the Newbery Medal in 1939, Mr. Popper's Penguins became a classic through generations, and is a staple on elementary school shelves to this day.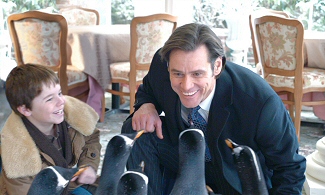 © 20th Century Fox
Producer John Davis loved the book, which was well known in his own household. "My children had read the book in third grade, and my wife had read the book in third grade," Davis says. "Everybody since 1938 had read the book in third grade!" Davis, the producer of such hit films as "Garfield," "Dr. Dolittle," and "Daddy Day Care," found the Atwaters' story appealing on several levels. "It's a great story about a guy who's living a life that's not really working for him," he explains. "In the book, the penguins are sent to him by an Antarctic explorer he's having a pen-pal relationship with, and the penguins turn his life around and move it to a really fun place. And that idea was kind of enchanting to me."
The screenplay, written by Sean Anders & John Morris and Jared Stern, updated the Atwaters' book to present day "It's not the 1930s anymore, and Tom Popper is a very different character from the Mr. Popper in the book," says executive producer Derek Dauchy. "Though the film's Mr. Popper is no longer a house painter who dreams of traveling the world, the script retained the book's sense of fun and its family values. I think that theme stays true in our film, which is about a man who learns something about himself through getting these penguins by happenstance."
Davis says many filmmakers were eager to tell the story of Mr. Popper and his pack of penguins. But it was Mark Waters, known for "Mean Girls," "The Spiderwick Chronicles" and "Freaky Friday," whom Davis thought would be the ideal match for "Mr. Popper's Penguins". "I sat down with Mark, and he talked about the picture and his vision of the movie, and I said, this is the guy, this is the director," explains Davis.

© 20th Century Fox
While casting the role of Mr. Popper, Waters and Davis learned something rather surprising about Hollywood's top talent. "I found out that actors and comedians love penguins," Davis says. "For the first time in my life I had six major comedians to choose from - some of whom showed up at my office with penguin statues and said, 'I have to do this movie because I love penguins.' But it didn't take long to cast the title role of Mr. Popper. The producer found the perfect "Popper" combination of talents in Jim Carrey, the hugely successful star of such films as "The Truman Show," "Ace Ventura: Pet Detective," and "Bruce Almighty." "Jim is a really talented physical comedian, but also an actor who's able to generate a lot of heart," Davis notes.
"I remember telling everyone I talked to that there was only one person I could see bringing this character to the screen, which was Jim Carrey," adds Mark Waters. "Luckily, Jim read the script, and was immediately excited by it. And he's also a huge lover of penguins." That's putting it mildly. "These penguins are insanely beautiful," Carrey exclaims. "They are incredible creatures. There are few animals that make you feel love - that strike that kind of chord. It's really difficult to be unhappy about a penguin. That's one of the reasons I did this movie. Penguins are a kind of obsession with me. They are puppies, times ten!"
Once he signed on, the actor worked closely with the director and writers on the script. "The process was incredibly illuminating and fun," remembers Waters. "Jim is much more than a master of comedic invention; he also has a rare kind of emotional accessibility. When we're working on emotional scenes, his ideas are just as good as his comedic ideas."
When the penguins are first delivered to Popper's door, he is more than annoyed. "Tom Popper thinks he has it made in his business life," says Carrey. "He's on an upward career trajectory. Popper is involved in the lives of his family, but he's not really there. He's more concerned about getting the work done and becoming a success. But when the penguins arrive, they turn his business life upside down." The good news: "They also turn his family life right side up.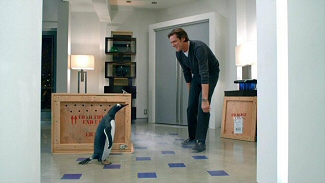 © 20th Century Fox
"Popper initially thinks the penguins are the greatest nuisance of all time; there are wild animals running around in his home," says Waters. "It's like having six toddlers who are not potty trained." But when his children come for a visit and spy the penguins in his apartment, Popper's ten year-old son Billy mistakes the birds for a birthday gift from his dad, and Popper can't bring himself to tell Billy the truth. "Now Popper can't give the penguins away because his son has made him promise that they're a birthday present," says Davis. "All of a sudden he's a hero to his kids, and he likes this connection."
Popper is pleased that the penguins help him reconnect with his children - and with his ex-wife Amanda. To play Amanda, the filmmakers cast Carla Gugino, known for her roles in the "Spy Kids" films, the HBO series "Entourage" and the feature "Watchmen." For the actress, deciding to take the role of Amanda was easy. "I just read the script, and I thought, 'I'd see this movie in a second,'" she tells it. "It's so funny, but it's also so human."
While warming to Popper and his new pals, Amanda is wary of his grand promises to the kids. "Carla grounds our story, and makes the reality of his former family life feel credible and real," explains executive producer Jessica Tuchinsky.
But the penguins couldn't have arrived at a worse time for Mr. Popper; he's in the middle of trying to land a deal that would earn him a partnership at his real estate firm. But first he must charm a formidable woman, Mrs. Van Gundy, to sell a property he seeks. Waters' choice for the role was an acclaimed and beloved stage, screen and television actress who has chosen to do very few films in recent years: Angela Lansbury. "When I read this script, I had a dream of casting Angela Lansbury," says Waters. "But it took quite a long courting process. When Angela was convinced that we were making something special, she decided to join us and help make it happen."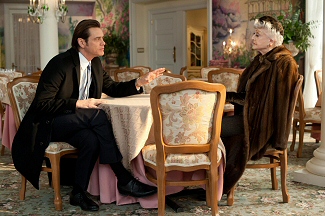 © 20th Century Fox
Lansbury says her decision to take the role was two-fold. "I was interested in doing the film because I'm a great admirer of Jim Carrey," she says. "And I understood that the story was very well known and the book was a classic with children. I always love doing something that children can enjoy."
For the role of Pippi, Popper's perky young assistant, the filmmakers cast an up-and-coming actress, Ophelia Lovibond. Pippi, a rather high strung young woman with a particular preference for words with the letter "p," is perpetually at other end of Popper's cell phone or preferably, by Popper's side. "She is his go-to girl for everything he needs, whether it be looking after his children or sorting out his schedule or any other insane request that he wants met," says Lovibond.
The filmmakers then cast Clark Gregg, known for his roles in "Iron Man," "Thor," and "(500) Days of Summer," to play Nat Jones, head of the "flightless bird division" of the New York Zoo. A Hollywood hyphenate, with directing, screenwriting and acting credits to his name, Gregg admits one of the reasons he took the role was to work with the titular birds. "I'm not going to lie. I was excited about the idea of hanging out with some penguins."
When Nat Jones heeds Pippi's call for help and arrives at Popper's apartment, he feels it's his duty to "take them out of the inappropriate environment of a luxurious Park Avenue apartment and get them where they belong - in a zoo," according to Gregg. Despite his better judgment, Mr. Popper has become attached to his birds, and fends off Jones' efforts to take them away.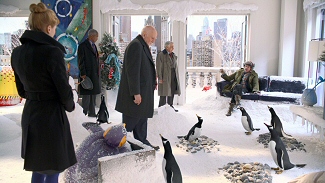 © 20th Century Fox
David Krumholtz, an actor known to audiences for his starring role in TV's "Numb3rs," was cast as another thorn in Popper's side: his nosy neighbor, Kent. On the losing end of a bidding war for Popper's sun-filled apartment, Kent keeps a close eye on Popper, in hope that he might catch Popper breaking one of the co-ops rules, like keeping forbidden pets. "Kent's apartment is a dark, ominous, gloomy hole in the other side of the building, that he lives in with dying plants, so he's very jealous of Popper," says Krumholtz. "Kent starts to sense that something's going on in Popper's apartment that he could use to his advantage to get Popper out so that he can get that apartment which he so deeply covets."
To play the role of Popper's daughter Janie, the filmmakers cast fourteen year-old Madeline Carroll, whose credits include starring roles in such films as "Flipped," "Swing Vote" and "The Spy Next Door," and who made her film debut at age five in John Davis' hit comedy "Daddy Day Care." Madeline describes her character as someone who's going through a difficult stage - the teen-age years. "When you first meet her, she's in a very bad mood because she's, well, a teen," the young actress describes. "So that's really funny, to see how Popper is struggling to figure out what she wants."
In the original script for "Mr. Popper's Penguins," Popper's younger child was another girl, but after searching all over the country to cast the role, a meeting with ten year-old Maxwell Perry Cotton resulted in a gender change. "Once I saw Maxwell come in and read, he just had this kind of really likeable, and - dare I say it - boyishness, that suddenly the part seemed to make complete sense with him," says Waters.
THE PENGUINS
Long before "Mr. Popper's Penguins" began principal photography in October 2010, the filmmakers began their search for the six penguins -Captain, Lovey, Bitey, Nimrod, Stinky and Loudy (so named for their distinctive traits) - to star alongside Jim Carrey. "We went all over the world to look for the right penguins," Davis recalls. While penguins have made appearances in movies before, never before have the birds held such a key role in a narrative film. "Audiences are going to see something they haven't seen before," says Davis.
"Mr. Popper's Penguins" enlisted Birds & Animals Unlimited, Hollywood's top animal trainers, to help find the birds. They, in turn, called upon Scott Drieschman, the respected penguin expert, to aid in the search. Having worked with penguins since 1972, first at Sea World and then as a consultant to zoos, aquariums, and oceanariums around the world, Drieschman has traveled to Antarctica numerous times to conduct research for the National Science Foundation. He describes his work's goal as "to establish breeding colonies in captivity from one zoo to another so that we have a stable penguin population." "Mr. Popper's Penguins" would be Drieschman's first foray into the movie business.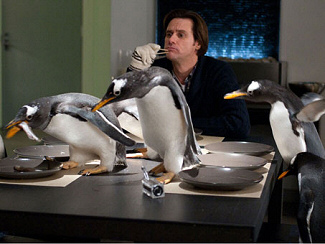 © 20th Century Fox
"There are seventeen species of penguins," according to Drieschman, who finally decided upon Gentoo penguins for the film. "The Gentoos are the third largest of all the penguins, found in the sub-Antarctic and the Falkland Islands, South Georgia and South Chapman's." Ranging in size from about nineteen to twenty-two inches tall, the Gentoos are distinguished by the white stripes across their heads and by their bright orange feet.
Before the Gentoos were transported to the United States - and to movie stardom -a facility was built for them next to Steiner Studios in Brooklyn, New York, where some of the film was to be shot. The penguin production home included a living area, complete with swimming pool, and a training space, both built according to the specifications dictated by Drieschman and Birds & Animals. "What you do is you look at what they have in the wild," according to Drieschman, as he describes designing the Brooklyn penguin facility. "They're in a cold environment, sometimes very cold. They need a lot of water, and a clean living area."
Inside Steiner Studios, a mammoth air conditioning system was installed on the stage so the temperature could be maintained at 36-40 degrees Fahrenheit whenever the penguins were on camera. Drieschman himself moved into a trailer home next to the penguins' habitat, so the birds would be attended 24 hours a day, seven days a week. "The animals came first, exclusively," Drieschman attests.
When the penguins arrived in Brooklyn at the end of August, 2010, the trainers at Birds & Animals had their work cut out for them. "The penguins were pretty wild when we got them," says head trainer Larry Madrid, who has been working with animals for thirty years. "The first part of the training was getting to know them and getting them to eat food from us in a way that they were comfortable with. And then we went into a whole process of desensitization and sanctuary training and position reinforcement."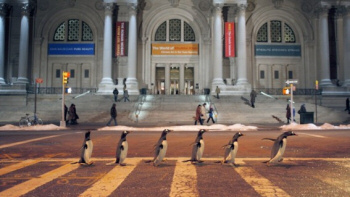 © 20th Century Fox
"The trick was to get them to be calm and to give them places where they could go and feel safe," adds Drieschman. The trainers used a pen as a safe area and taught the birds to go to their mark, a crucial talent for any film actor. "Open the pen up, and the birds just walk out," Drieschman explains. "They know to go to the mark, get their food, and then just stand there. And they're going, 'this is good, this is good, we're happy.'"
After several weeks of training, but before filming began, the human cast members visited the Gentoos in their penguin habitat. "The actors would come over and see the penguins first, and get a feel for what they were like, and experience the cold temperature," says Madrid, who adds that Jim Carrey was particularly good with the penguins. "He was willing to feed them fish," says Madrid. "He's really funny, and it was neat to see him interact with them in his way. Jim was amazing with the penguins."
"Jim bonded instantly with the penguins," John Davis agrees. "And they responded really well. Jim was walking around and the penguins were following him. He loves these penguins. He gets up to them very close and he's comfortable in that situation. And they're comfortable."
While the crew worked in big jackets, gloves, and hats on the 40-degree set, the penguins always brought a warm feeling to anyone they were in contact with. "You cannot stand next to them and not smile," says Carla Gugino. "They're just such little forces of joy. And they work for fish!"
As lovable as the penguins were, their single-minded and relentless pursuit of fishy snacks sometimes made working with them a challenge. "I had no idea penguins were so difficult to train," says Carrey. "All they want is fish, so I carried fish around with me everywhere - in my pockets, shoes...everywhere."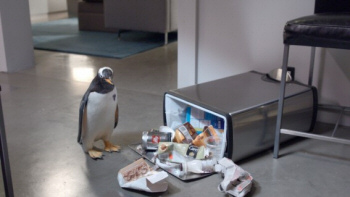 © 20th Century Fox
"There's something great about live penguins, the barely controlled chaos that they bring," says Waters. In one scene, for example, in which Carrey's Mr. Popper sits the six penguins down for a "civilized" meal, the production team set the table so that before the cameras rolled the birds' food was covered. With Mr. Popper at the head of the table, and the penguins seated on chairs, three on either side, the idea was to uncover the food when Waters called "action," and the penguins would then simultaneously eat the sardines on their plates while Popper enjoyed his food.
"Of course as soon as we lifted the covers off, the penguins immediately leapt onto the table and started attacking each other's food and made complete mayhem," says Waters. "The great thing is that Jim didn't break character at all, and just casually kept eating very politely. And he was like, 'Could you pass the salt?' in the middle of it all."
"Working on that table scene was a highlight for me," Carrey recalls. "The wranglers were holding the penguins back, but all the penguins wanted to do was the attack the dinner plates full of sardines. I liked working with them because it was always spontaneous; you never knew what was going to happen. And the dinner table scene was no different. I mean, the penguins were absolute maniacs!" he adds with a laugh.
For scenes in which the penguins had to "act" by performing a very specific action, or when the filming location could not be made hospitable to the Antarctic birds, the production's visual effects team, led by VFX producer Blondel Aidoo and VFX supervisor Richard Hollander, took over. "We had this distinct opportunity of challenging the visual effects department by saying, 'we're going to shoot this movie with live penguins, and then you're going to have to make your visual effects penguins look as good as them,'" says Waters.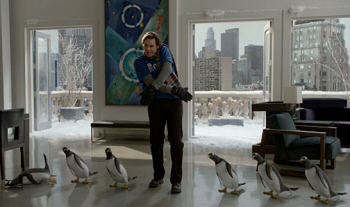 © 20th Century Fox
Aidoo, who served as visual effects producer on "Enchanted" and "National Treasure," explains that the process of creating the CG birds began by looking at real Gentoos. "We took tons of photos of the actual live penguins doing what they do, including their actions and motions," he explains. "We studied the feathers of the penguins, which are actually amazing in the way the light hits them, and becomes iridescent across them. To recreate all of that in CG is quite a task."
"We actually brought in eighteen cameras on a circle, and they could all take a picture at the same time," adds Hollander, a senior visual effects supervisor at Rhythm & Hues, whose credits include "Titanic," "Blade Runner" and "Harry Potter and the Sorcerer's Stone." "They're all pointed at the center, we put quite a few penguins in there and we shot a lot of frames. We could see how the fat tissue and the feather tissue are moving from many different angles at a certain instant. We have cycles of walks, runs, turn, and funny wing movements. We look at the real animal as scientifically as we can and we go from there and build our CG creature."
Aidoo and Hollander blended their work seamlessly with the live action shot on the set. "We hope the visual effects just support the story line," says Hollander. "We want audiences to wonder, how the hell did they ever make all those real penguins do all that work?"
ABOUT THE PRODUCTION
"Mr. Popper's Penguins" began principal photography on October 7, 2010, and filmed for eleven weeks entirely in New York City, a setting that was central to the filmmakers' vision. While the title character from the Mr. Popper's Penguins book lived in a small town and made a humble living by painting houses, the film's Mr. Popper is a successful real estate developer in a city with some of the most valuable property, and most recognizable architecture, in the world. "The thing that really defined the look of this film was New York City," says Waters. "The fact that we were going to actually make this movie there allowed me to say, okay, we can shoot for a very large scope, and make it feel like a classic New York movie." Adds Jim Carrey: "The film captures New York in a beautiful way. It really makes you feel warm. There's no bad angle; anywhere you put the camera is interesting and has depth, contour and character."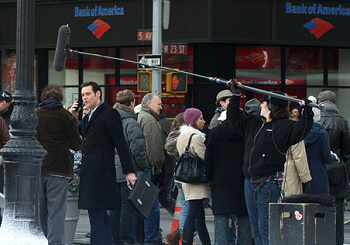 © 20th Century Fox
Waters' behind-the-scenes team included such veterans of New York filmmaking as Oscar®-winning costume designer Ann Roth ("The English Patient"), director of photography Florian Ballhaus ("The Devil Wears Prada," "Red") and Academy Award® nominated production designer Stuart Wurtzel ("Hannah and Her Sisters").
Key locations included such Gotham architectural landmarks as the Flatiron Building on 23rd Street, built in 1902, its shape the function of its triangular plot created by the intersection of and the diagonal line of Broadway and Fifth Avenue. The production filmed exteriors at the Flatiron Building, as well as in an office in the very tip of the "iron." It then moved uptown to film at Frank Lloyd Wright's 1959 Guggenheim Museum on Fifth Avenue and 88th Street. Scenes in which penguins crash a black-tie gala attended by Mr. Popper were filmed on the distinctive spiraling ramp of one of the great modern interiors in the world. Another modern interior in Popper's world is his office, filmed in the new Bank of America building on 42nd Street and Sixth Avenue, which overlooks a magnificent cityscape.
The exterior and lobby of Mr. Popper's building was also filmed on location, on a residential building on prestigious Park Avenue. The interiors of his apartment were created on a stage at Steiner Studios in Brooklyn.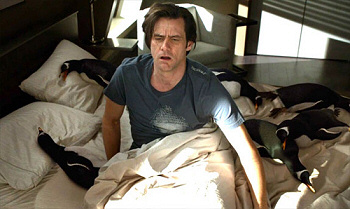 © 20th Century Fox
Popper's desire for a clean, ordered life comes to naught when six wild birds from Antarctica move in with him. He is compelled to accommodate the penguins' need for a cold environment, and opens all of his windows, letting in the frigid New York winter weather. Popper discovers he enjoys acclimatizing his home for the penguins, much to the delight of his kids. "Once the penguins start inhabiting the apartment, it starts taking on a whole life of its own and becomes a kind of winter wonderland," Wurtzel says. Popper turns his vivid imagination into the apartment, adding a mini ice-skating rink and snowman. "It was fun to take something that was so rigid at the beginning and turn it into sort of madness at the end because of the penguins, and the way the whole family sort of took it on and accepted it," Wurtzel adds.
Cinematographer Florian Ballhaus adapted the lighting in the apartment to reflect a new feeling in Popper's home. "Even though it kind of got white and cold, we also started to introduce a warm sunlight into the apartment, so it actually felt like a much more inviting, cozy place," says Waters of Ballhaus' work.
Another important setting in the story of "Mr. Popper's Penguins" is Tavern on the Green, a Victorian stone and brick edifice in Central Park. Built in 1871 as a barn for sheep, Tavern on the Green was converted into a restaurant in 1934, and through the years became a popular dining spot for local glitterati and tourists alike. Closed in 2009, the building now houses a visitors' center. Wurtzel and his team recreated The Tavern's interiors, including its grand dining room. "The Tavern was a wonderful meeting place with a joyful interior and Baroque restaurant, which everybody went to," says Wurtzel. "Every opening-night party, every wrap party, everybody wanted to be at Tavern on the Green."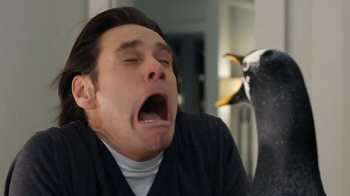 © 20th Century Fox
Wurtzel recreated the wood-paneled front vestibule of the Tavern, the famous Crystal Room with its ornate chandeliers and flower-filled décor, and approximately twelve feet of Central Park so the views outside the plate-glass windows would look authentic. "It's a sort of emotional composite of how people remember it," he says.
Upon completion of principal photography, the actors - and penguins - returned home or began work on their next projects. But for Waters, Davis, and the post-production teams, months of editing, scoring, visual effects, and mixing lay ahead. Taking a break from putting the final touches on the film, Waters states that "Mr. Popper's Penguins" is for audiences of all ages. "I certainly have been aspiring to make a big comedy that has big emotion," he says. "If we did our work right here, the movie will work on all those levels of entertainment." And Mr. Popper himself - Jim Carrey - offers his hopes for the film: "It puts you in touch with what's important in life, such as the value of love, family and friendship. At the same time, I think audiences will be surprised by how funny and edgy it is. The film has humor that adults will enjoy. It's completely innocent, joyful and uplifting."
AN EXCLUSIVE INTERVIEW WITH THE PENGUINS
Mr. Popper's penguins were interviewed on the film's New York City set. Here are excerpts from those sessions: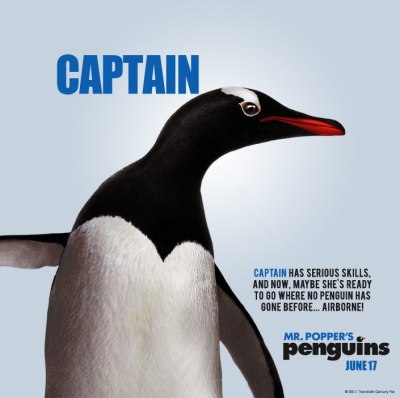 MEET CAPTAIN
Despite being named after the famous explorer Captain Cook, CAPTAIN is actually a girl. She's a natural leader, and quickly takes charge of her five flippered friends when they arrive in Mr. Popper's apartment. But there's also a softer side to CAPTAIN, who loves to wiggle next to Mr. Popper when he's sleeping, hang out with him during his day, and she even offers Mr. Popper some valuable fashion tips. CAPTAIN also has serious skills - she's toilet-trained, a gifted dancer (hip-hop is her newest favorite), and an expert tracker. And now, maybe she's ready to go where no penguin has gone before - airborne!
Question: Not to sound sexist, but with your name, many would assume you're a guy. How'd you get to be known as captain?
CAPTAIN: Only humans have a tough time with the gender thing. Trust me, my fellow penguins know right away: I'm all female. But to answer your question, I was named after the famous explorer Captain Cook because I'm considered a natural leader.
Question: So, you can get tough with your crew, but we hear you also have a softer side.
CAPTAIN: What can I say...I like to wiggle next to Mr. Popper when he's sleeping, hang out with him during the day - and I've even been known to give him some fashion tips.
Question: What sets you apart from Mr. Popper's other Penguins?
CAPTAIN: I'm toilet trained, a superb dancer (hip-hop is my newest favorite), and an expert tracker.
Question: What are your plans for the future?
CAPTAIN: To go where no penguin has gone before - airborne!
MEET LOVEY
Like so many of his gender, LOVEY has quite the eye for the ladies. The first human to experience LOVEY's endless charms is Mr. Popper's ex-wife Amanda, who finds the romantic penguin hugging her leg and cooing deeply. LOVEY is most proud of the fact that's he's about to become a dad - times three!
Question: Word on the ice is that you have an eye for the ladies.
LOVEY: They don't call me 'Lovey' for nothing!
Question: Yep, you woo with the best. What's your secret?
LOVEY: The secret of wooing is in the cooing. Even Mrs. Popper - Mr. Popper's ex - couldn't resist my coos. Leg-hugging is another specialty of mine - with people. With penguins, I usually have them at 'hello.'
Question: What's your proudest accomplishment?
LOVEY: I'm about to become a dad - times three!
MEET LOUDY
As you might guess from her name, LOUDY makes a lot of noise. While her penguin friends honk or chirp from time to time, LOUDY likes to shout a thunderous "SQUAHNK!" when she wants to make a point. LOUDY is very athletic, and her favorite sports are football (a game she learned to play in New York City), and slipping-and-sliding on her belly (a skill she was pretty much born with).
Question: Tell us about yourself?
LOUDY (shouting): I WAS BORN IN ANTARCTICA...
Question: (interrupting): No need to shout...Ok, while your penguin cohorts like to communicate with a 'honk' or a 'chirp', you seem to prefer a thunderous 'SQUAHNK when you want to make a point...
LOUDY: I like to make myself heard. This is not an easy group.
Question: Besides shouting and squahnking, what are your favorite pastimes?
LOUDY: I love sports, and I'm at the top of my game at soccer (which I learned to play in my new home of New York City) and slip-sliding on my belly, a skill I was pretty much born with.
MEET BITEY
Her chief tools are her teeth, which she often enjoys using on some poor unsuspecting person's leg - especially Mr. Popper's! But bad guys beware: if you cross BITEY or her newest pal Mr. Popper, her teeth will make their way to your ankle or foot. While her friend LOUDY excels at football, effortlessly bouncing the ball off her belly, BITEY instead tries to peck open the ball, which is against the rules in most official leagues. Her favorite movie star is Charlie Chaplin, and her meal of choice is a plate of juicy sardines.
Question: What's with the teeth?
BITEY: These teeth were made for biting! Just ask Mr. Popper...or his leg.
Question: So your favorite target is Mr. Popper?
BITEY: Naw, he's become a pal. In fact, you don't want to cross me or Mr. Popper - or my teeth will make their way to your ankle!
Question: We'll keep that in mind. Besides biting people's ankles, what keeps you in shape?
BITEY: I love soccer, but I have some challenges with bouncing the ball off my belly; instead I like to peck open the ball. Unfortunately, that's against the rules in most leagues.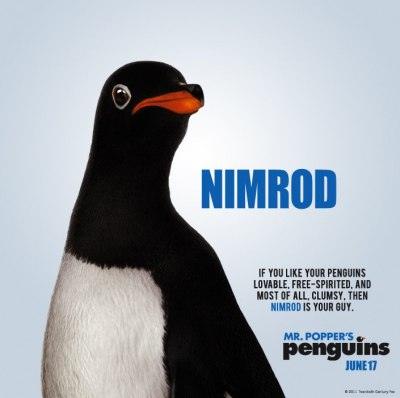 MEET NIMROD
If you like your penguins lovable, free-spirited, and most of all, clumsy, then NIMROD is your guy. He's never met a wall he's failed to bump into. (Some say an even better name for him would have been "Crash.") When he's not colliding into walls, NIMROD enjoys pecking the television remote to his favorite channels (always the ones airing a Charlie Chaplin movie), making a fort of Mr. Popper's sofa, and thrashing around in the toilet.
Question: Speaking of unfortunate names...
NIMROD: Yeah, sure, so I'm clumsy. In fact, I've never met a wall I've failed to bump into. But I suppose that 'Nimrod' is better name than 'Crash,' which my parents also considered naming me.
Question: But there's more to you than just close encounters with immovable objects, right?
NIMROD: My friends say I'm lovable and free-spirited. I also excel at making a fort out of Mr. Popper's sofa, and thrashing around in his toilet. Good times!
Question: We hear you're a big movie buff.
NIMROD: Charlie Chaplin is The King of Comedy. There's nothing he can't do. We penguins love Chaplin so much we even modeled our walking style after his. Or was it the other way around?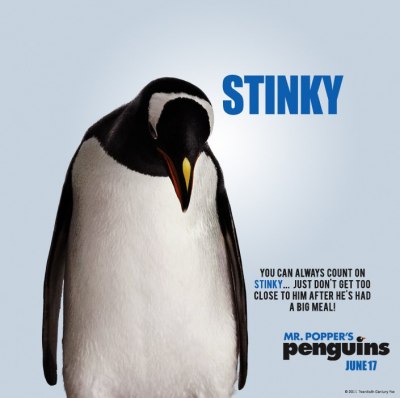 MEET STINKY
STINKY is troubled by tummy turbulence. That means he has a lot of gas. When you hear STINKY "honk," the sound may not be coming from his vocal cords. But his spirit, sense of adventure and loyalty to his fellow penguins and to Mr. Popper are as sweet as can be. STINKY loves his new home in Mr. Popper's fancy New York apartment, where he's helped make a nest out of the enormous freezer. You can always count on STINKY...just don't get too close to him after he's had a big meal!
Question: What's that smell?
STINKY: Sorry, I had a bad plate of sardines.
Question: Weird, it was like you were doing a familiar penguin 'honking' noise, but the sound seemed to be coming from...
STINKY: Never mind!
Question: It must be tough having that name.
STINKY: Sure, but I'm proud of the fact that my spirit, sense of adventure and loyalty to Mr. Popper and my fellow penguins, are as sweet as can be!
« Previous
|
1
|
2
|
3
|
4
|
5
|
Next »