Pink Cadillac
Page 2 of 5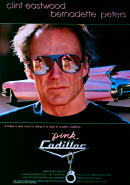 What's it about
Skip tracer Tommy Nowak (Clint Eastwood), a bounty hunter hired to track and capture people who have skipped out on bail. One of the best in the business, he often fools his quarry by adopting a variety of identities; however, Tommy more than meets his match when he's assigned to trace Lou Ann McGuinn (Bernadette Peters), a young mother whose bumbling, no-good husband Roy McGuinn (Timothy Carhart) has involved her with a counterfeiting ring run by a white supremacist group. Lou Ann skips town, takes her baby and her husband's beloved vintage pink Cadillac - which, she learns, has $250,000 stashed in it--and heads for her sister's home in Reno, pursued by the white supremacists. Fully intending to bring her back, Tommy instead falls for Lou Ann and ends up helping her retrieve her kidnaped baby and outfox her husband and his racist cronies.
Jim Carrey's character is an entertainer who appears 10 seconds. Jim is doing a Elvis Presley impression the way he was doing in his comedy routines.

© Warner Bros. Pictures
Credits
Production Companies
Malpaso Productions
Warner Bros. Pictures
Distributor
Warner Bros. Pictures
Director
Buddy Van Horn
Writer
John Eskow
Producer
David Valdes
Executive Producer
Michael Gruskoff
Composer
Steve Dorff
Cinematographer
Jack N. Green
Editor
Joel Cox
Cast List
Clint Eastwood
Bernadette Peters
Timothy Carhart
Tiffany Gail Robinson
Angela Louise Robinson
John Dennis Johnston
Michael Des Barres
Jimmie F. Skaggs
Bill Moseley
Michael Champion
William Hickey
Geoffrey Lewis
Gary Howard Klar
Dirk Blocker
Leonard R. Garner Jr.
Robert L. Feist
Gary Leffew
Robert Harvey
Gerry Bamman
Julie Hoopman
Travis Swords
Paul Benjamin
Randy Kirby
Linda Hoy
Cliff Bemis
Frances Fisher
Bryan Adams
Sue Ann Gilfillan
John Fleck
Bill Wattenburg
Mara Corday
Jim Carrey
Erik C. Westby
Richie Allan
Roy Conrad
Wayne Storm
James Cromwell
Sven-Ole Thorsen
Bill McKinney
..... Tommy Nowak
..... Lou Ann McGuinn
..... Roy McGuinn
..... McGuinn Baby
..... McGuinn Baby
..... Waycross
..... Alex
..... Billy Dunston
..... Darrell
..... Ken Lee
..... Mr. Barton
..... Ricky Z
..... Randy Bates
..... Policeman #1
..... Policeman #2
..... Rodeo Announcer
..... John Capshaw
..... Skip Tracer in Diner
..... Buddy
..... Waitress
..... Capshaw's Attorney
..... Judge
..... District Attorney
..... Lou Ann's Attorney
..... Jeff
..... Dinah
..... Gas Station Attendant
..... Saleslady
..... Lounge Lizard
..... Pit Boss
..... Stick Lady
..... Lounge Entertainer
..... Room Service Waiter
..... Derelict
..... Barker
..... Jack Bass
..... Motel Desk Clerk
..... Birthright Thug
..... Coltersville Bartender
Movie Quotes
| | |
| --- | --- |
| Tommy Nowak: | You just have to play that little girllost routine, don't you? |
| Lou Ann McGuinn: | I'm still feminine. I'm a Cosmo fighter. |
| Tommy Nowak: | Obviously a hardened criminal. I can tell by your kewpie doll lips. |
Taglines
It takes a real man to bring in a lady in a pink Cadillac.
« Previous
|
1
|
2
|
3
|
4
|
5
|
Next »