Simon Birch
Page 2 of 5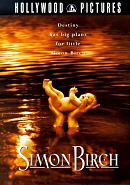 What's it about
Simon Birch (Ian Michael Smith) believes that God made him for a special, heroic purpose. Simon and his best friend Joe Wenteworth (Joseph Mazzello) are both outcasts in their tiny New England town: Joe is the illegitimate son of the town beauty, and Simon, at age 12, is so small that he still plays the infant Jesus in the church Christmas pageant. In the summer of 1964, friendship is put to the test when Little Leaguer Simon hits a foul ball that strikes and kills Joe's mother (Ashley Judd). Together, they try to find out who Joe's father is. Just as they succeed, the time comes for Simon to fulfill the destiny he believes in. A situation arises that demands a hero - a very small hero.

© Buena Vista Pictures
Credits
Production Companies
Caravan Pictures
Hollywood Pictures
Distributor
Buena Vista Pictures
Director
Mark Steven Johnson
Writers
Mark Steven Johnson
John Irving (novel "A Prayer For Owen Meany")
Producers
Roger Birnbaum
Laurence Mark
Executive Producer
John Baldecchi
Associate Producer
Howard Ellis
Co-Producer
Billy Higgins
Composer
Marc Shaiman
Cinematographer
Aaron Schneider
Editor
David Finfer
Cast List
Ian Michael Smith
Joseph Mazzello
Ashley Judd
Oliver Platt
David Strathairn
Dana Ivey
Beatrice Winde
Jan Hooks
Cecilley Carroll
Sumela Kay
Sam Morton
Jim Carrey (cameo)
John Mazzello
Holly Dennison
Peter MacNeill
Addison Bell
Roger McKeen
Sean McCann
..... Simon Birch
..... Joseph "Joe" Wenteworth
..... Rebecca Wenteworth
..... Ben Goodrich
..... Rev. Russell
..... Grandmother Wenteworth
..... Hilde Grove
..... Miss Leavey
..... Marjorie
..... Ann
..... Stuart
..... Adult "Joe" Wenteworth
..... Simon Wenteworth
..... Mrs. Birch
..... Mr. Birch
..... Dr. Wells
..... Coach Higgins
..... Chief Al Cork
Movie Quotes
Adult "Joe" Wenteworth:
Time is a monster that cannot be reasoned with. It responds like a snail to our impatience, then it races like a gazelle when you can't catch a breath.


Adult "Joe" Wenteworth
(voiceover):
[voiceover] I am doomed to remember a boy with a wrecked voice, not because of his voice, or because he was the smallest person I ever knew, or even because he was the instrument of my mother's death, but because he is the reason I believe in God. What faith I have, I owe to Simon Birch, the boy I grew up with in Gravedown, Maine.


Simon Birch:
I'm a miracle you know.
Joe Wenteworth:
Yeah, yeah, yeah!


Adult "Joe" Wenteworth:
Ben Goodrich legally adopted me just two days before my 13th birthday. Not a day that goes by that I don't thank God for bringing him into my life. With Simon's help, I had finally found my real father.


Adult "Joe" Wenteworth
(voiceover):
When someone you love dies, you don't lose them all at once. You lose them in pieces over time, like how the mail stops coming. What I remember most to this day was my mother's scent and how I hated it when it began to disappear. First from her closets, then from her dresses she had sewn herself and then finally from her bedsheets and pillow cases. Simon and I never talked much about that day on the baseball field. It was too painful for both of us. For as much as I loved my mother, I knew that Simon loved her just as much. She was the only real mother he ever had.
Taglines
Destiny has big plans for little Simon Birch.
« Previous
|
1
|
2
|
3
|
4
|
5
|
Next »