The Incredible Burt Wonderstone
Page 3 of 5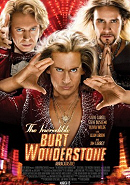 Production Notes
A Magical Friendship

Burt:
I'd be better off without you. No one comes to
see you anyway. That's why we're called
The incredible Burt and Anton, not the
incredible Burt and the incredible Anton.

Anton:
I can't believe I put up with you for so many
years.... you incredible jackass.
Burt Wonderstone...world-class entertainer, magician extraordinaire, idol to millions, and a real sharp dresser. Even if he does say so himself.
"Burt Wonderstone can be a real jerk," declares Steve Carell, who stars as the fictional mega-magician, half of the longstanding Vegas power duo known as The Incredible Burt and Anton, and was one of the film's producers. "Burt and Anton met at an early age and bonded over magic. Since they've been performing together for years on the long rise to stardom, their act has always been billed as a magical friendship—which is a lovely idea, except that they can't stand each other anymore."
"Somewhere along the line," Carell continues, "Burt forgot about the things that really mattered and let success and all its trappings go to his head. He took it all for granted and turned into a self-centered blowhard, and now he and his inflated ego are due for a comeuppance."
"
The Incredible Burt Wonderstone
" is the story of that comeuppance.
Moreover, "It's about this kind of dysfunctional marriage, essentially, between two friends who have been working together since they were kids, and what happens to them after it all crashes and burns," says Chris Bender, who also produced, along with Jake Weiner and Tyler Mitchell.
Burt wasn't always so spoiled, notes director Don Scardino. "Magic saved his lonely life when he was a child and brought him his first and only friend," he says. "The two of them just wanted to amaze and entertain people the way that they were amazed and enchanted by the illusions they worked so hard to master. In those early, exciting years, Burt and Anton always encouraged each other to create bigger and better tricks and worked out the fine points of each new routine together. They loved what they were doing, and audiences loved them."
But, after climbing that ladder of success, it seems that Burt Wonderstone and Anton Marvelton, played by Steve Buscemi, sat down on the top rung to rest on their laurels for awhile and enjoy the view. And for ten glorious years, what a spectacular view it was: the 24/7 royal treatment, from the finest restaurants and the most lavish suites, to their own namesake theater and the splashiest marquee on the Strip.
Night after night, year after year, they rolled out the same show without missing a beat, because Burt refused to tamper with perfection.
He also refused to acknowledge their steady turnover of unhappy assistants, calling every one of them Nicole, no matter their actual names, including their latest and best, the woefully under-appreciated Jane, played by Olivia Wilde. Worst of all, he stopped listening to his humble old buddy Anton, until their act settled into a rut. A velvet-draped, crystalstudded, hocus pocus rut.
At the same time, a new phenomenon was emerging in the magic biz: extreme street performer Steve Gray. Portrayed by Jim Carrey, Gray's physical feats and gritty, in-yourface style shunned the curtains, costumes, lighting and music by which traditional shows had always been defined. Instead, he preferred to appear impromptu in a busy thoroughfare, wow a crowd and then upload the footage to a growing online fan base before his van even left the curb.
As the story opens, Gray's irreverent hit-and-run act is drawing a larger and younger following while, not coincidentally, attendance is dropping off at The Burt and Anton Theater. Though Burt initially chooses to ignore this burgeoning threat, it does not escape the attention of his employer, aptly named casino mogul Doug Munny, played by James Gandolfini. In fact, Munny soon lays it out for his veteran headliners in no uncertain terms: they'd better come up with something new, fast, or they're finished.
Unfortunately, what they come up with will finish them anyway.
"They have a falling out...literally," quips Scardino, citing a hastily conceived and disastrously executed stunt called The Hot Box, that Burt and Anton hope will rocket them back to relevancy, in which they are locked into a Plexiglas cage and suspended by crane high above the Vegas Strip.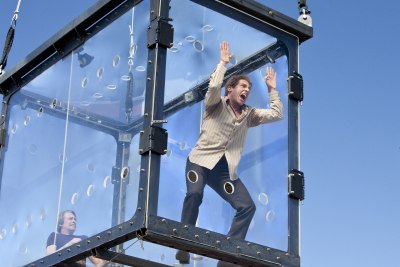 "It's the last straw for poor Anton," the director continues. "As soon as he can actually walk again after that fiasco, he walks away, leaving Burt to put the pieces back together and try to do the act by himself for the first time in his life."
Says producer Tyler Mitchell, "Rather than 'Be careful what you wish for,' Burt's situation is more 'Be grateful for what you have.' The more successful he became, the more he lost his true sense of self, which is something I believe can happen to people in all walks of life. It's not until he loses everything that he has a chance to figure this out, and that becomes his journey and the essence of the story."
Mitchell, who also shares story credit with Chad Kultgen and screenwriters Jonathan Goldstein & John Francis Daley, describes how he found inspiration for the original concept while on a trip to Las Vegas. "My room stared right at this massive billboard for a magic show, complete with jumpsuits, big hair, waxed chests and deadly serious posing, and I said to my wife, 'That's a comedy I want to see.'"
"It's a big, funny, touching journey with lots of surprises, and set in the world of professional magicians, which we felt was a background ripe for comedy and something that hasn't been explored on this scale before," says Bender. "Don struck the right mix of identifying the heart we wanted to bring out, while taking on the bolder set pieces and going full-out for the humor, plus the spectacle and showmanship of Las Vegas, where everything is larger than life. He embraced all of it."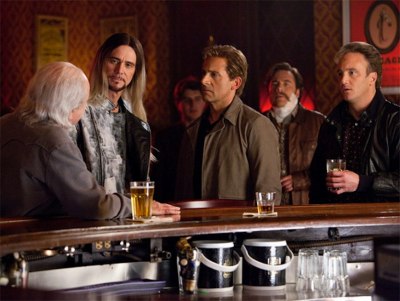 "
The Incredible Burt Wonderstone
" re-teams "Bruce Almighty" antagonists Steve Carell and Jim Carrey as rival magicians fighting for the spotlight, and marks Carell's third screen collaboration with Alan Arkin—cast as Rance Holloway, once a famous magician whose act inspired the young Burt, and now an irascible retiree who wants nothing to do with the business. It also showcases comic turns from Steve Buscemi and James Gandolfini, and taps Olivia Wilde's talent for physical comedy in a way that audiences have never seen her before.
Pre-production prep for many of the cast and filmmakers meant connecting with working magicians, including globally renowned David Copperfield, who became an integral part of the production and also appears as himself in a sly cameo.
Steve Buscemi recalls, "What struck me about their shows is that apart from the acts being unbelievable, they're also funny. These guys really enjoy being consummate entertainers, amazing you and making you laugh at the same time. It's not just the magic, it's the presentation."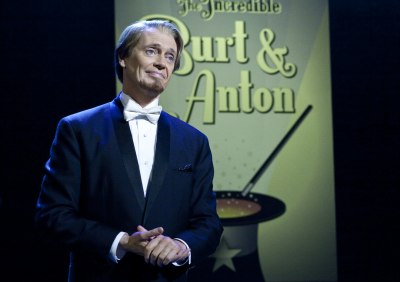 What better place, then, to set the story, than a city that defines entertainment in the biggest, boldest way? "I find the world of Las Vegas magic totally fascinating and slightly annoying, a fantastic platform to have fun with," says Jim Carrey.
Adds Carell, "You don't need to amplify the atmosphere much to make it funny because aspects of it are already so inherently broad and absurd. The whole place just lends itself to comedy, but they're all in on the joke. It's perfect. I was walking around Bally's in one of Burt's more casual looks—just slightly less outrageous than his stage costume—and no one batted an eye. It wasn't like we were stretching the boundaries of credibility."
The Gloves Are Off

Burt
We're the number one magic show in Vegas. You
don't mess with success. And you certainly don't do it
because some loony pulled a card out of his face.
For all that Burt represents and all that he has achieved in a decade of exhibition, both on and off the stage, Scardino sees him primarily as "a peacock. He's kind of foolish and full of himself, in love with his own reflection. If someone said to him, 'I can't tell you how great you are,' he'd say, 'Oh, please try.' But Steve plays the part so endearingly and is so likeable that, despite this guy's massive ego, you could still fall for Burt Wonderstone. You still like him and find yourself rooting for him to get back in touch with the decent person you know he used to be."
Bender acknowledges it's a fine line to tread, but, "When Steve came aboard it was a real 'ah-hah' moment for us and a turning point for the project, because we knew we'd found the right actor to embrace those contradictions and strike that balance beautifully."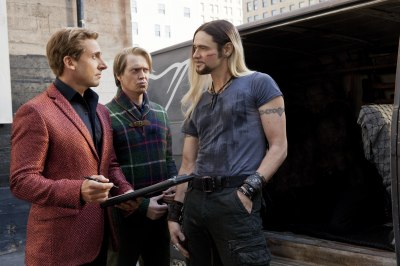 Beneath the veneer and the superstar lifestyle Burt flaunts, not to mention the women recruited nightly from his audiences and dismissed in the morning with an autographed photo as a parting gift, Carell points out, "His life is empty. In some ways he's still that awkward nerd he was at 12, who had no friends until Anton came along, but he's conveniently forgotten that. He thinks he doesn't need Anton anymore, that he's way past that."
The truth is, if either of them is past that, it should be Anton.
"He loved Burt like a brother," says Buscemi, who calls Anton "one of the sweetest characters I've ever played, if not the sweetest. He loves magic, and all he ever wanted to do in life was put on shows with Burt and see the joy in the faces of the audience. When the act breaks up it breaks his heart."
"Steve is a phenomenal actor and he brought so much to the table for Anton," says Mitchell. "He makes things funny that you didn't even think, from the page, would be funny, and he puts so much of himself into it that you really believe this friendship and bond that the two of them once had, even though it's not so apparent anymore."
It was Scardino who suggested Buscemi for the role, having worked with him on episodes of "30 Rock," and says, "When we put him together with Steve Carell there was instant chemistry. Originally we considered having a choreographer design their stage act, but Steve and Steve just naturally found a way of dancing around each other and doing these crazy mirrored poses. It was a lot of improvisation and it was really their connection that made it work. They're great together."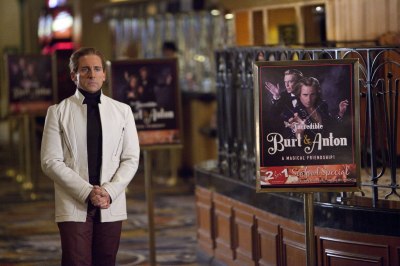 Screenwriters Jonathan Goldstein and John Francis Daley feel that Burt and Anton are more alike than different. "They came from the same place," says Goldstein. "They were outcast kids who found each other and used magic to brighten their lives, and they kind of became flip sides of the same coin. Burt was all about the trappings of stardom, the fame and the power while Anton was more committed to the craft and putting on the best possible show for the sake of the fans."
Anton has also been unquestionably the more devoted friend, notes Daley. "He's been Burt's cheerleader and confidante through all these years. But eventually, even he has only so much patience for his partner's shenanigans."
When Anton finally takes his show on the road, solo, it's as far as possible from the lights of Las Vegas, but still not so far from the only thing he knows how to do. Redirecting his energy into a heartfelt—if misguided—new venture called Operation Presto, he sets out to bring magic to underprivileged children around the world, one marked deck at a time.
Meanwhile, Burt continues to fixate on magic's grungy rising star as the source of all his problems. "Steve Gray has a magical friendship with the devil as far as Burt is concerned," states Carell. "Clearly, Burt hates this guy who's suddenly getting all the attention. Gray appeals to a more youthful audience and he's all the things that Burt is not, so Burt is jealous and outraged. But more than that, he feels that Gray's displays are shocking and grotesque, and show no respect for the art and culture of magic. So it's doubly galling to realize that Gray is kicking his butt with this stuff."
"Gray is the outsider. He doesn't go about things in the normal way and people don't understand him," Carrey concedes, although the misunderstanding might be exactly what Gray intends. "He is ultimately his own worst enemy."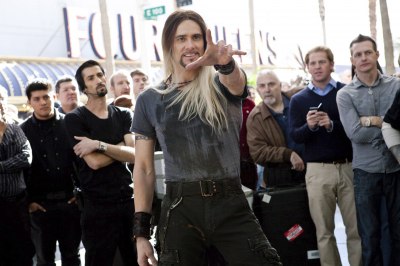 Leaning more toward performance art than magic, Burt's long-haired nemesis recalibrates the magicians' mandate from "amaze" to "shock," with ever-escalating feats of endurance like being doused with pepper spray or playing chicken with bodily functions. He even ups the ante on the old pick-a-card routine by giving it a surgical interpretation its original inventors would have blanched to imagine.
The actor's twists on existing gags included transforming Gray into a human piñata and extending a torture test so that, instead of lying on burning coals for a few blistering minutes, he gets a blanket and opts to spend the night.
"Jim took everything we had on the page to the nth degree," says Bender. "What he brought to the process was really an embarrassment of riches. I think he saw immediately the kind of fun he could have with the character and the wild things a guy like that would do."
"It's hard to describe how amazing he is," says avowed fan Carell. "When you're doing a scene with Jim you can't help but stand back and observe. He has complete commitment to what he's doing and he's such a perfectionist. It's exhausting just watching him. I don't know where he gets the energy."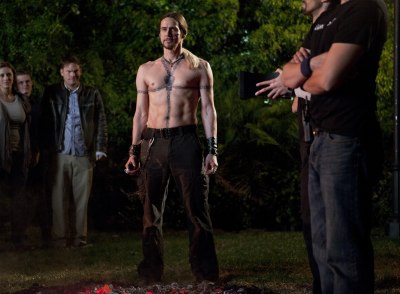 For all his hippie homilies and casual dismissal of the kind of fame Burt symbolizes, Steve Gray is fiercely driven. "He plays it cool, but that's just to mask his ambition," Carrey reveals. "From the beginning, he wants what Burt and Anton have. That's why he has to make it seem like he thinks Wonderstone is a worthless hack and that nothing he does has purpose or meaning. Burt is in his way. He's standing where Gray wants to be and displacing him becomes his whole focus. Plus, he's a real head-tripper."
Once Anton is out of the picture, and Burt is on the decline, Gray's objective appears to be well within reach. But Burt may have at least one more person left in his corner—Nicole—rather, Jane—the assistant who bailed on him shortly after Anton did. Though she never once succumbed to what Burt assumed was his irresistible charm, and she didn't have the kindest words for him at their last parting, he hopes she still feels enough loyalty to the old act to prevent her from slamming the door in his face.
A magicians' assistant by default, Jane was plucked from the show's backstage crew one night after Burt and Anton's previous eye-candy associate quit during intermission. "She's literally tossed off her feet, her clothes are ripped off in the wings and they throw a costume on her, slap on a blonde wig, and push her out on stage so she's totally out of her depth the first second we see her," offers Scardino.
Adds Bender, "She's actually an aspiring illusionist who used to admire Burt Wonderstone very much. Of course, that was before she met him."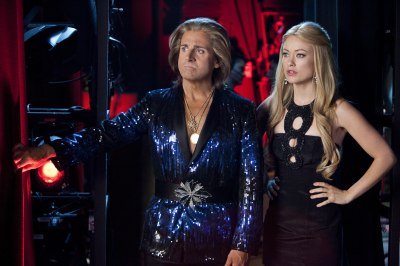 Seeing the character as smart and confident, but with a kind of awkwardness that was fun to play with, Olivia Wilde says, "The way Jane is thrust into the act completely unprepared gave me a chance to play up the comedy of the situation, which was something new for me. I like the idea of her having to overcome her stage fright on the job, being nervous and not wanting to get into that ridiculous spangled outfit but having no choice."
In those few frantic seconds before the curtain goes up, it's Anton who calmly applies Jane's lipstick, a personal touch that, Wilde says, "Steve Buscemi came up with at the last second, and it really helps to establish their camaraderie right off the bat."
Jane's relationship with Burt, though, was not nearly as intimate, in any sense of the word. "He experiences a different dynamic with her," Carell admits. "She's tougher and more intelligent and focused than the women he's accustomed to dating. Frankly, any woman who dates or sleeps with Burt Wonderstone immediately regrets it and hates herself, and Jane certainly wouldn't do that because she's better than that."
Surprisingly, Jane believes Burt is better than that, too. A fan since childhood, she credits him with inspiring her interest in the many facets of magic and, despite her disappointment, still shares that affinity with him. "She's horrified to see how lazy and entitled he's become and how he's lost his way, but also believes that, somewhere inside, he's still brilliant," Wilde says.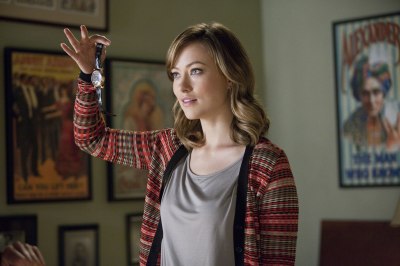 That's something Burt can appreciate, because he once held someone else in similar esteem. It was Rance Holloway, a quintessential 1960s magician with a polished patter, a black cape, and a rabbit in his hat, who introduced young Burt to the art of illusion through an old video tape the youngster played until he knew it forwards and backwards. Though the two never met, and Rance has effectively disappeared since his glory days, Burt is in for a big surprise.
Oscar®-winner Alan Arkin, who portrays the venerable conjurer at opposite ends of his career timeline, says, "Rance was the reason why Burt chose this life. I get to play him as an old man, and also as a young man, so I'm praying for a lot of CGI."
Now, at what appears to be the end of the line for Burt, he unexpectedly encounters Rance at a Las Vegas retirement home, and it's as if he becomes a kid again. Unfortunately for him, the magician emeritus is now a stubborn old crank who has turned his back on the profession and does everything he can to shake his biggest fan off his sleeve.
"The problem," says writer Chad Kultgen, "is that Rance already knows what Burt has yet to understand: if you lose your passion for what you're doing, if it starts to become what it was not originally about, you're going to end up doing bad work. And if that's all he can do, he'd rather not try anymore."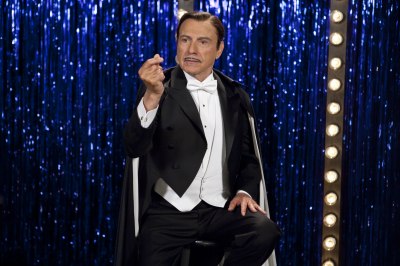 "There was only one voice in my head for Rance, and that was Alan's," Scardino attests. "I've admired his work my entire life. He and Steve Carell are cut from the same cloth. Alan was one of the original members of Second City in the '60s and Steve was one of its leading lights, years later, so they share that experience and technique. We found that the best thing to do in rehearsals was just let them loose."
"I love working with Steve; we have a real give-and-take," says Arkin. "It's the third time we've worked together and we're like an old vaudeville team."
As Burt struggles to restore Rance's dormant gift, he gets his first professional gig in months—a backyard birthday party for former boss Doug Munny's young son. Granted, Munny's backyard is the size of a tarmac and the guest list includes all the glitterati in town. This could be his chance to show everyone he's still got it.
The stakes rise even higher when it appears that the party is an excuse for the hotel honcho to unveil his new namesake property…and a contest to find the best entertainer in Vegas to grace its main theater. With Anton still MIA and his act in need of a partner, Burt is now desperate to get Rance back in the game. But more importantly, can he get himself back in the game?
Says Gandolfini, "It doesn't matter to Munny whose name is on the marquee, or what he thinks of them. If they're making him money he likes them, and when they're not making him money, he doesn't like them anymore. It's all about the bottom line for him."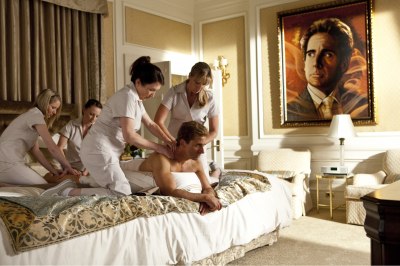 Scardino remembers the actor asking why they wanted him for the role. "He said, 'I'm not funny. Am I going to have to make faces and be goofy?' I said, 'You're not funny?! Have you seen your TV show? You're hilarious. Scary, but hilarious.' We weren't looking for goofy; we just wanted him to play it straight, like he's the most powerful player in Vegas."
Rounding out the film's main cast are Jay Mohr as Rick the Implausible, and Michael Bully Herbig as big-cat wrangler Lucius Belvedere, Burt and Anton's marginally employed contemporaries, with real-life Vegas headliner Brad Garrett appearing as Burt's I-told-you-so business manager, Dom, and Gillian Jacobs as a star-struck audience volunteer, Miranda.
The success of Belvedere's act is evident by the bandages that cover large portions of his body, while Mohr, cast as the struggling comic Rick, concedes, "He's so horrible that he can't even come up with a good name. He's that guy who, when you're at a restaurant, comes up to the table and does bad magic tricks and you think, 'Gee, I wish he would leave us alone.' In fact, that's how I prepared for the part, approaching strangers at Applebee's."
The Magic

Rance
This moment, when your brain is telling
your eyes not to believe what they just
saw…that's why you got into magic.
"Magic is the most honest and unique profession in that it lies to you, but it promises that it will lie to you, and then delivers on that promise," says Scardino.
Though acknowledging that magicians generally like to engage audiences with equal parts laughter and spectacle, the director wanted to respect the fact that they take their craft very seriously. "It takes a great deal of work, skill, dedication and creativity, this whole art of deception," he says. Toward that end, it was important for him, the cast, and the filmmaking team to play the magic depicted on screen as authentically as possible.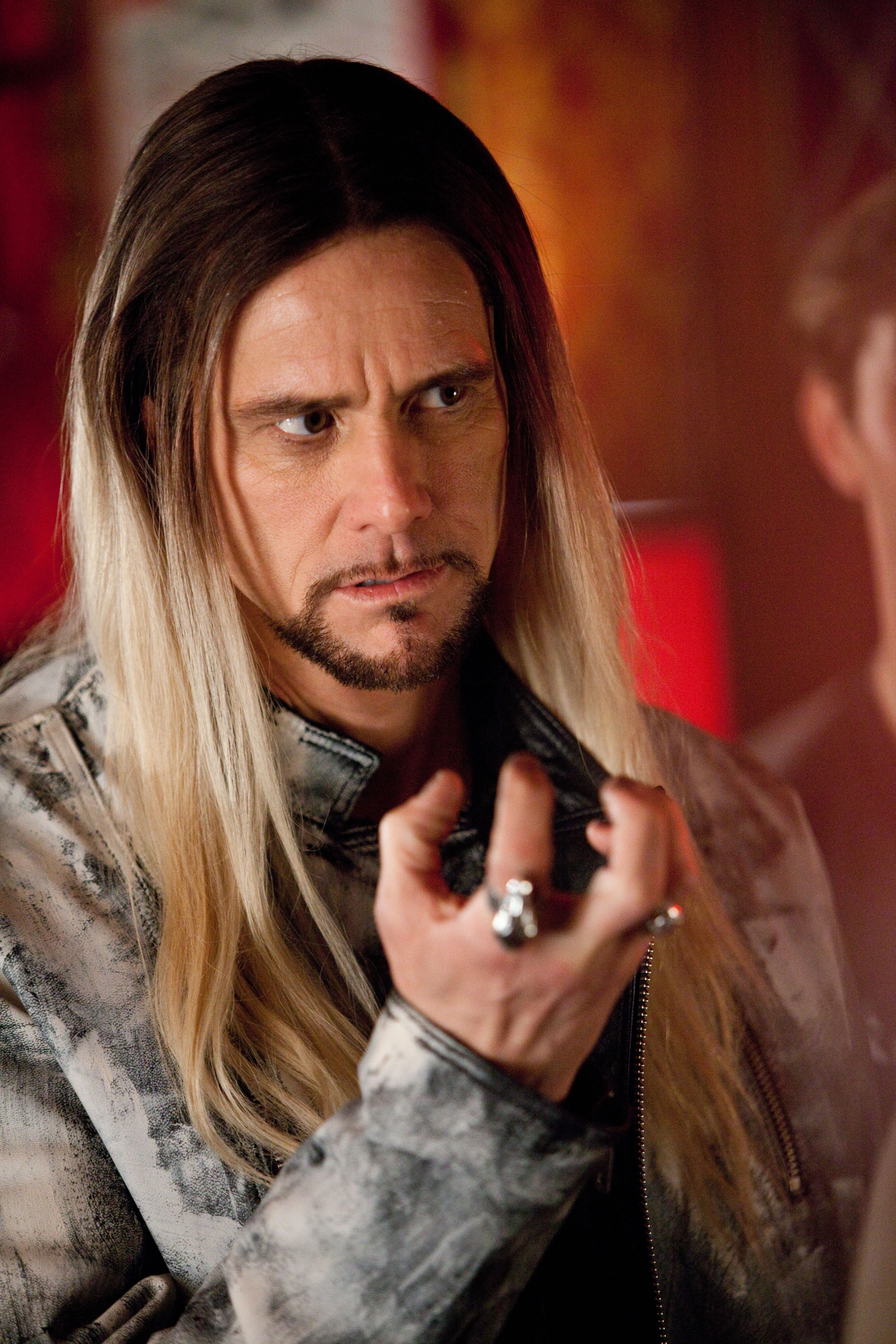 Production designer Keith Cunningham, who worked closely on this with VFX supervisor Bruce Jones, specifies, "Don's approach was to do as much as possible, from the smaller tricks to the big set pieces, with the least amount of CG, so that the movie audience can enjoy it as they would if they were sitting in a theater watching a live show. Only when that was impossible, like when doves fly out of someone's mouth, did we rely on the magic of CG effects."
Among the technical advisors who contributed to the production, the filmmakers enlisted historical magic and theatrical effects expert Jim Steinmeyer to assist with the effects used in the various acts. Veteran illusionist Jonathan Levit also came aboard to coach the actors in basic sleight-of-hand, as well the subtle ways in which stage magicians move and manipulate objects, to enhance their confidence and dexterity.
"So much of it is about the staging and it was very helpful to understand that," says Buscemi, who now counts among his skills the mastery of the classic cup-and-ball trick. "It's not only about the mechanics of a trick but the gracefulness with which you do it. That also helps to define the character, because everything magicians do, they do with a certain flair."
Research for the project took the filmmakers and cast to shows in Las Vegas and to the famed Magic Castle in Los Angeles, which has long served not only as a showcase and private club, but a veritable repository of the history of the profession. They also spoke with some of its most revered representatives, including Penn Jillette, Criss Angel, and David Copperfield, and were treated to a private tour of Copperfield's own collection of memorabilia, The International Museum and Library of the Conjuring Arts.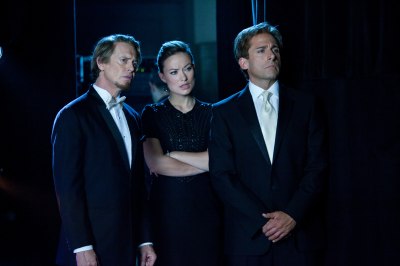 Knowing that Scardino wanted to cover Burt and Anton's delivery of a large-scale illusion without cinematic trickery, the master magician generously offered to help.
Tyler Mitchell recounts, "Don wanted to capture a big trick in one shot, but we couldn't figure out how to do it. They're not exactly easy to design. We came back from a break during production and David said, "Oh yeah, by the way, that trick you guys are having trouble with?...We designed it for you and here's an instructional video.' It was so completely unexpected and cool. He really went above and beyond."
Team Copperfield created an original illusion they called The Hangman, which makes its debut in the film. They also delivered step-by-step instructions for its execution, so that Carell and Buscemi could present it on stage as one of Burt and Anton's signature showstoppers. "The scariest thing about it was the sound of the gallows and the rope coming down," Carell admits. "I was covered with a mask and a bag over my head and couldn't see. I felt someone positioning me and making sure I wasn't off-center or I could crack my head on the side. It was very precise. But afterwards we were so happy with how good it looked. It was worth all the apprehension."
Copperfield also worked with Cunningham on what the designer calls "the nuances of this kind of stage show, how to light it, where to disguise the gag and figure out where the audience should be looking while the real trick is happening over here."
"David read the script and saw the humor in it, and that was a real comfort to us," says Bender. "Whenever you're doing a comedy about a culture like this, you need to have reverence and love for it as much as you're making fun of it and it was essential for us to strike that balance. I think everyone involved had a genuine appreciation for magic."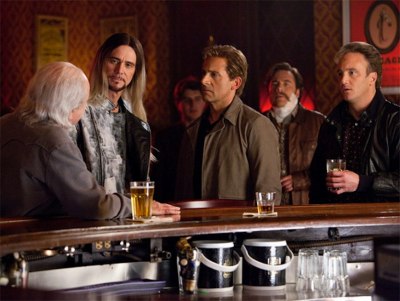 The Vegas Of It All

Burt
So I finally got this new bed I ordered.
It's an Octuple King. Biggest bed in Vegas.
Sleeps two dozen adults.
Production began on location in Las Vegas, capturing images of its celebrated main boulevard and downtown that are instantly identifiable to audiences around the world. Scardino, who calls it one of his favorite cities in which to film, likens it to other famous movie locales, such as Manhattan, in that, "anywhere you point the camera is a beautiful shot. Everything has color and character. You can't lose."
Staging Burt and Anton's dramatic public meltdown 40 feet above the street affords audiences a spectacular 360-degree aerial sweep of the Strip, while symbolically acknowledging the reach of the pair's former popularity. The Hot Box sequence was one reason the filmmakers chose Bally's Las Vegas Hotel and Casino as Burt and Anton's home base. Apart from the property's rich history, the hotel grounds and its strategic mid-point position on the boulevard offered the perfect space for the stunt and its commanding view.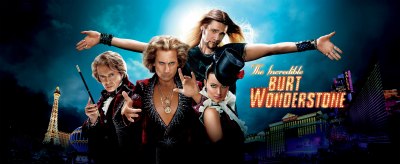 Though some of the logistics and effects were finalized later in a more controlled environment on a Los Angeles outdoor backlot, much of the scene was filmed on site and, Carell confirms, "It was me and Steve dangling there by a wire, in a glass box with breathing holes. It wasn't so much the height that freaked me out but being able to look straight down through the bottom of the box and see ground. I prefer to see something solid underneath me."
Other practical Las Vegas locations included the area surrounding the city's famous Fremont Street, as the busy venue where Steve Gray earns his notoriety. Additionally, production designer Keith Cunningham chose the local Prince Restaurant to serve as the fictional Peppermill Lounge where local magicians go to relax and hang out. "We were inspired by the décor of the Magic Castle in Los Angeles, with its red damask wallpaper and dark woods. The Castle graciously lent us original artwork, magic show bills and memorabilia, some of them priceless pieces, to enhance the set with some history and authenticity," he says.
Tracing the trajectory of Burt and Anton's career from the smallest venues to the largest theaters, Cunningham scouted performance spaces throughout Las Vegas' downtown environs before moving to Los Angeles. There, he chose the spacious Wadsworth in Westwood, and finally L.A.'s opulent Orpheum Theater to represent the more grand stages on which they present their most spectacular illusions.
Among the most lavish sets he created was Burt's penthouse hotel suite, an amalgam of upscale rooms he and his art team examined, with a slant toward traditional over more modern details. The idea was to indicate how things haven't changed much for Burt since the day he moved in, except for the wall art collection dedicated to his own image and successes.
The suite's crown jewel is a ridiculously mammoth custom-made bed, of which Burt is inordinately proud. Says Cunningham, "Don and I discussed designing a circular or a heartshaped bed, but felt that it wasn't exactly the right image we wanted to convey. Instead, we decided to go with a bed so big that it barely fits in the room. It's 12 feet wide by 9 feet deep. Believe it or not, we actually saw a bed in a Vegas high-rollers suite that was not much smaller than that."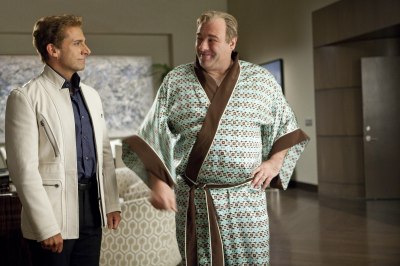 Excess was also the standard to which costume designer Dayna Pink cut the company's wardrobe. Marking her third time outfitting Carell after "Crazy, Stupid Love." and "Seeking a Friend for the End of the World," she notes, "Working with Steve is always an amazing collaboration. This time it was all about the flash and sparkle. I loved showing him the reference pictures and seeing if I could make him laugh, and ultimately we decided that there was almost no limit to how far we could take Burt's look. We built all his stage costumes to show his chest."
Burt and Anton shamelessly take the stage in twin bedazzled burgundy velvet suits, and matching boots with crystal accents, about which Carell says, "When you're wearing a sparkly velvet jumpsuit cut down to there, it informs how you move. You feel different. Your posture, the way you conduct and present yourself, is different. It's as if the costume is saying, 'Wow, I'm hot. Revel in my beauty.' And there are lots of sequins involved—some of which you can't see. For example, I'm wearing sequined underwear and socks right now. It's a Method thing, just part of my commitment to the role."
For Burt, though, the show's not over when he steps off the stage, an attitude that is reflected in his so-called regular clothes, Carell explains. "He has a costume for the show. He has a costume for going out. They're varying degrees of flamboyance but he's always in character."
By comparison, Anton's street duds are more conservative and relaxed, befitting his personality. Similarly, Jane exudes a down-to-earth ease, almost tomboyish, in her private moments, in contrast to her palpable discomfort in the sexy costumes she's required to wear on stage.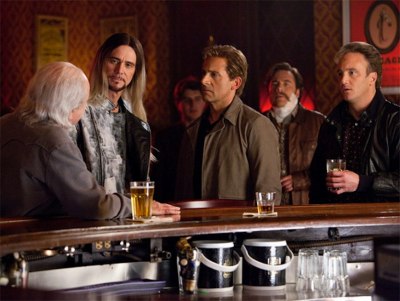 Steve Gray's look was its own unique conception. Though Pink first imagined it as loud and heavily accessorized, she subsequently dialed it down to a more subdued, jeansand-vintage tee style. This allowed Jim Carrey to express the character's increasingly unbalanced attitudes in his own way—albeit with a few irresistible accoutrements like studded and buckled leather cuffs and the inexplicable doll's arm hanging from his belt.
Additionally, Carrey's process of experimenting with the wardrobe and his ultimate adoption of a long, stringy, two-toned hairdo, helped steer Gray in a slightly different direction. He explains, "I was originally going to make him grittier, more street, until we tried on the long wig during a makeup test and it got a great reaction. Then it wasn't the same guy because hair can change a character completely. I said, 'Now this is a guy with a Messiah complex. He thinks he's conquered ego and that's what makes him so much better than everyone else.'"
Overall, the story and its setting offered a range of elements to play with and have fun with, but the underlying sentiment was always to honor the traditions of Las Vegas performers and the world of magic, its practitioners and fans.
But, "In the process of taking a comical look at magic and magicians, all the craziness and excess of staging these kinds of shows, we also have a very human story about a guy who comes to his senses amidst all this and realizes what's valuable," says Scardino. "I hope audiences will take that away with them as well."
Additionally, Carell feels the story, however stylized, "is grounded in reality to some extent. There's a fine line between the comedy and the emotional elements that bring you into it. This world appealed to me, as did the characters. Burt may be a jerk, but he's a redeemable jerk, a monster created by his own success, and I think it's an interesting look at that. It deals with redemption without being too heavy-handed about it because it's silly and funny and fun at the same time."
« Previous
|
1
|
2
|
3
|
4
|
5
|
Next »