The Bad Batch
Page 2 of 5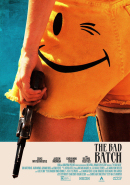 What's it about
The aforementioned girl (Suki Waterhouse) is one of thousands of Americans deemed unacceptable to civilized society. While wandering in her desert exile, she is captured by a community of cannibals. She loses an arm and a leg but manages to escape, soon ending up at a place called Comfort, a very different enclave of outcasts lorded over by a groovy cult leader (Keanu Reeves) with a heavily armed and pregnant harem. Our amputee heroine is safe at Comfort but still does not quite feel that she has found her tribe.
On an excursion beyond Comfort's gates, she encounters one of her former cannibal captors (Jason Momoa), who's in search of his young daughter. She can help him find the girl. But can she do it without one of them getting slaughtered in the human-eat-human world where savagery is considered central to survival?
Credits
Production Companies
Annapurna Pictures
VICE
Distributor
NEON
Director
Ana Lily Amirpour
Writer
Ana Lily Amirpour
Producers
Sina Sayyah
Danny Gabai
Executive Producer
Megan Ellison
Eddy Moretti
Shane Smith
Composer
Chris Terhune
Cinematographer
Lyle Vincent
Editor
Alex O'Flinn
Cast List
Suki Waterhouse
Jason Momoa
Giovanni Ribisi
Yolonda Ross
Jayda Fink
Cory Roberts
Louie Lopez
Keanu Reeves
Jim Carrey
..... Arlen
..... Miami Man
..... Bobby
.....
..... Honey
..... The Bridgeman
..... Chuy
..... The Dream
..... The Heremit
Movie Quotes
Coming soon...
« Previous
|
1
|
2
|
3
|
4
|
5
|
Next »