The Cable Guy
Page 3 of 5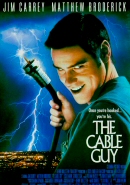 Production Notes
It's a time-honored urban ritual: Slip the cable guy fifty bucks and you'll get all the movie channels for free. But when Steven Kovacs (Matthew Broderick) moves into a new apartment, his Cable Guy (Jim Carrey) is not like the others. He doesn't want your fifty bucks; all he wants is a friend ... and he won't take "no" for an answer. Steven is about to learn that there's no such thing as free cable.
Jim Carrey and Matthew Broderick star in the Columbia Pictures comedy The Cable Guy, directed by Ben Stiller and written by Lou Holtz, Jr. Andrew Licht, Jeffrey Mueller and Judd Apatow are the producers. Brad Grey, Bernie Brillstein and Marc Gurvitz are the executive producers.
Leslie Mann, George Segal, Diane Baker and Jack Black head a strong supporting cast that also features appearances by Janeane Garofalo, Andy Dick and Charles Napier. Steven Weisberg is the editor. Sharon Seymour is the production designer. Robert Brinkmann served as director of photography. John Ottman composed the score.
Matthew Broderick, Tony Award winner for "How to Succeed in Business Without Really Trying" as well as star of such films as Ferris Bueller's Day Off, stars as Steven Kovacs, the young architect whose furtive attempt at getting free cable is misinterpreted as an open invitation into his life. "Basically, Steven's open to psychos because he can't say 'no'," explains Jim Carrey, who stars as the strange yet charismatic Cable Guy. "And that's a problem that so many people have, not being able to tell someone when they're invading your space. And even when he tries to say 'no', the Cable Guy knows how to manipulate him and get around that 'no.' He will keep banging at the door until he finds a way."
"The Cable Guy sees an opening in Steven's life because this guy has just broken up with his girlfriend and is on his own," adds director Ben Stiller, who directs his second feature film after the critically-acclaimed Reality Bites, in which he also starred opposite Winona Ryder and Ethan Hawke. "The Cable Guy has obtained this information from the cable billing. And when Steven gets up the guts to ask him for free cable, which his friend told him to do, and subtly offers him the fifty bucks, the Cable Guy gets right up in his face and scares him a little bit."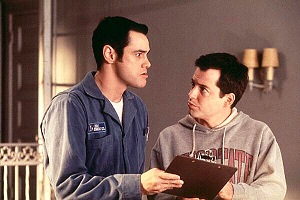 © Columbia Pictures
Leslie Mann, who appears in the upcoming Last Man Standing, plays Steven's girlfriend Robin, who misinterprets the Cable Guy's gestures toward Steven as the caring acts of a friend. George Segal (Flirting With Disaster) and Diane Baker (The Silence of the Lambs) play Steven's parents, who are won over by the Cable Guy's antics much to the dismay of their victimized son. Jack Black (Dead Man Walking) plays Steven's dispossessed best friend Rick, whose anger over the Cable Guy's interference in Steven's life leads to his investigation into his true identity.
"This movie has two distinct aesthetics crashing into each other," explains Carrey, whose complex interpretation of the Cable Guy is at once disturbing and comical. "There is something about it that is very strange and disquieting, yet is fall-off-the-chair funny. Let's call it Hitchcock meets Jerry Lewis. Or, as I prefer it, Rosemary's Baby meets The Odd Couple."
Carrey, whose has created some of today's most memorable screen characters in such hit films as Ace Ventura, Pet Detective, The Mask and Dumb and Dumber, sees The Cable Guy as a chance to play both sides of the sanity fence. "I love the danger of him," says the actor. "You can never really figure this guy out. He has this fantasy about what life should be from his being raised exclusively by television. His idea of a perfect family unit is My Three Sons. He is a master manipulator who sets his sights on Steven for friendship."
Director Ben Stiller feels that no matter how strange the Cable Guy becomes, the fact that he's played by Carrey makes him oddly likeable. "I think Jim has something that people respond to on a lot of different levels," Stiller notes. "He's incredibly broad, but he's also really subtle at the same time. The subtle stuff makes me laugh the most, but children just love him being crazy. They buy him as a bad guy and still root for him because there's also something that's incredibly good-hearted about Jim. I think inherently people relate to him as a nice, funny guy who will do anything he possibly can to make you laugh."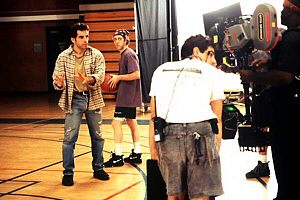 © Columbia Pictures
The Straight(?) Man
A veteran of Broadway, television and motion pictures since childhood, Matthew Broderick relished the opportunity of playing opposite one of the screen's most unpredictable comic whirlwinds. "I was curious to see if his style of performance and mine would blend easily," says Broderick. "But it was a natural pairing, at least from my end. He's very inventive and he brought me out a bit. I think we had really good chemistry. I've worked with Marlon Brando, Dustin Hoffman and other powerful actors, and they all do one thing: they all make you better, which makes acting easier."
The combination of Carrey and Broderick was a dream for the filmmakers. Once Carrey was signed aboard, Broderick was seen as the perfect foil as well as the first choice by the producers and director to play Steven Kovacs. Producer Judd Apatow notes, "Every day in dailies we would find ourselves laughing really hard at very subtle choices Matthew made in his scenes, many of which we didn't recognize until we had a chance to see them on the big screen."
Stiller adds: "Matthew was really the only choice for the part and I think we were really, really lucky that he did it because he elevates the movie to another level. Matthew has incredible comic timing and and it's great to see Jim and Matthew play off each other."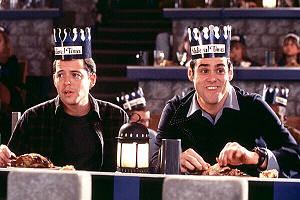 © Columbia Pictures
Stiller's way with performers is free and generous, perhaps owing to his background in front of the camera. He began his acting career while still a teenager, in films such as Steven Spielberg's Empire of the Sun. Stiller subsequently moved into starring roles in films, most recently in Flirting With Disaster. "I want to build a statue to him," says Carrey. "I need a lot of room when I do a scene. Ben realizes this and knows just where to put the camera. He is truly amazing. When I first met with Judd and Ben about this film, I was happy because we had always wanted to work together. Then Ben mentioned Roman Polanski as a style source for the movie and that was it; I said to myself, 'This guy's all right!'"
The project was initiated by producers Andrew Licht and Jeffrey Mueller, whose many film productions include the international boxoffice hit Waterworld. The duo have been a moviemaking team since meeting in USC film school. "After Waterworld we wanted to do a small picture with a small budget," explains Jeffrey Mueller. "We at first thought this film could be done for two or three million dollars, but that all changed when the script attracted some of the top actors in the film business."
Jim Carrey and Judd Apatow had been friends for several years dating back to their stand-up comedy days. Apatow wrote some material for Carrey's act and eventually supplied some ideas for Carrey's characters on the long-running Fox Network series In Living Color. Apatow had also had a long-standing friendship with Ben Stiller, with whom he had co-created TV's The Ben Stiller Show. The chance to work with both men was a challenge as well as a delight for Apatow.
"When Jim and I had signed on to the project, we loved the core idea, which was a Cable Guy who wants to be a customer's friend and insinuates himself into his life for a moment," Apatow notes. "And once the guy realizes that he doesn't want to be the Cable Guy's friend, the Cable Guy starts dismantling and destroying his life. Jim's first impulse was 'I want to turn this into an orgy of destruction.' So, when we discussed it with Ben, the two of us decided that we wanted the core psychology of the Cable Guy to be real. We wanted him to be this horrible, co-dependent person who needs approval so badly that he'll trample over everyone's emotional borders to get it."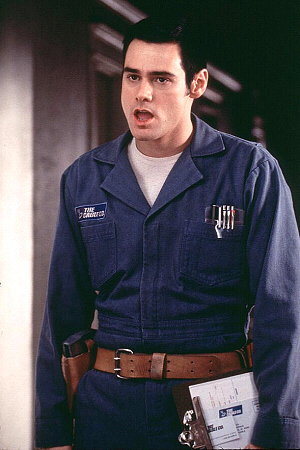 © Columbia Pictures
Though the story plumbs the darker elements of the Cable Guy's obsession with his new friend, it's still primarily comedy. Notes Jim Carrey: "I don't know if I would even call it dark. It's dark in the sense that this is a disturbed, needy person and we take that to the maximum level. We pump up the volume on that. But he's not really as disturbed as I am, normally. I had to bring it down for this."
The challenge for the filmmakers was to take the character that Carrey was going to play and find a tone to match it. "I didn't want to make a film where he was in a different movie than everybody else," Stiller notes. "So, that's where we worked very hard to shape the story. How far could we go' You want to be able to take a chance but also not to disappoint Jim's core audience who expect a precise brand of humor from him. I wanted to make a movie for all the people who really didn't think that they were into Jim. I wanted it to be a movie where people come out of it saying, 'I never thought Jim Carrey was my cup of tea, but in this movie he's doing something totally different.' In this movie he plays a crazy, psychotic guy but in a really funny way."
"The Cable Guy is certainly as odd a character as any Jim has played," says Apatow. "The difference this time is that we get a real sense of who he is down deep and why he behaves this way. Even as he loses control, he remains sympathetic because we know that all he really wants is a friend."
The Killing Fields
The Cable Guy contains number of set pieces which complement Carrey's unique brand of performance madness. Among them is a tour de force battle between Steven and the Cable Guy in the most unlikely location: Southern California's Medieval Times Restaurant. Set near amusement parks Disneyland and Knotts Berry Farm in the Orange County city of Buena Park, the restaurant features a medieval dining experience with all the trimmings. A hearty meal of whole roasted chicken washed down with ale is embellished by a full jousting tournament wherein audience members root for their favorite knight. This, thought Carrey, was a backdrop begging to be utilized. "I couldn't believe that someone hadn't seen the potential of this place as a set piece for a comedy," says Carrey. "These guys are great horsemen and they do an incredible show, but it's so weird. It's from another planet."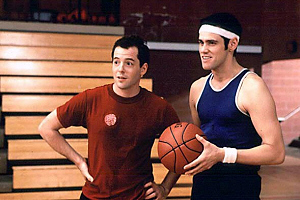 © Columbia Pictures
Prior to shooting, the filmmakers took a trip down to Medieval Times. "It was incredible," Stiller remembers. "We had a night of feasting and jousting, the likes of which ye will never forget! It's really actually fun. They give you chicken and Mead, and you watch these jousting matches and all these knights fighting with each other. Kids love it and it's packed; there are like seven hundred people there. We thought it was so ripe for comedy."
The extremely physical scenes at Medieval Times demanded that Carrey and Matthew Broderick fight hand to hand with sword, battle axe and mace, plus a full-speed joust on horseback. Filming had to be precise as the movie company was allotted a finite number of days in which to finish the sequence. The Medieval Times Restaurant had never closed its doors before.
Stunt Coordinator Freddie Hice planned the fight and riding sequences so that each actor would do the majority of his stunts to insure realism. "We rehearsed the hand-to-hand stuff for two days," says Hice. "Jim is so wild you can't double him. No one can mimic his moves, so he had to do most of the fight himself. But it was exhausting for Matthew and Jim. The real swordsmen and riders do five shows a day, but if we did that we'd drop in our tracks. As it was, we still kept some very long hours."
Aside from the rigorous ride, Broderick had an additional challenge to overcome: "I'm allergic to horses," he says. "So I had to really concentrate not to sneeze all the time. I like fight scenes and physical comedy. But we were doing it in a string of sixteen hour days and that can be quite draining."
"This sequence defines several aspects of the Cable Guy's personality," explains Apatow. "On the surface, the Cable Guy and Steven are battling to the death. But in the Cable Guy's mind, he is simply roughhousing with the brother he always wished he had. As the battle continues, the Cable Guy starts to believe that he is part of the Star Trek episode where Spock and Kirk are forced to do battle. We see that the Cable Guy is beginning to have a hard time telling the difference between TV and reality."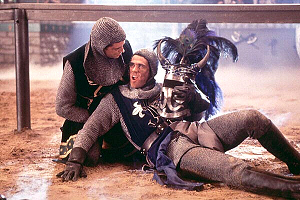 © Columbia Pictures
The fight also provides the audience with another clue to the Cable Guy's impending madness. "We see another dark side of Jim coming out, another hint that his character might be just a little bit psychotic," Stiller says. "It was quite an intense shooting experience."
Production Designer Sharon Seymour and Costume Designer Erica Edell Phillips also had unique challenges at the medieval restaurant. Seymour, who had previously worked on such films as Don Juan de Marco and The Truth About Cats and Dogs, had to contend with the existing design of the restaurant and its limited choices for change.
"We had to fit our color palette within theirs," says Seymour. "They usually have such bright colors -- oranges and yellows and reds -- that we had avoided within our muted palette of greens, browns and blues. So we covered up much of their design with faux stone wallpaper. The place already had a fine sense of an anachronistic theatrical humor. We just embellished it."
Costume Designer Erica Edell Phillips was faced with the problem of replacing potentially immobile and heavy metal jousting costumes for Steven's ongoing fight with the Cable Guy in the sawdust of Medieval Times' main ring. Not only must the new costumes be lightweight and flexible, but also reflect light to resemble metal for the camera.
"The way we solved it was almost too easy," says Phillips, who most recently designed costumes for Outbreak. I found that if we made the jousting costumes out of leather, we could paint them to act and look like metal. Plus it was easier for Matthew's headdress to swivel around, which it must do to obscure his vision during the fight. It worked wonderfully."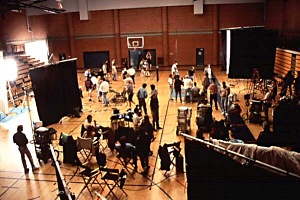 © Columbia Pictures
Also during the Medieval Times sequence, two veterans of Ben Stiller's television troupe make guest appearances: Janeane Garofalo and Andy Dick. The two comic actors played a 'Gen X' waitress (pierced, tattooed and wearing clumsy Doc Martens boots) and the effete master of ceremonies, respectively. Several other performers make cameo appearances throughout the film, including actor Eric Roberts (playing himself in a TV movie sendup) as well as news talent Tabitha Soren (of MTV) and Barry Nolan (of "Hard Copy") and late night host Conan O'Brien among others.
Let's Party!
Another favorite scene to shoot was Carrey's outlandish karaoke version of Jefferson Airplane's '60s anthem "Somebody to Love." "I think it's one of the most incredible things I've ever seen," Stiller remembers. "He sings with this weird Grace Slick vibrato the whole time. Shooting it was kind of scary, like he got possessed with some strange psychedelic energy. I'm not exaggerating. He did stuff that tapped into some weird energy that's inside of him. I don't know where that comes from. All I can say is I'm glad that he has an outlet for it."
Other bizarre moments in the film include an embarrassing Kovacs family gathering (highlighted by the Cable Guy's insistence on playing 'Porno Password'), a friendly gym basketball game (marred by the Cable Guy's violent competitive style) and, finally, a dangerous and complex finale set between a mountaintop cable tower and mammoth satellite dish. "The satellite dish represents everything that the Cable Guy is about in terms of entertainment and information and the future," Stiller notes. "Also it represents the lack of personal contact between people. So, that's where the climax of the movie plays out. It's this very angular steel structure that has a really retro, '50s feel to it, which the Cable Guy mirrors in his own way."
The biggest concern for each location used in the "tower/satellite dish" sequence was that rain was called for in much of the footage. This would not only make things difficult for the camera, but the actors' comfort as well. The scenes had to be played out, sometimes at great heights, with water and wind swirling around the performers. One invention helped Matthew Broderick through the interior scenes: a cozy portable hot tub.
"I was very cold in those scenes. There is no getting around that," recalls Broderick. "But Jim and I would retire to our little hot tub in Long Beach. We had our wet suits on, so it became very comfortable in a hurry."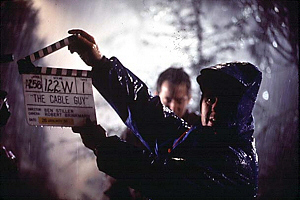 © Columbia Pictures
Carrey's endurance was a galvanizing element for the cast and crew. He did most of his own stunts, dropping from moving cars, climbing telephone poles, destroying a men's room and dangling from a 100 foot high cable tower among many more activities. He never injured himself or others, even when exploding a basketball backboard or sliding down a flooded satellite dish into several feet of murky water time and again.
"Jim really enjoys working," says Apatow. "He is the dominant presence on the set because he is always in such a great mood. He worked very long hours, often in horrendous conditions. But it never seemed to bother him. He appreciates the fact that his dream has come true, and it's incredibly infectious."
Both the satellite dish and radio tower were constructed to scale on a mountain location set high in the hills of the Angeles National Forest above the San Fernando Valley. Made by a real dish company in Texas, the dishes are 61 feet across and covered in a rough layer of spray plastic to enhance footing. According to production designer Sharon Seymour: "The dish is the real thing. We were lucky to get them because the large dishes are rapidly going out of style. Only two manufacturers still make them. We modified ours to fit the film's needs. Ours has a small reflector in the middle, plus it had to be able to fill with water and move."
Smaller versions of the dish and tower were created inside the Spruce Goose Dome Hangar in Long Beach, California. Originally constructed by the city of Long Beach to house aviator Howard Hughes's cargo plane named the Spruce Goose, the hangar has most recently been used for film production, including such large-scale projects as Batman Forever and Stargate. Its spacious confines (the dome itself is 130 feet high, 415 feet in diameter and 138,000 square feet in area) lends itself well to the demands of large sets. The tower which accompanies the dish is a radio tower that is over 130 feet high. The tower built on the mountaintop exterior set was full size to accommodate a dangerous stunt: a high fall from 120 feet by stuntman Bobby Brown.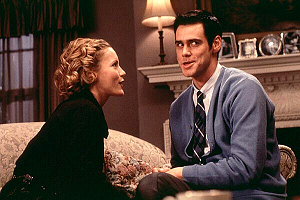 © Columbia Pictures
Brown, one of the world's most accomplished high fall artists, did the fall correctly on his first take. The jump was done late at night at the mercy of the mountain winds. A large airbag was carefully positioned beneath him, but a sway caused by wind shear could have altered the stunt with deadly results.
"We had Bobby practice with jumps from 55 feet at first," says stunt coordinator Freddie Hice. "But when you do a 120 foot high fall, you only do it once. This is Bobby's forte; he's the best in the world."
As the film moved into post-production, a final key player was added to the mix: composer John Ottman. The composer most recently completed the acclaimed score for the critically-acclaimed The Usual Suspects, which he also edited. Not since the days of Charles Chaplin had an editor also composed for a film. For Ottman, his collaboration with Ben Stiller was a joy.
"It is always better to work with a director who has a knowledge of films past and present, as Ben does," says Ottman. "He knows his movie references, which makes my job easier so I can have a shorthand with him. When I say that I want a North By Northwest or Vertigo feel to a cue, he immediately recognizes what I am saying."
The film finished three months of production on the soundstages of the Sony Pictures lot after shooting exteriors in Los Angeles area communities such as Hancock Park, Pasadena and Culver City.
Apatow considers the film to be "a thrill ride. It's a wild ride that picks up a faster and faster pace until it explodes at the end. We're walking a fine line in this movie between comedy and dark comedy. As Jim says, we've created an orgy of destruction."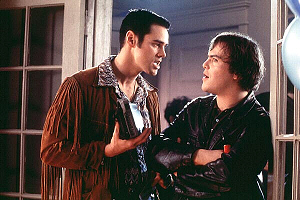 © Columbia Pictures
"The Cable Guy orchestrates a very complex manipulation of Steven's life," Stiller comments. "He creates all of these events to ingratiate himself to Steven, which end up going bad in a serious way when he is rejected. It gets very dark and funny. The challenge on this film the whole time was finding the tone of it. How dark is it? How crazy does he go? How much can we stretch reality while still making it really, really funny? And beyond what we planned with the script, there are a few laughs in this film that came from Jim's on-set improvisations. I didn't know how the were going to play at the time, but they ended being some of the biggest laughs in the film. I have an enormous respect for Jim in terms of what comes spontaneously out of his head and how funny he can be on the spot."
"There's something about this movie that's very strange and disquieting," Carrey concludes. "And at the same time, I've just fallen off my chair laughing. We're taking our premise to the maximum level. We've got this disturbed, needy person, and you never really know if he's just messing with people or if he really does just need a friend. I think there is a little of the Cable Guy in all of us. I think we've all been in a friendship where we were just trying too hard, to the point that we weren't ourselves anymore. And that's what he does ... he just goes a little too far."
« Previous
|
1
|
2
|
3
|
4
|
5
|
Next »